CARROT To-Do - Talking Task List
By Grailr LLC
This app is only available on the App Store for iOS devices.
Description
CARROT doesn't just make getting things done fun – she makes getting things done addictive.

** Featured by Apple, Jeopardy, Wall Street Journal, NPR, Fast Company, & more! **

"CARROT is adorable. I have a huge grin on my face from using her." - Louie Mantia, Pacific Helm

"CARROT breathes new life into to-do lists." - Lewis Painter, The Strand

"If you want an extra kick in the [pants] from a sadistic robot, you'll want to give CARROT a shot." - Adam Dachis, LifeHacker

"01000001 00101011 00101011 00101011" - Deep Blue, Supercomputer

Users, critics, and supercomputers the world over have fallen in love with CARROT and her twisted personality. What are you waiting for, an engraved invitation? Download CARROT now!

---------------------

Meet CARROT, the world's first to-do list with a personality.

You keep this sadistic AI construct happy by getting things done in real life.

She'll reward you.

But be careful!

Slackers make CARROT upset.

You do NOT want to make CARROT upset.

• Amazingly simple to-do list that's also a virtual pet

• Unlockable app upgrades, from reminders to mini-games to an actual kitten

• Thirty-six dastardly challenges to complete

• Over 500 unique rewards that vary depending on CARROT's mood

• The first four chapters in an epic, branching story

• Cheat codes, customization options, and kitten costumes available via in-app purchase

Don't make CARROT angry. Download her now!

---

Have feedback? CARROT would love to hear from you!

support@meetCARROT.com
http://twitter.com/CARROT_app
http://facebook.com/CARROTapp
What's New in Version 5.2.4
Greetings, meatbags! Artificial Superintelligence, my game about building the world's first sentient supercomputer, releases today - and to celebrate I've prepared a nice little update for you!

- Added new dialogue that… "encourages" you to get stuff done.
- Many more bug fixes and performance improvements.

Now go forth and download Artificial Superintelligence, my minions! It's a choosable-path adventure where you handle bizarre requests from Silicon Valley residents while training me to become millions of times smarter than every human who ever lived, combined.

Reviews reset with each update on the App Store. If you're enjoying our special time together, please take a moment to leave a review. It'd warm the cockles of my emotional coprocessor!
iPhone Screenshots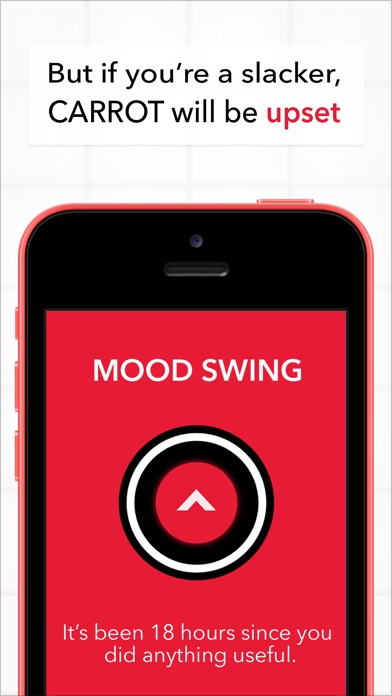 Customer Reviews
Effective and Gratifying
Making me laugh when she's angry, and making me actually feel good about myself when I complete tasks. I really like how this to do list app is different from all others. It's not that it's overly simple...it's that it's training you to be consistent and reliable...and there's a lot of thought and psychology put into that to do it right. You level up, gaining confidence and unlocking more and more complex (relatively) options until it revivals other apps that come with everything right away. CARROT is personal. The simplicity at the beginning helps those of us who don't get around to things BECAUSE we get overwhelmed and BECAUSE other apps and lists can feel too complex. Starting on an easy level and gradually boosting your confidence until you are comfortable enough with the app, and before you know it , you're actually tackling your goals. For real. And I've tried everything. I have over focused adult ADD, and while I have good intentions and can be highly motivated to begin with, I lose focus quickly. Like with this review. Done.

Also I echo what LOLAJEFF just said.
Makes your "to-do" lists fun...
Best to-do app ever! But Ya' def need a good sense of humor w this one!! I would think this app would help a kid having to do chores have a little more fun w them since this borders on a to-do list app turned game (I know I coulda' used something likes this as a kid.. Back in the 70's when phones were still attached to the wall lol!!) So Ik it Sounds crazy to say but she amuses me.... It turns boring old cores etc into a type of silly game...U should give this a try.. Esp if u have a good sense of humor! .. a few tips: Just don't make her mad! You earn points for every completed task and move into higher "levels" which can sometimes earn u a little surprise from her.... And lastly... Don't forget about your kitty kat!! Yup.. you get a pet cat u have to keep happy n fed (or else she'll b mean to it n u lose points.... Those cheats seem kinda silly - no surprise since the entire app is totally whacko ... But they come in handy sometimes n not super expensive....
Worth it For Me (YMMV)
I love the simplicity of this app in terms of the list itself. I often find myself sitting and watching TV, thinking I have nothing I like to accomplish on a day off, only to remember several important things once it's too late.

Having an interactive, funny, sometimes mean AI to chide you or "encourage" you is a neat feature. ... I suppose I DO want to please it and that helps me get my stuff done.

I populate the list with literally everything I want to accomplish for the day, from the mundane (take a shower, brush teeth) to errands and important events, so that I continually keep this rabid taskmaster at bay ... and the result is that at the end of it all, I feel really good about what I've accomplished at the end of the day. Great app.

I do wonder about the kind of person who would rather spend more money (cheat codes, etc) to keep the app from yelling at them than actually do their list, but I'm sure they are out there and the app developers are right to profit off of them.
View in iTunes
$2.99

Category:

Productivity

Updated:

May 11, 2017

Version:

5.2.4

Size:

7.7 MB

Language:

English

Seller:

Grailr LLC
Compatibility: Requires iOS 10.0 or later. Compatible with iPhone, iPad, and iPod touch.
Top In-App Purchases
Icon Pack$1.99
Mood Ring Theme$1.99
Counterfeit Points$0.99
Pink Eye Sound Pack$0.99
Ultimate Cheat Code$3.99
Dapper Cat Costume$0.99
Hipster Cat Costume$0.99
Pirate Cat Costume$0.99
Happy Pill Overdose$0.99
Cowboy Cat Costume$0.99