Cassino
By Psellos
This app is only available on the App Store for iOS devices.
Description
This excellent card game appeared out of the blue in Italy just 214 years ago and slowly became known worldwide. Compete against the app to capture cards using number combinations.

Cassino has been around so long that there are many variations. Beginning with Cassino 1.1, our app plays three variants.

Advanced Cassino is the variant played many places in the world, with traditional scoring to 21.

Royal Cassino is a royal variant, where all cards have numeric values for builds and captures. This means that the royals (jack, queen, king) get into the action. It uses traditional scoring to 21.

Original Cassino is a royal variant with simplified scoring: you win simply by capturing more cards than the app. This is easy to learn, and perfect for people on the go.

At any time you can ask the app for a suggested play. If you're new to the game, it's like having a seasoned player to ask for advice.

Note: to extend a build, you need to select the build you want to extend, and all the cards that you want to add to the build. Then touch the desired blue button to make the play. The rules of Cassino require that one of the added cards must come from your hand. (You always play exactly one card from your hand at every turn.) The second-last screenshot shows what it looks like. You can read more about this at http://psellos.com/2011/12/cassino-extend-build.html.

If you have questions about the game, don't hesitate to email us at cassino@psellos.com. We answer our mail faithfully!
What's New in Version 1.1
Plays two new variants of the game, with traditional scoring to 21.
iPhone Screenshots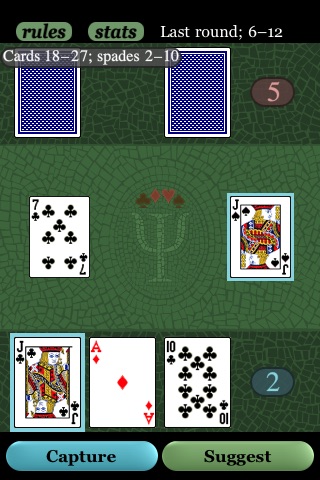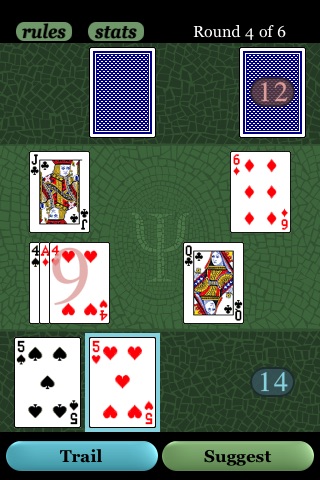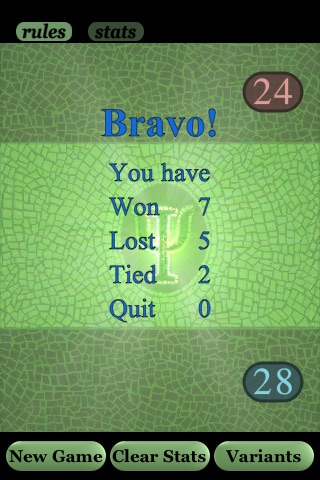 Customer Reviews
I can't play the game ( Revisited)
My first app and I can't even install it. I keep getting an error. " The app "Cassino" was not installed on the iphone because its resources have been modified. I tried over and over and it won't sync with my iphone." I dislike to give it one star cause the reviews are so good, but I have tried to install it and it won't let me.

+++Revisited***

The file I downloaded was corrupted. I deleted it at the suggestion of the creator of the app and re downloaded, now it works just fine. Lovely game. I will leave the first review intact so perhaps other may benefit from the problem I had.
What's with the same starting deal, time after time?
The last 4 games or maybe even more, have started with the exact same 4 cards on the board 2 sets that add to 7 AND I have happily had the 7 in each case but it makes me suspicious of the variety of games available. The problem mentioned by others about the inability to build on your own build either has been fixed or doesn't happen if you're playing the 3rd variant...21 point scoring and face cards and Aces being able to pick up combos of 11, 12, 13, & 14.
Great! with a VERY frustrating flaw
Great game, thanks for building the app.

One huge frustration: The computer can build upon a build. (e.g. Player 1 builds 6, then Player 2 places a 2 on the build and builds 8s) The user can NOT build upon a build. This really screws up the game. I know it's not intentional. Just fix it for the update OK?

One small suggestion: it would be nice to give the user the option to deal first, pr automatically alternate. It's not quite balanced when the computer deals first every game.
View in iTunes
$0.99

Category:

Games

Updated:

May 19, 2011

Version:

1.1

Size:

3.6 MB

Language:

English

Seller:

Jeffrey Scofield
Compatibility: Requires iOS 3.0 or later. Compatible with iPhone, iPad, and iPod touch.
More iPhone Apps by Psellos