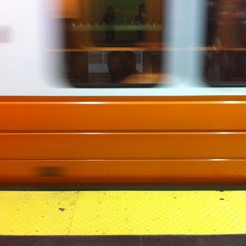 Description
Catch The T displays real time position data for the MBTA's Orange, Red & Blue lines. Other train systems and the Green line are not supported. See below for more information.

Don't blindly wait for the T to show up. Instead, KNOW when it's going to be there.

Catch The T answers these questions for you:
- Where's my train?
- When is the next train going to be at my stop?
- Do I have enough time to grab a coffee?
- Is there REALLY another train right behind this one?

Sometimes, just knowing where the train is makes the wait feel shorter.

CTT with show you the trains' current positions (by station), as well as prediction times for when the trains will arrive at other stations. The data is provided by the MBTA, and is available thanks to their open data initiative. The data for arrival times is powered by circuits on the train tracks, and is updated each time a train passes one of these circuits. This is the same system that powers the familiar audio alerts at stations (e.g. "The next train is now approaching"). Arrival times at the subsequent stations are predictions based on historical data.

This app was developed independently and is unaffiliated with the MBTA. Data on the Green line is unavailable due to technical limitations beyond this app's control. The Green line doesn't have the same tracking system present on the other lines. Bummer, I know. The MBTA has stated that they are working on expanding this tracking service, but the Green will be several years out.

Download Catch The T now and never miss a train again!
Ratings and Reviews
My favorite, but needs an update I think!
I love this app, and I don't even *think* about taking the subway (which I do 5 days a week) without checking this app. I'm usually even checking it while I'm waiting, and while I'm on the subway so I know if I'm going to catch my connecting train or if I should opt for the bus instead. I love the visual display, especially the icons for trains that let you see any bunching in a snap! Hands-down this is the best MBTA subway tracking app.

However… I happen to know that the MBTA released their 2.0 data feed in 2012, and officially the 1.0 data feed is deprecated - meaning it will be dropped at possibly any time! I STRONGLY suggest that the developer (Jared) put out an update to use the 2.0 data feed soon or else we're all going to be left high and dry when (not if) the MBTA drops the 1.0 data feed.

The only reason I'm giving this 4 stars and not 5 is because it hasn't been updated since 2010 and it's been two years since the MBTA 2.0 data feed came out. I'm just worried my favorite transit app will stop working! Jared please do an update!!
So much better than the other options
I've tried several apps, and this one seems to be the closest to real-time. User interface is easy and attractive.

Don't be cranky about no green line data---the MBTA does not have tracking for this. Remember, this is a third-party app, so don't blame them for lack of T data or a train that's a minute off schedule--they use the data provided by the MBTA and format it a really easy-to-use way.
Not reliable, at least for the Orange Line
This doesn't work very well for the Orange line. Many times it has told me that a train was just seconds away, and I wound up waiting several minutes…Or, that there were two trains just seconds apart…Or, it pulls up no trains at all…Or, it tells me the next train is eight minutes away, and two minutes later one pulls into the station.

Basically, it's never been right.

Maybe this works better for the Red and Blue lines, and maybe the problem is due to a fault with the system that this fetches info from. But if you need a reliable, accurate app for the Orange Line, spend your money elsewhere.
Information
Seller

Jared Egan

Size

3.3 MB

Category

Compatibility

Requires iOS 3.0 or later. Compatible with iPhone, iPad, and iPod touch.

Age Rating

Rated 4+

Copyright

© 2010 Jared Egan

Price

$0.99
Supports
Family Sharing

With Family Sharing set up, up to six family members can use this app.