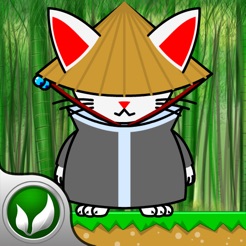 Description
* Featured on the front page of the US App Store!
* Mentioned on the "New and Noteworthy" list in the US App Store and many other countries!
* Mentioned on the "What's Hot?" list on Holland's App Store and many other countries!
* Featured at AppEvent.com!
* Featured at FreeAppReport.com!
* iPhoneclub.nl: "The quality and inventiveness of the levels reminds me of the better Mario-games which is a great compliment to the makers".

Note: this game has not been updated since 2010, but you are able to finish it completely. If you have an older device (iPhone 3 or 3S) it works fine. On newer devices the app might crash when the in-game character dies, but the game saves your progress and you can play where you left off.

Key features:
- A whole new concept of playing a platform game!
- Virtual buttons or Accelerometer controls!
- Online High Scores, Leaderboards and Friendslist through OpenFeint! Compete with players all over the world!
- Adventure and puzzle elements!
- 50 levels to unlock!
- Crisp and beautiful 2D graphics!
- Funky music and soundeffects!


CatSpin is a puzzle/adventure game with a whole new spin to it!

Our hero's name is Neko. His cool hat might make him look a bit mysterious, but it's just something random he came up with while dreaming this whole thing.

After running around and playing the whole day, Neko goes home to get some rest. Soon he is dreaming about a world full of lucky coins and he wants to collect them all!

It seems that every time he collects all the lucky coins around, a magical door opens and he is able to go to another room. To his surprise the next rooms also have coins in them. Neko's curious about how many rooms there could be and how many lucky coins he will be able to get.

And that is where you step in! You can help Neko by controlling him through the world! And not only that; you can control the world itself! By rotating it round and round, using either the virtual buttons or the accelerometer, you make sure Neko is able to get to places that he would otherwise not have been able to reach, but watch out! When you rotate, keep in mind that fire always wants to burn up, rocks always fall down and wind keeps coming from the sides; this might just do all kinds of funky stuff inside a rotating room!

After reaching the exit, your progress is automatically saved. The game also keeps track of your 5 fastest times! Try beating the highest score for every level!

Will Neko find out how many rooms there are?

Will he get all the lucky coins?

Let's find out!


About Phure Studios:
Phure Studios is a Games Design and Development company and is located in The Netherlands, founded in 2009 and have eyes set on pure fun! Phure Studios develops games for Apple's iPhone, iPod Touch and iPad.
- Online scores, leaderboards and friendslist through OpenFeint! Compete with other players around the world!

- Around 80% of all the level design has been improved to get an even better time trial experience! Most of them have become even more difficult!

- Improved clock!
- Improved controls!
- Improved physics!
Customer Reviews
CatSpin
I just played through the first few levels of CatSpin and I am liking it. The goal of the game is to get from point A to point B by moving yourself and the world around you while collecting coins. Each level has a timer which saves your best scores. There are also two control options: touch or accelerometer. If you like puzzle games, I would give this one a try. 50 levels should keep you occupied for a while!
Catspin
Catspin is a unique puzzle game. It is one of my favs. Graphics are great. Animations are cool. The controls are perfect. I would like to see some more levels though. It will keep you preoccupied. I recommend this game to those of you who love puzzlers.
A lot better than I expected
Incredibly fun, addicting, and difficult. I love the outfit Neko wears, because it makes him look like a member of the Akatsuki. Overall, the game is awesome and unique, definitely a good buy.
Information
Seller

Phure Studios

Size

18 MB

Category

Compatibility

Requires iOS 3.1.2 or later. Compatible with iPhone, iPad, and iPod touch.

Age Rating

Rated 9+ for the following:

Infrequent/Mild Cartoon or Fantasy Violence

Copyright

© 2010 Phure Studios

Price

Free
Supports
Family Sharing

With Family Sharing set up, up to six family members can use this app.