چه خبر؟
By Amir Taghavizadeh
This app is only available on the App Store for iOS devices.
Description
نرم افزار خبرخوان فارسی

● دسترسی به جدیدترین خبرها سریع‌تر از هر زمان دیگری

● آگاه سازی (Notification) یا اعلان
شما می توانید خبرهای دلخواه خود را انتخاب کنید تا ما آنها را بصورت لحظه ای برای شما ارسال کنیم

● امکان جستجوی خبر از میان هزاران خبر
امکان جستجو بر اساس متن و/یا برچسب خبر از میان هزاران خبر در سریع‌ترین زمان ممکن

● تگ‌گذاری (برچسب) خبرها برای دسترسی سریع‌تر به خبرهای مرتبط
همه خبرها دارای برچسب می‌باشند. با لمس هر برچسب، خبرهای مرتبط را در سریع‌ترین زمان ممکن مشاهده کنید

● خواندن خبرها بر روی مچ دست
خواندن خبرها و ذخیره خبر مورد علاقه بر روی آیفون آیپاد یا آیپد از طریق ساعت اپل

● پشتیبانی از آی‌پد
طراحی نسخه ویژه آیپد
پشتیبانی از Slide Over و Split View در iOS 9 به بالا
بهینه سازی شده برای آیپد پرو

● خواندن خبرها در محیطی زیبا و مدرن

● بهترین منابع خبری بصورت یکجا در دسترس شماست
ما همواره در حال جستجوی منابع خبری جدید هستیم تا با بررسی آنها، بهترین ها را در اختیار شما قرار دهیم

● ذخیره خبرها
خبرهای مورد علاقه خود را ذخیره کنید و در فرصت مناسب و بدون نیاز به اینترنت مطالعه کنید

● خواندن در شب
برای خواندن راحت تر خبرها و جلوگیری از آسیب های چشمی در محیط های کم نور قالب تیره را طراحی کرده ایم

● فونت های زیبا
فونت‌های استفاده شده نسبت دیگر فونت‌های فارسی خوانایی بیشتری دارد و به سلیقه و سبک فونت‌های رایج در ایران نزدیک است و علاوه بر سادگی ساختار، حس و حالی مدرن و امروزی دارد
What's New in Version 4.6
رفع اشکال جزئی، بهبود کارایی

در ورژن ۴.۵:
● تغییر روش دریافت خبر از طریق نوتیفیکیشن
● ایجاد کد رهگیری برای هر دستگاه جهت بهبود پاسخگویی در پشتیبانی از طریق تلگرام
● تغییرات جزئی در رابط کاربری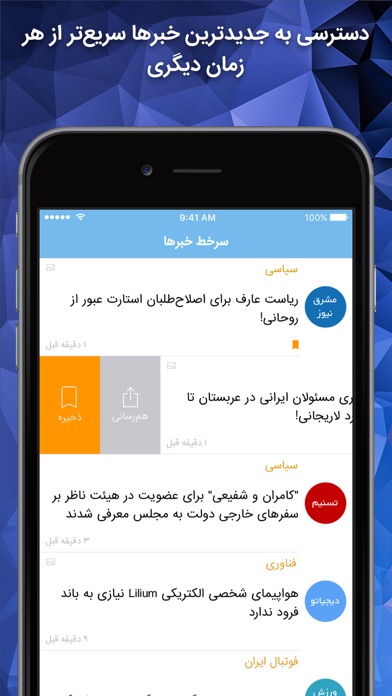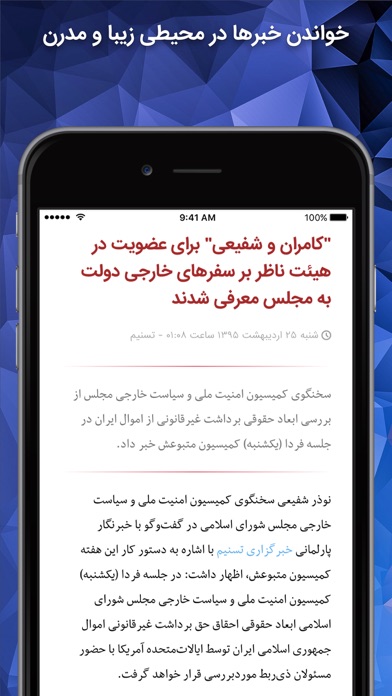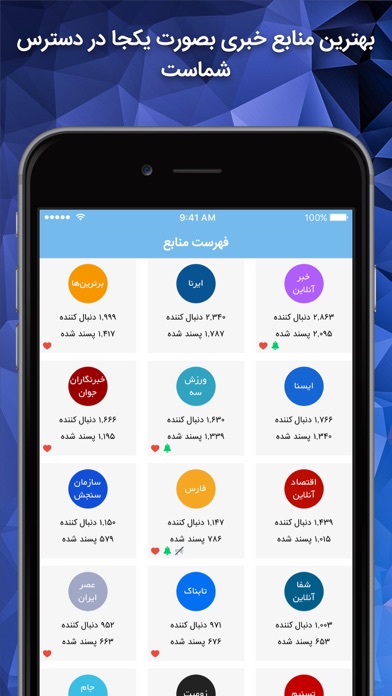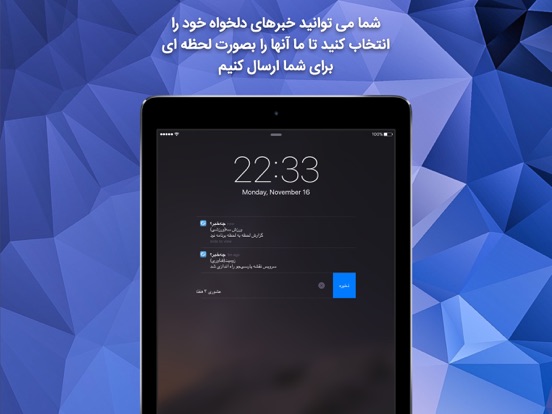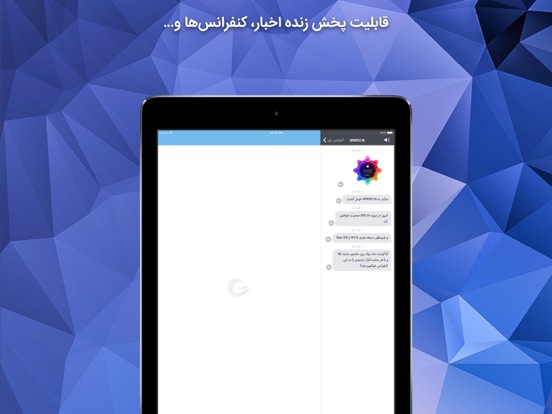 Customer Reviews
Useful
Very useful app for news...
Sara
مرسي ازبرنامه خوبتون🌹
View in iTunes
This app is designed for both iPhone and iPad
Offers Apple Watch App for iPhone
Free

Category:

News

Updated:

Jul 28, 2017

Version:

4.6

Size:

35.2 MB

Apple Watch:

Yes

Language:

English

Seller:

Amir Taghavizadeh
Compatibility: Requires iOS 7.0 or later. Compatible with iPhone, iPad, and iPod touch.
More by Amir Taghavizadeh