Chibi Me: Dress Up with Cute Friends
By Lucium
This app is only available on the App Store for iOS devices.
Description
Make your friends a chibi! As seen on INSTAGRAM ❤

☆ Featured #1 in Australian app store in its 1st week! ☆

Create your dream characters and dress them up using the clothes in this huge fashion closet!

❤ THANK YOU! ❤
We read all your ★★★★★ reviews!

'ㅅ' Chibi Me now comes with adorable fashion friends! Super Kawaii!!

For anyone who loves fashion, dress up and make up simulations.

WATCH A DEMO: https://vimeo.com/46299169

✓ Super cute characters
✓ Kawaii Fashion wardrobe
✓ Adorable animals, creatures, monsters, robots as a side kick
✓ Over MILLIONS of different anime characters!
✓ Save it in your photo library
✓ Now you can add your custom message or emotion
✓ Share it on Twitter
✓ Use it as an avatar anywhere you want
✓ Keeps you busy for a long time
✓ Cosplay with your friends
✓ Use the randomizer and smile at funny generated characters
✓ Relax and enjoy the app with 2 different soundtracks produced by Lullatone
✓ Use transparent background to post it on your own photos
✓ Change background, hair, eyes, eyebrows, lip, ears, facial features, glasses, hats, necklaces, bracelets, items holding in the hand, pets, shirts, dresses, pants, coats, shoes, socks, leggings... Almost everything!

\(˘⌣˘)/
Did you already write a review?
We are sharing the coolest reviews on our Facebook page and Twitter!
www.facebook.com/ChibiMeApp
https://twitter.com/chibimeapp
What's New in Version 3.1
❤ 26 FREE items ❤
✓ new christmas and new year dresses for girls
✓ 18th century opera costume for girls
✓ new emotion/speech bubbles and side kicks and a red background with christmas lights
✓ lovely pearl necklace

HAPPY NEW YEAR and a MERRY CHRISTMAS!

☆ We are working on a big update with an amazing artist called Clavies! ☆
iPad Screenshots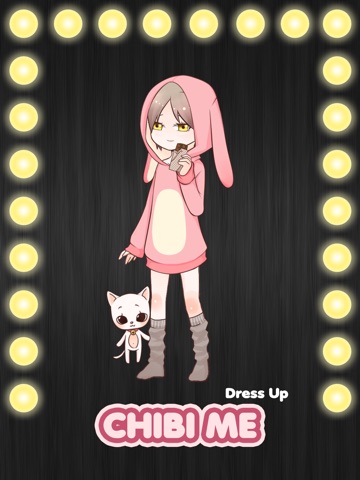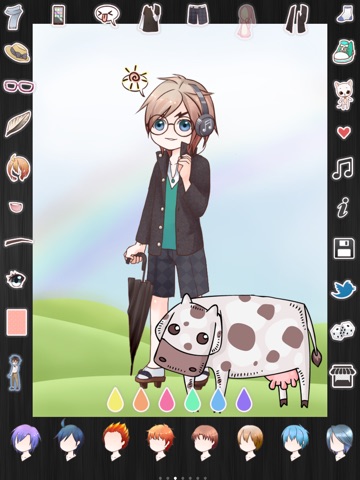 Customer Reviews
So cute
Ok to start off I'm going to say this game is really really cute and all the animals there is a pairs chic doll i love that game also u should get it anyway I LOVE THE GAME THE LITTLE GIRL IT JUST SOOOOOOOOOO KAWII AND IT NOT LIKE ANY DRESS UP GAME ITS MORE AMAZING THEN ANY DRESS UP GAME IN THE WORLD YEP I SAID IT IN THE WORLD AND IF I SELL WRONG DONT JUGE😈ok there little eye balls are so cute my fave it the dot ones whats ur? And who I hope they make more games like this cause I would love that hoe u will too and im only 10 and I love kawii peeps 😋 Any who i just ganna put harts for how much i love this game and hear we go❤️❤️❤️❤️💚💚❤️❤️❤️💚❤️💚💚💚💚💜💚💚💜💚💚💚💚💜💜💜💜💜💜💜💜💜💜💜💜💜💜💜💜💙💙💙💙💙💙💙💙💙💙💙💙💙💙💙💙💙💙💙💛💙💙💛💛💛💛💛💛💛💛💛💛💛💛💛💛💛💛💛💛💛💙💙💙💙💙💙💜💜💜💚💚❤️❤️❤️❤️❤️❤️💚❤️❤️💚💚💜💜💜💜💜💙💙💙💙💛💛💛💛💛💛💛💛💛💛💙💙💙💙💙💜💜💜💜💚💚💚💚💚💚💚💚💚❤️❤️❤️❤️❤️❤️❤️❤️❤️❤️❤️💚💚💚💚💚💚💚💚💚💜💜💜💜💜💜💜💜💙💙💙💙💙💙💙💙💛💛💛💛💛💛💛💛💛💛💙💙💙💙💜💜💚💚💚💚💚💚💜💚💜💚💜💚💜💚❤️❤️❤️❤️💚💚❤️💚💚💜💜💜💙💛💛💛💄💛💛💛💙💙💜💜💚💜💚💜💜💚💜💚💚💛❤️💛💔💗💔💗💛💓💗💗💛💗💛💛💓💛💓💛💙💙💙💙💙💙💙💓💓💓💓💙💓💓💓💓💓💓💙💙💓💓💙💙💙💓💓💙💙💓l
!!!!!!!!!!!!!!!!!!! I'm sorry I'm just to lazy to write a hole thing and my iPad is up to3% lol on Noah who u should really get this game byeee
So cute!
At first, I wasn't sure about this game. It looked cute in the App Store, but I was skeptical. But, as I began to play and make combos of cute outfits, I fell in love. My storage recently got pretty full, but I didn't even consider trashing this cute little game. I love it!
I'm the oldest of eight cousins, and when I see them, they all want to play video games when they get tired. Naturally, they want to play with my iPad, and begin to go through games that they don't understand in the least. But, I open up this app and they play for hours, making up little stories to go along with their little characters.
It's so cute to play and good for all ages. Sometimes, I convince older friends or adults to make a little person. Absolutely a fun game and I love playing it, no matter where or when. The best part, there are never the same two combos because you can change the color of the eyes, hair, and you can give it different eyebrows and mouths. The possibilities are endless! I love this game!
~Kawaii
I love your app a lot but it's kind of unbeneficial cuz when you want to buy more packs, you need to spend actual money. I get that you have to profit from this, but listen. Not to be racist, but most of your audience are Asians. No offense, (I'm Asian as well), but most Asian parents won't allow their children to spend money on apps or app packs. Considering this, you should let the audience earn money while playing, like some type of in game money. This way, you can then make some of the packs in the store cost in game money, and others real cash. In addition, you can allow people to by in game money with actual money, if you know what I mean. My point is, you shouldn't make all the packs in this app cost actual money. Please consider my suggestion. Other than that matter, I love your app because I watch anime and read manga and I really like this app a lot! Thank you so much for this app and your time. Thanks again!!!!!

~Rachel <3
View in iTunes
Free

Category:

Games

Updated:

Dec 07, 2012

Version:

3.1

Size:

75.0 MB

Languages:

English, Dutch, Japanese, Simplified Chinese, Turkish

Seller:

Lucium
Compatibility: Requires iOS 5.1 or later. Compatible with iPad.
Top In-App Purchases
Girls Wardrobe #2$1.99
Girls Wardrobe #1$0.99
Face Pack #1$0.99
Face Pack #2$1.99
Face Pack #3$1.99
Boys Wardrobe #1$0.99
Boys Wardrobe #2$1.99
Sidekick Pack #1$0.99
Transparent Pack$4.99