Choiceworks Calendar
By Bee Visual, LLC
This app is only available on the App Store for iOS devices.
Description
The Choiceworks Calendar is a powerful picture-based learning tool that helps children learn what is happening day-to-day throughout each month.  By presenting the abstract concept of time in a structured, visual format, Choiceworks Calendar helps children organize their lives as well as understand sequence and time.  Built by the same team that brought you the award winning Choiceworks App, the Choiceworks Calendar is the first app of its kind to provide a full-featured calendar designed with both the child and caregiver in mind.

Key Features 

■ Easily create a visual calendar of upcoming events in a few minutes (examples: holidays, when visitors are coming, doctor appointments, vacations, sleepovers, parent returning from a trip or military duty)
■ Image Library preloaded with over 275 images and audio
■ Add your own images using your photo library, camera or use the preloaded image library to record your own audio and edit captions for limitless customizability 
■ Create multiple personalized calendars for use with multiple children or in a classroom setting
■ Count Days Until: animated counter for the number of days until an upcoming event (example: How many days until my birthday?)
■ Speaks the daily schedule
■ Built-in visual timer
■ Automatically adds holidays
■ Easily add reoccurring events
■ Notifications and alarms with visual and audio alerts
■ Search and auto-save features
■ Share boards by Email or iTunes File Sharing with other Choiceworks Calendar app users 
■ Ability to print month, week or day for offline viewing or save as PDF

Methodology

Visual supports are a highly effective, proven tool for improving communication between children and caregivers.  Calendars are challenging for children to grasp initially due to the abstract concepts of time, months, weeks and days.  They are also time consuming for caregivers to setup and maintain.  Choiceworks Calendar addresses all these challenges.  For the caregivers, it provides a streamlined interface for creating, customizing, sharing and maintaining a calendar of upcoming events.  For the child, it provides visual and audio supports that make using the calendar a delightful experience while they learn these abstract concepts of time.
Children gain independence and personal responsibility by seeing helpful information such as which days are school days and which days are not.  They also benefit by being informed of upcoming events such as a doctor's appointment or celebrating a birthday. This clear, simple support provided ahead of time can help a child predict what is going to happen, thereby reducing anxiety.  It helps children understand when there is a change in the routine so they can adapt, become more flexible and better behaved. Because the information is always visible on the calendar a child can refer to it as often as needed. 

Helpful Tips

Simple:  When first implementing Choiceworks Calendar, the calendar should be kept simple and be geared toward the child. By reviewing the calendar each day, the child will learn the days of the week, rote counting, number identification and parts of the daily, weekly, and monthly schedule.
Visuals:  Put images on the calendar that describes the most important activities of the day. Again, keep it simple. Only include what is important for the child on the calendar.  Start small and gradually increase the amount of information presented as the child begins to understand the passage of time.
Advance: As success with Choiceworks Calendar increases, visually plan out big projects and indicate deadlines for science projects, writing assignments, etc.  Chunk larger projects into smaller, manageable steps that the child can complete each day.  This will focus attention to the current task and lessen anxiety and distraction to other portions of project. 
Have your own tips or ideas?  Visit our Facebook page and share it with the Choiceworks community:  https://www.facebook.com/ChoiceworksApp
What's New in Version 2.2
- Fixed bug with shared calendars that caused deleted occurrences of repeated events to import incorrectly
- Fixed bug where an event's Repeat On field would have incorrect default under some circumstances
- Fixed bug that could result in extra events appearing in the Countdown menu
iPad Screenshots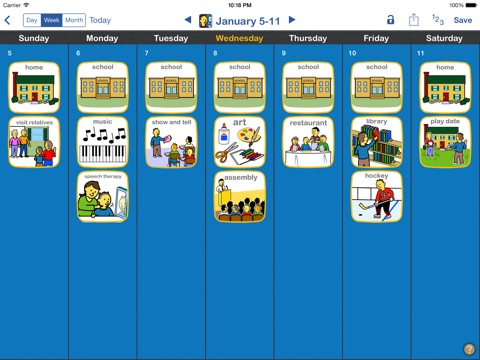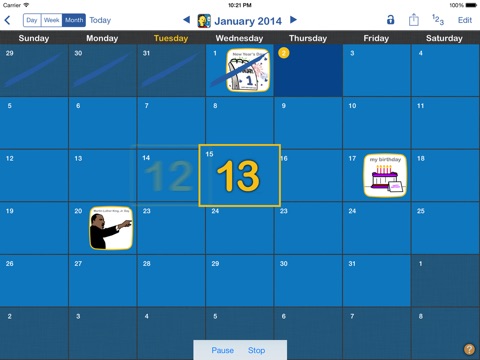 Customer Reviews
Good idea - bad implementation - not useful for parents
I had to write this review to prevent other parents from spending 4.99 on something that is just not useful at all primarily for one reason: the printing feature is totally broken due to the the size of the icons which will not fit on one page. There is also no feature to print one week with the schedule on one page. Unless you do not mind that your kids have to use the IPAD or iPhone all the time to understand their schedule, do not buy. Lastly, the calendar does not sync in a convenient way across multiple devices, a standard feature in my view.
App will not install, it keeps "Waiting"
I purchased this app as a bundle and I have not been able to download it in order to use it for home health OT.

The app will not install, and after powering the iPad down, the app would still state, "waiting." I also deleted a lot of unused apps to make space, however it still states, "waiting."

Make this app work, or give me my full refund. Thank you.
Twin boys with medium to high functioning autism
I cannot state enough how helpful this app has been. It is fantastic for every day use.
When you click on a calendar item, it says the event out loud. You can make the schedule as detailed or as limited as you like. You can create multiple calendars for daily activities or you can make an overview calendar for just the big holidays. It has a Countdown feature which my son absolutely loves to use to see when things are coming up (like Christmas and birthdays).
My husband and I divorced last year and at the end of each day I put an entry for where they will be spending the night. During the school year it is pretty straightforward, but when you add in summer vacation and dad's extra long visitation during summer, things get a little complicated.
When you click on the day that you are on, you can slide items from the left to the right and it will say "all done" and put a checkmark over that item.
My boys are like me in that they are very visual. This calendar enables them to see you things that are coming up in the future such as therapy, doctors appointments, vacations, anything important.
It is fairly easy to import and export the calendars so I have the master calendar on my iPad and I will export it to both of my boys using dropbox (usually) so that we all have the same calendar and I can update easily when they are using their iPads. In addition, you can send copies of the calendar as a PDF in case caretakers don't have the app.
No matter how severely disabled your child is, I believe this calendar can make a huge difference in their ability to understand their schedule.
I don't normally leave reviews, but this has been a lifesaver since my divorce.
View in iTunes
$4.99

Category:

Education

Updated:

Apr 07, 2016

Version:

2.2

Size:

42.8 MB

Language:

English

Seller:

Bee Visual LLC
Compatibility: Requires iOS 7.1 or later. Compatible with iPad.
More iPad Apps by Bee Visual, LLC