Chronicle - Bill Management
By LittleFin LLC
Open the Mac App Store to buy and download apps.
Description
***50% off for a limited time***
***Featured by Apple in Best New Apps***

If you pay bills, you need Chronicle. It gives you the peace of mind of never having to worry about whether you paid a bill again.

*** Syncs with iOS via iCloud ***

Even if you use another finance application for general finance, you need Chronicle. One late payment can wreak havoc on your credit score, leading to higher interest rates and denied loans-- in short, completely affecting your financial life.

Chronicle will remind you when your bills are due, even when it isn't running. And in just a few minutes a month, you can handle everything related to paying your bills.

• Never forget a bill -- get reminded when your bills are due with alerts that can be synced to your iPhone and across all your Macs, even when Chronicle isn't running.

• Easily pay your bills online using Chronicle's integrated browser, or your default browser.

• Keep proof of all your payments -- store confirmation numbers and receipts right in Chronicle, so you always have proof of your payments.

• Get reminders in your notification center and put bills on your calendar. Chronicle can remind you via notification center and can add your bills to your calendar so you can visually see when they are due.

MACWORLD gives Chronicle 4.5 out of 5 mice:
"Chronicle is one of the slickest finance apps available for the Mac. It's easy to use and easy on the eyes, and it's worthy of a spot on anyone's dock."

Syncing is built in:
You can sync Chronicle data with multiple Macs using Dropbox or iCloud, details below: http://chronicleapp.com/support/sync

See a quick start video at chronicleapp.com

What Others Are Saying:
"Chronicle is an excellent App that has enabled me, once and for all to control my Bills and no longer have any surprises."
--MacUpdate User Review

"Simple yet powerful, with all the features I need and a very good interface" --MacStories
What's New in Version 7.0.2
Version 7.0 is a major update with a number of new features. You can read more here: http://chronicleapp.com/support/new-in-chronicle-7/

If you have questions or problems with this update, don't hesitate to contact us at support@littlefin.com

Version 7.0.2 fixes two issues:
- Fixed periodic crashing in some cases.
- Fixed an issue where the days until due would not update after Mac went to sleep.

If you have problems opening version 7 on macOS 10.9, see our help page here: http://chronicleapp.com/support/chronicle-7-0-and-macos-10-9/

NEW: Improved repeat intervals. Chronicle now includes repeat intervals for specific days of the week (like 2nd Wednesday of the month, etc), plus a special custom repeat interval for paying estimated taxes in the U.S. The new repeat intervals can be accessed by selecting "Custom" on the repeat interval field.

NEW: Improved Tag Behavior: You can now search for tags using the search field. In addition, you can now use the search field to further narrow down bills due soon or due in the current month. For example, you can select click "Due This Month" on the sidebar, and then select a tag in the search field to show only bills matching that tag due in the current month.

NEW: Refined, improved design. More information and options for how information is displayed on the Overview. In addition, the design has been improved so that information is easier to sort and access. Search can now be accessed from anywhere, not just the overview.

NEW: More icons. Icons for cloud drive services, clubs & organizations, food, jewelry and savings have been added.

NEW: CSV Export. You can now export all of your payment history for any bill.

IMPROVED: iCloud sync reliability has been improved, and several sync-related crashes have been fixed.
Screenshots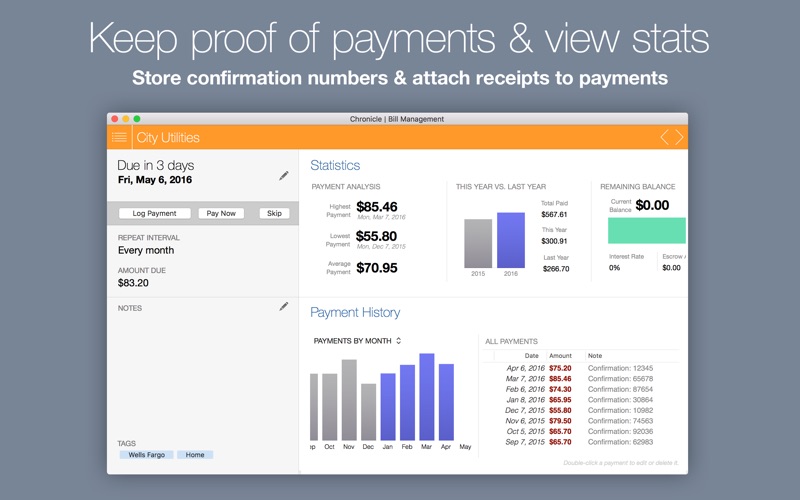 Customer Reviews
Stopped Working In Version 7.0.2
After the new update it stopped working. Everything was working great now can't open the app. Same thing happened on my iPad Pro but I uninstalled then reinstalled and it is working. Tried to do it on my MacBook Pro and nothing. Time to look for another app.

*****I Edit My Review to 5 Stars.******
I let my frustrations get the best of me and wrote my first review before giving the support team at littleFin LLC (Mike👍🏼) a chance too figure it out. It took 3 days to get this app going again but it's working GREAT! again thanks to MIke in support. I could tell mike was working on this in the background because he was the one to reach out too me to get this resolved. I just coulnd't figure out why it worked on my iPhone and iPad but not my MacBook Pro. All I can say is they have a good support team so give them a chance before you write a bad review like I did. It may take a few days but it's worth the wait. This is a Great app. Thanks again to Mike in support.👍🏼
I've been using this app for years and love it.
I purchased Chronicle today on the app store even though I already own the non mac store version. Mike the developer rarely charges for upgrades, yet, he continuosly improves and develops Chronicle at regular intervals. Once when I had a HD crash and needed some assistance, Mike personally helped me resolve the problem, almost immediately. I was very impressed. It was at that time he had just had a major update to Chronicle and I told him it wasn't very business savy of him to keep giving out these free major upgrades. Basically, this purchase is to put a couple pennies in his pocket and help guarantee the future of Chronicle.

**I highly recommend this application for macOS and iOS** do yourself a favor and purchase this. I believe you won't be disappointed.
Good app, but issues with income
I constantly have issues with income duplicating entries in the bill list. Eventually I end up with several entries blocking easy viewing of the bills. As it comes time for the income to repeat, it adds another entry and gets lengthy. Archiving or deleting the income removes the entire history of the income. Restoring it puts the date at December 31, 4000 and the only way to get to the current date is by manually clicking back month by month to the current year (no thanks). My income tracking is completely off (again) because of the duplicating entries. Also, restoring from a backup (created automatically) does not appear to have any effect if the content has synced to iCloud. The app is great when income is behaving as expected, but it doesn't do that often. Everything was working great until the update to 7.0.
View in Mac App Store
$9.99

Category:

Finance

Updated:

Jun 08, 2017

Version:

7.0.2

Size:

21.6 MB

Language:

English

Seller:

LittleFin LLC
Compatibility: OS X 10.10 or later, 64-bit processor