Citadele-Latvija Lietuva Eesti
By Citadele Banka AS
This app is only available on the App Store for iOS devices.
Description
Banka Citadele Latvijā/Citadele bankas Lietuva/Citadele Eesti filiaal

Bankas pakalpojumi mobilajā ierīcē nekad vēl nav bijuši tik ērti un vienkārši! Bankas Citadele mobilā aplikācija klientiem Latvijā dod iespēju kontrolēt naudas atlikumu kontā un ērti veikt maksājumus, izmantojot 5 ciparu PIN kodu.

Klientiem Latvijā pieejams:
- Atlikums kontā - Ātrais atlikums gan aplikācijā, gan arī logrīkā (widget);
- Pēdējie darījumi un to detaļas;
- EUR maksājumi EUR zonas ietvaros;
- MobileSCAN, lai pieslēgtos internetbankai;
- Ātrā piekļuve lietotāja šabloniem;
- Valūtas kalkulators;

- Iespēja redzēt kartē vietas, kur var saņemt atlaides ar bankas Citadele kartēm, kur atrodas Citadeles filiāles un bankomāti.

Vairāk informācijas: www.citadele.lv

Ja Jums ir aktivizēts MobileSCAN un/vai kāda no mobilās aplikācijas Ātrajām funkcijām, mobilās ierīces pazaudēšanas/nozagšanas gadījumā nekavējoties zvaniet (+371) 67010000, lai bloķētu šīs funkcijas.

Atsauksmes un ierosinājumus sūtiet uz mobileapp@citadele.lv!


Šī ir AS "Citadele banka" (reģ. nr. 40103303559) izstrādāta aplikācija bankas ikdienas pakalpojumu lietošanai mobilajā ierīcē.

----------------

Naudotis banko paslaugomis mobiliuosiuose prietaisuose dar niekada nebuvo taip patogu ir paprasta!
Dabar "Citadele" banko programėle gali naudotis Lietuvos, Latvijos ir Estijos klientai.

Klientai Lietuvoje gali:
- Prisijungti prie paskyros su mobiliu parašu;
- Išsaugoti vartotojo vardą;
- Patikrinti sąskaitų likučius;
- Peržiūrėti naujausią sąskaitos informaciją ir informaciją apie kortele atliktas operacijas;
- Atlikti mokėjimus eurais EE ir EEE šalyse;
- Surasti gavėjus, savo arba banko paruoštas mokėjimų formas;
- Naudotis žemėlapiu, kuriame nurodyti visi "Citadele" banko padaliniai ir bankomatai, jų darbo laikas.

Daugiau informacijos: www.citadele.lt

Mums svarbūs klientų poreikiai, todėl jei turite pasiūlymų, klausimų ar susidūrėte su nesklandumais naudodamiesi mūsų mobiliąja programėle, rašykite mums el. paštu adresu mobileapp@citadele.lv!

Šią mobiliąją programėlę sukūrė AS "Citadele banka" (įmonės kodas 40103303559), siekdamas sudaryti klientams galimybę naudotis populiariausiomis banko paslaugomis mobiliuosiuose prietaisuose.


----------------
Mobiilipank pole kunagi olnud nii lihtne ja mugav! Nüüd on Sul kiire juurdepääs kontodele ja makseid saad sooritada otse nutiseadmes.
Citadele äppi saavad kasutada kõik kliendid Eestis, Lätis ja Leedus.

Citadele äpp võimaldab:
- Kiiret juurdepääsu kontojäägile
- Ülevaadet viimastest tehingutest
- Teostada siseriiklikuid Euromakseid
- Kiiret juurdepääsu määratud maksetele
- Blokeerida pangakaarte
- Kasutada valuutakalkulaatorit

Lisainfot vaata meie kodulehelt citadele.ee.

Sinu tagasiside ja kõik ettepanekud on oodatud aadressile mobileapp@citadele.lv!

Rakendus on arendatud Citadele banka poolt, et muuta igapäevapangandus veelgi mugavamaks ja kiiremaks.

----------------


Mobile banking has never been so simple and convenient! Enjoy the access to your accounts and make payments in your mobile device.

Now the application is available for Citadele Bank customers in Latvia, Lithuania and Estonia.

Customers in Latvia who have activated MobileSCAN authorization device and/or any Quick function on your mobile application, in case of loss/theft of the mobile device, should immediately call (+371) 67010000 to block these functions.

More information: www.citadele.lv, www.citadele.lt and www.citadele.ee

Feedback and suggestions are welcome to mobileapp@citadele.lv!

This mobile application is developed by AS "Citadele banka" (reg. No. 40103303559) for the usage of bank's most popular daily banking services on mobile devices.
What's New in Version 11.0
Izmēģiniet jauno iespēju – Skenē, lai maksātu! Lai automātiski aizpildītu maksājumu (izņemot Lattelecom rēķiniem), novieto rēķinā esošo svītru kodu iezīmētajā kameras laukumā un veic rēķina apmaksu.
Un vai ievērojāt? Aplikācija paliek arvien ērtāka – tagad pieslēgšanās vārdu var saglabāt, lai tas nebūtu atkārtoti jāievada nākamreiz.

Now Bank's customers in Estonia can enjoy Citadele mobile app. And you can save username not to be re-typed in again.

Kartą išsaugojus savo vartotojo vardą to iš naujo daryti nebereikės. Nuo šiol banko klientai Estijoje gali naudotis "Citadele" mobiliąja programėle.

Juhhuu! Nüüd saavad kõik Citadele panga kliendid kasutada mobiilipanka. Kas Sa märkasid? Äpp muutub aina mugavamaks - nüüd saad salvestada kasutajanime ega pea seda enam kunagi uuesti sis.
iPhone Screenshots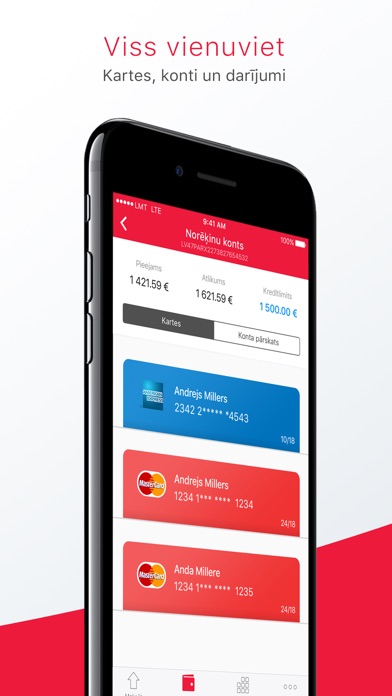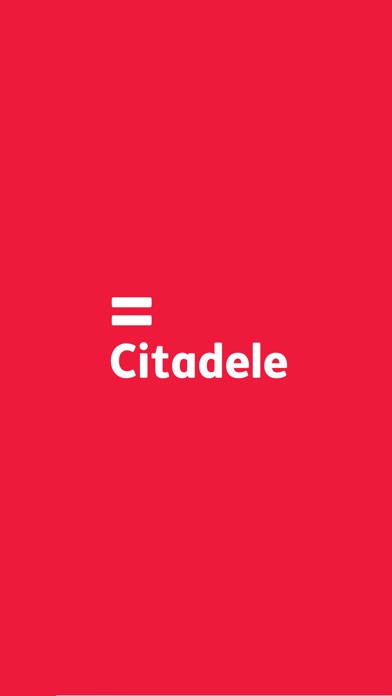 View in iTunes
Free

Category:

Finance

Updated:

Sep 18, 2017

Version:

11.0

Size:

73.1 MB

Languages:

English, Estonian, Latgalian, Latvian, Lithuanian, Russian

Seller:

AS Citadele banka
Compatibility: Requires iOS 9.0 or later. Compatible with iPhone, iPad, and iPod touch.