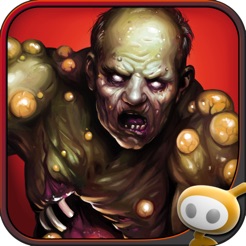 CKZ Origins
12+
Free
Offers In-App Purchases
Description
***If you are experiencing an initial loading screen hang and are currently on Mac OS Mountain Lion 10.8.2, please upgrade for free to 10.8.3 released on 14-March.***

The follow up to the successful franchise, Contract Killer: Zombies!! Step into the role of Evelyn as she tries to clear out the Savehaven Research Center from the hordes of zombies and reveal the mystery behind the outbreak.

Free-Movement Third-Person Action!
Explore numerous locations both inside and out.

High-quality 3D graphics!
Experience beautiful graphics on the latest devices

Survival Mode!
Get the highest score by protecting the civilian from waves of zombies!

Tons of missions to complete!
Save civilians, find provisions and clear escape routes to open new locations.

Kill zombies!
Use a variety of deadly guns, grenades and melee weapons!

Collect Items!
Shotguns, Machine Guns, Sniper Rifles, Grenades, Axes, Chainsaws, Health Packs and MORE!

Multiple Zombie Bosses!
Can you take them all down?

PLEASE NOTE:
- This game is free to play, but you can choose to pay real money for some extra items, which will charge your iTunes account. You can disable in-app purchasing by adjusting your device settings.
- This game is not intended for children.
- Please buy carefully.
- Advertising appears in this game.
- This game may permit users to interact with one another (e.g., chat rooms, player to player chat, messaging) depending on the availability of these features. Linking to social networking sites are not intended for persons in violation of the applicable rules of such social networking sites.
- A network connection is required to play.
- For information about how Glu collects and uses your data, please read our privacy policy at: www.Glu.com/privacy
- If you have a problem with this game, please use the game's "Help" feature.
Ratings and Reviews
Contract Killer- Zombies 2 -Origins
I like the game, but there are a few spots/glitches in the beginning ( I am a new player) where I had no choice but to end and start again, because somehow it allowed my character to enter between a barrel and a car, BUT would not let me get out! I was stuck indefinitely, so I had to quit and begin again. I do like the game very much so far, but I refuse to pay REAL money for fake money. I did have quite a bit of gold built up and it went to zero in one session, I don't know WHY, so I do need to read up and see what is taken away durring game and why.
I was dissapointed in one aspect, and that is that it said if I logged on with my FACEBOOK account, it would give me a bunch of $$ or Gold (I can't remember which, maybe both?)
BUT when I did, It SAID that it could not log me in until I made the pop up BIGGER- which cannot be done on pop ups, at least mot on my mac laptop, BUT it LOGGED ME IN ANYWAYS, sent notifications to ALL MY FRIENDS- AND I **NEVER** RECIEVED THE $$ OR GOLD or whatever large ammount was promised.
So, as long as you don't care about money or gold, lol- it can still be pretty fun :)
Needs Work
Good graphics are a plus, but other than that this game is hard to play due to the issue of moving the mouse too close to the dock pulls the dock up which can be troublesome at the wrong times. So far I am playing with just the bat, ammo seems way too scarce, and most weapons cost so much gold bars there's no real need to upgrade. I understand the desire to make money off the game, hence the ammo being so scarce, but even the purchase menu itself is cryptic. While scrolling thru the weapons you see a number (Price) listed above the "Buy" button which suggests thats the cost of the item, but in reality its actually how much gold bars you need to be able to purchase the item. Very confusing...
Buggy As Hell! In App Purchases Annoying!
So, yeah this feels like Lara Croft in zombie land with mediocre graphics. I could handle that, but the worst is that if you look down at the ground or move towards your Dock then it loads other programs and TABS you OUT of the GAME leaving you to get WASTED by the mobs. This typically happens during a zombie rush.

To make things worse, every time you complete a mission, load the game, or do anything it forces an advertisement pushing better weapons for gold, which of course you purchase using in app purchase system. Like many other games based on this system, you are set up to fail unless you are willing to continually sink money into their currency. I refuse to do that in any game.

It was a good idea, but the bugs and constant tabbing out of the game breaks the experience and makes it only barely playable.
Information
Seller

Glu Games Inc

Size

286.9 MB

Category

Languages

English, French, German, Italian, Japanese, Korean, Portuguese, Russian, Simplified Chinese, Spanish, Traditional Chinese

Age Rating

Rated 12+ for the following:

Infrequent/Mild Realistic Violence

Frequent/Intense Horror/Fear Themes

Infrequent/Mild Mature/Suggestive Themes

Copyright

© 2013 Glu Mobile

Price

Free
Supports
Family Sharing

With Family Sharing set up, up to six family members can use this app.