Classics
By Andrew Kazmierski
This app is only available on the App Store for iOS devices.
Description
*** ON SALE THROUGH THE HOLIDAYS! ***

Many of you have been contacting us with questions about Apple's recently announced iBooks for iPad. We have no involvement, but we are proud to have influenced the future user interface of digital reading.

--

Escape into some of the greatest stories ever written.

Experience digital reading in a way that is so natural, and so obvious, it just feels right.

It begins with a collection of over a dozen hand-picked, literary masterpieces…

THE COLLECTION
• *NEW* Through the Looking-Glass (ILLUSTRATED)
• *NEW* The Odyssey
• *NEW* The Art of War
• *NEW* The Wonderful Wizard of Oz
• *NEW* The Illiad
• *NEW* The Count of Monte Cristo
• *NEW* Frankenstein
• Dracula
• Treasure Island
• Pride & Prejudice
• A Christmas Carol (ILLUSTRATED)
• Alice's Adventures in Wonderland (ILLUSTRATED)
• Gulliver's Travels
• The Time Machine
• The Adventures of Huckleberry Finn
• The Call of the Wild
• Flatland (ILLUSTRATED)
• 20,000 Leagues Under the Sea
• Robinson Crusoe
• The Jungle Book
• The Metamorphosis
• Paradise Lost
• Hound of the Baskervilles

"You get the feeling of actually reading a book" - Jim Dalrymple, Macworld

FEATURES
• An intuitive and elegantly designed reading experience with realistic 3D page flips that track to your finger. You can even drag a bit to take a peek at the next page, or finish reading a sentence as you start turning!
• Flick up and down in your virtual bookcase to view your collection, tap a book to open, and tap and hold to drag and sort your books
• Tap the table of contents button on the top right for quick navigation between chapters
• View how far you are in a book at a glance with a subtle progress display integrated into the top bar
• Classics automatically remembers your place with a satin bookmark when exiting the app or book
• Options to toggle 'page flip' animation to a more minimal 'slide', and to turn the page flip sound off and on can be found in your iPhone's settings application

"You're really getting a much nicer book experience… it's a gorgeous program." - Leo Laporte, MacBreak Weekly
What's New in Version 1.3
• Fixed ordering in the chapter list of "Flatland."

NEW TO THE COLLECTION
• "Through the Looking-Glass" by Lewis Carroll
• "The Odyssey" by Homer
• "The Art of War" by Sun Tzu

If you haven't already, be sure to leave a review (we love hearing what you think of our app!), and check out our new Facebook group to leave book requests and ask questions: http://tinyurl.com/classicsfacebook

Thank you for your continued support!
iPhone Screenshots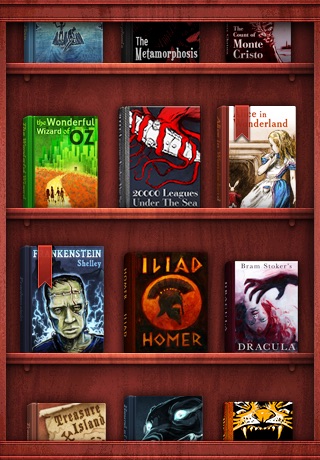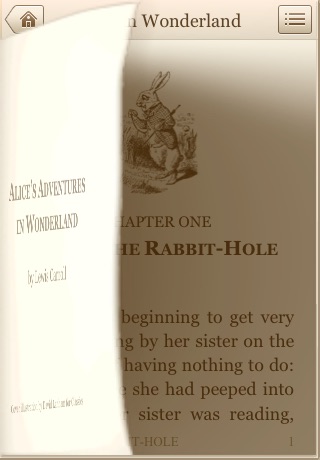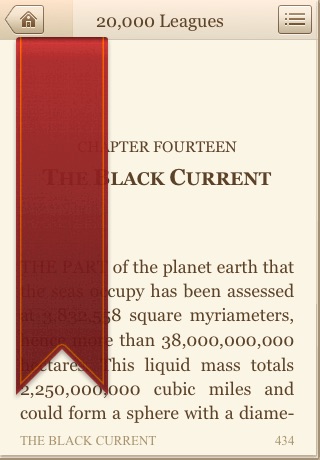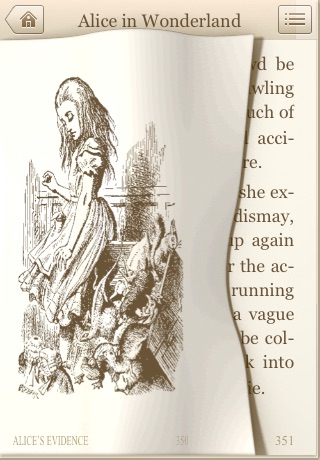 Customer Reviews
Perfect!
It's perfect and could never get beter!
And it is FREE books!!! U can't beat that, and it's called classics not modern, bcuz twilight is not a classic, it came out in 2007!!! thats 3 years ago!!! But I do like twilight! Maybe u can give it an update (FREE plz) w/ new books like twilight and Harry potter, well maybe u can make a Modern or Popular book app for FREE too! And plz don't take books off bcuz I may be reading them, and I will only give , but yeah this is good, but plz think about making a modern app too, that's FREE plz!

UPDATED REVIEW:
I got this app when it first came out and it was free. Although it's not no free any more it is a very good deal. You get so many books for only $2.99! If you were to buy these books at the story they would cost around 10 bucks each! I was looking for the book app the hound of Baskerville for a course i will be taking and some of the prices went to free to $3.99! For only one book! Lucky me I rembered to look at my classics app and what do you know they have it! This app has not updated but it's still a lot of books at a wonderful price. I highly suggest getting this app!
Fantastic Collection
I've had this app for 3 years and just came to review to clear up a few points for those who are giving bad reviews.
Yes the app needs updates and certain functions are unavailable but you can go get iBooks now if you don't like it. However there you'll be paying 20+ dollars for ONE BOOK!!! I think this app delivers a nice selection of classics for a price that simply cannot be beat. My girlfriend just downloaded it on her new 4s after I showed it to her and has been absolutely thrilled with it!!
Does it have a couple of bugs, sure, has the dev neglected to keep it updated yes, do I wish they would update it? Of course! However the fact remains they can't work for free and im sure they have other projects which might help pay their bills they have to work on (no one likes working for free) but this is still a nice catch. If you want a few classics on the go for a more than fair price , this is a winner!!!
Excellent
This is probably one of the best apps for reading; I mean, you pay 99 cents to read dozens of classic books! You cannot find a cheapest, easiest way to read them anywhere else. Yes, the app does crash whenever you want to see the chapters of the books, but a quick google search and you can see the chapters as well. I love this app because it keeps track of how advanced you are in the book and it has an automatic bookmark that you don't need to worry about anything else but the story you're reading.
View in iTunes
$4.99

Category:

Books

Updated:

Jul 16, 2009

Version:

1.3

Size:

48.0 MB

Language:

English

Seller:

Andrew Kazmierski
Compatibility: Requires iOS 2.0 or later. Compatible with iPhone, iPad, and iPod touch.
More iPhone Apps by Andrew Kazmierski