Clean Text
By Apimac
Open the Mac App Store to buy and download apps.
Description
Clean Text is the popular Mac tool for eliminating all text formatting issues. Clean Text performs many useful functions, such as removing empty lines, removing unwanted spaces, removing tab characters, converting smart quotes, tabs, returns, and more.

AN ESSENTIAL TOOL
Clean Text is an essential tool for webmasters, graphic designers and magazine editors to reduce text cleanup time, and it's a great tool for any Mac user that needs to cleanup an email, document, or other material.

Clean Text it's a must when you have to paste some text copied from one document or application into another, and you want the text to get the attributes (such as color, font, dimension and style) of the new document instead of preserving the attributes copied from the old one. What's more, the brand new Quick Clean action let you solve with a single click the most common cleaning problems of text found in email messages, documents and web pages.

Clean Text sports the brand new Iconize feature: just a click and your favorite application becomes a handy and small window that stays on top of all the other windows and performs on the text present on the general clipboard of the Mac, two of the most used features: fixing text and strip style.

TESTIMONIAL
Giusva Iannitelli, PensieriParole.it Staff
"We collect more than 25,000 quotes in our website. The database is mainly based on user submissions, and hand editing all of them to meet our typographical conventions simply couldn't be done. Clean Text really is what saved us these years."

MAIN FEATURES
• Fixes Paragraphs.
• Removes returns within a paragraph and removes multiple empty lines between paragraphs.
• Replaces multiple spaces with a single space and removes spaces at the beginning and at the end of a line.
• Replaces each tab with a specified number of spaces.
• Replaces each sequence of a specified number of spaces with a single tab.
• Removes the quoting characters ">" at the beginning of lines.
• Adds the quoting characters ">" at the beginning of lines.
• Removes returns.
• Replaces each return with a single space.
• Converts to smart quotes.
• Converts to straight quotes.
• Replaces quotes with curly quotes.
• Replaces curly quotes with straight quotes.
• Text shifting right or left.
• Adds a specified number of spaces before each line (delimited by line ending).
• Sorts all the lines all the lines of the text (delimited by a line ending) using ascending order.
• Capitalizes sentences. Capitalizes the first word of each sentence (delimited by "." and ellipsis "…").
• Capitalizes words.
• Sets characters to uppercase.
• Sets characters to lowercase.
• Random case.
• Removes duplicate lines. Keeps only the first line between a group of equal lines.
• Text encoding. Windows to Mac encoding.
• Mac to Windows encoding. Converts MacOSRoman encoding to Windows Latin 1.
• ROT-13. Rotates characters 13 positions in the alphabet.
• Reverse text. Reverses characters.
• Reverses each word.
• Reverses words.
• Converts three periods to ellipsis. Replaces each chunk of three periods with one single ellipsis.
• Converts ellipsis to three periods.
• Encodes to Macintosh Line Endings (CR).
• Encodes to Unix Line Endings (LF).
• Encodes to Windows Line Endings (CR+LF). Converts all line breaks to "Carriage Return"+"Line Feed".

SUPPORT
For any product information, please contact our support, we are happy to provide information about our software and technical assistance: www.apimac.com/support

Application icon based on original work of Hein Mevissen.
What's New in Version 6.8.1
Fixed a bug on macro creation
Screenshots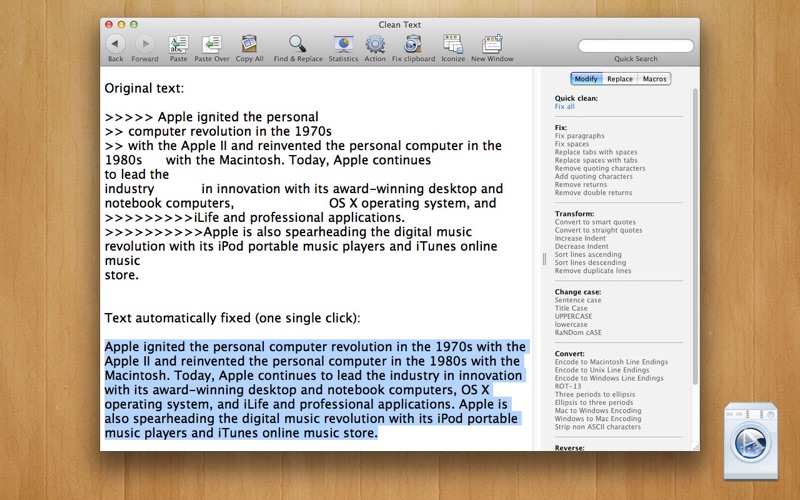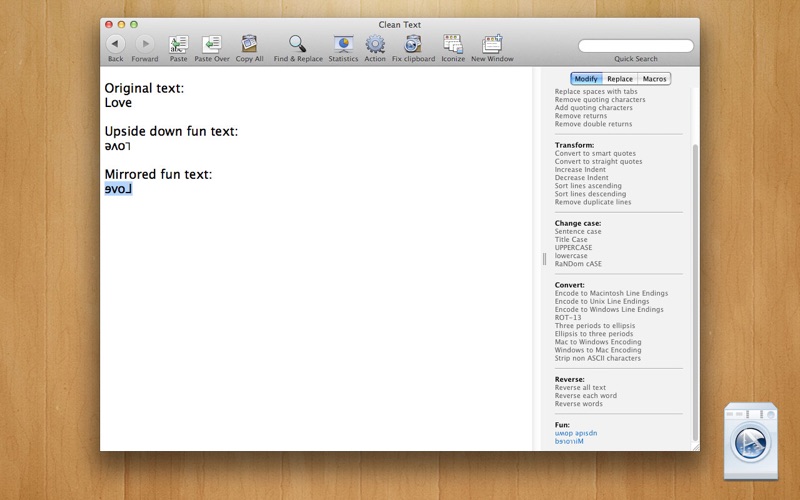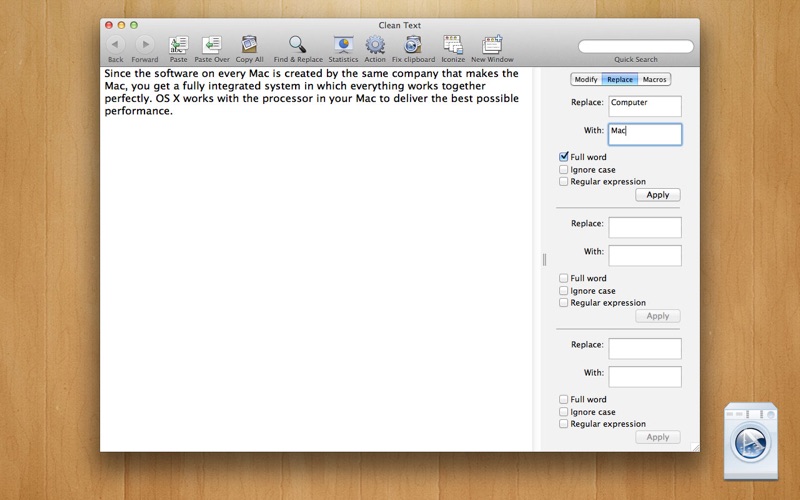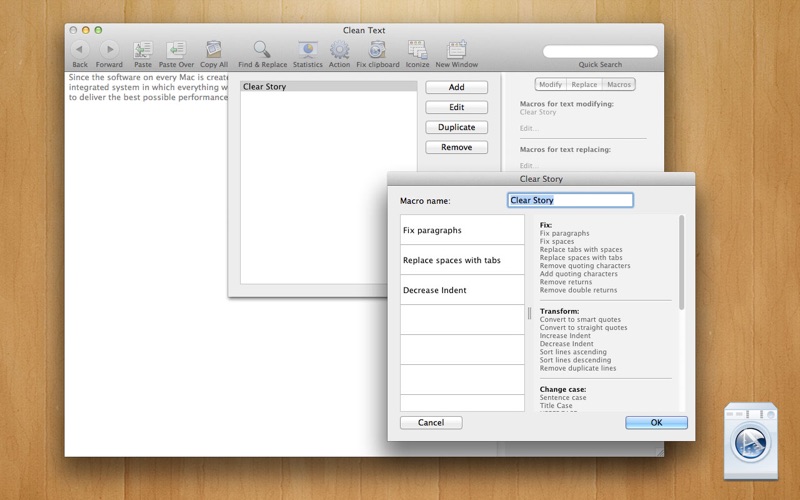 Customer Reviews
Needs work. A while since it was last updated (2012).
This app performs it's job correctly, once you enter text into it.

However, this app would be much more useful if we could use this from the services menu. It is not scriptable, nor does it have an option to copy the text to the clipboard automatically after the transformation (while, say, also retaining a history of the previously pasted text so that it is not lost). Finally, the app is also not optimized for Retina screens and the text looks awful.

I suggest taking a look at Popclip and its (free) plugins which are very convenient to use and can do many of the things this app can do, and more.
Used to be good
I've been using this program for several years. It worked great and was probbly used >20 times a day. However, about one year ago it started to crash on launching. I've been in back-and forths with the company ("delete the old file and reinstall, etc..") I've had to do this too many times to be able to recommend this. ITs not nice to be in this situation ofn a cross-country flight ready to do some serious editing and without web access.
Yes, I have the latest version of OSx. Yes, I downloaded the laterst version of this app. Great frustration here since I WAS such a fan. I've now given up and am going to buy a much more expensive competitor product since I do need this functionality.
Great for quick simple fixes
This app is really convenient to have around for making conceptually-simple operations actually simple. For example, you can grab a title written in all capital letters and readily convert either to plain text without capitalization, or a title-like format with the start of every word capitalized, in a COPY and a click. This is much faster than typing the text from scratch! Cleans up long email chains as well. Very nice to have in your toolbox.
View in Mac App Store
$24.99

Category:

Productivity

Updated:

Feb 08, 2012

Version:

6.8.1

Size:

8.1 MB

Languages:

English, Italian

Seller:

Ivan Gobbo
Compatibility: OS X 10.6.6 or later