Clear – Tasks, Reminders & To-Do Lists
By Realmac Software
Essentials
Open iTunes to buy and download apps.
Description
Over 2.5 million people de-clutter their lives with Clear, so stop stalling and start organising your daily routine.

Clear is the revolutionary to-do and reminders app that makes you more productive. It's as easy to use as pen and paper, and once you start organising your life with Clear you'll wonder how you ever managed without it.

- Simple gesture-based design that allows you to focus on your to-dos.
- Use separate lists to organize every aspect of your life.
- iCloud sync built-in so you can be productive everywhere.
- Set reminders so you'll never forget important tasks.
- Personalize your Clear lists with themes and make them your own.
- One universal download for iPhone, iPad and now Apple Watch!
- Syncs with Clear for Mac (available separately on the Mac App Store)

Since its launch in January 2012 Clear has won numerous awards and continues to receive critical acclaim. Here's just some of the nice things that the press have written about Clear:

"Clear's interface is elegant and clever…" — The New York Times

"Clear is quick, simple, intuitive, and perfect for busy people" — Gizmodo

"If you're regularly turning to a simple to-do list app… Clear is definitely going to wow you." — TechCrunch

Clear is built by a small team, dedicated to bringing you frequent free feature updates. We'd love to know how we can make you even more productive, so get in touch via the App Store "Support" link, or tweet us @UseClear.

Clear for iOS and Clear for Mac are not affiliated with or endorsed by CLEAR Wireless.
What's New in Version 1.7
Say hello to the biggest update to Clear, well, ever! We've packed this update with three huge new features - including Clear for Apple Watch.

◆ Clear for Apple Watch

Clear for Apple Watch is the newest member of the Clear family. We've brought your favorite to-do and reminders app to Apple Watch, allowing you to complete existing tasks from your wrist, and create tasks and reminders via dictation! Just ask Clear to "Remind me to take the cat for a walk tomorrow morning" and we'll make sure you get reminded (if you're not a cat person, it's OK - you can set any other reminders). There's also a Glance, to show your next upcoming Reminder.

#protip: Tap the heatmap to complete a task, and use Force Touch to add new ones!

◆◆ Even if you're not getting an Apple Watch, you'll love this update too. ◆◆

◆ Interactive Notifications

We've added interactive notifications to reminders - you can complete a task by simply swiping-down on a notification and choosing "Complete", or snooze the reminder for 15 minutes. It even works (as if by magic) on your device's lock screen.

◆ Handoff

There's also all-new Handoff support in every version of Clear (Watch, iPhone, iPad, Mac - we've been busy) so you can carry on working as you switch between your favorite devices. You can use Handoff via the Lock Screen and App Switcher on iOS, as well as the Dock and App Switcher (Cmd + Tab) on your Mac. Handoff is even supported in Clear for Apple Watch's Glance, allowing you to quickly dive into your next upcoming reminder on your iPhone!

◆ A New Theme, and The Return of a Favorite!

Oh boy. We were going to keep theme details secret, but we've spilt the beans now. There's a brand-new "Edition" theme to unlock, and we've made sure you can still unlock the "Vanilla" theme too.

We hope you love this huge free update to Clear, and send us your feedback. If you do <3 this update please consider taking the time to write a review on the App Store - and be sure to tell your friends about Clear for Apple Watch. Thanks for using Clear. xxx
Apple Watch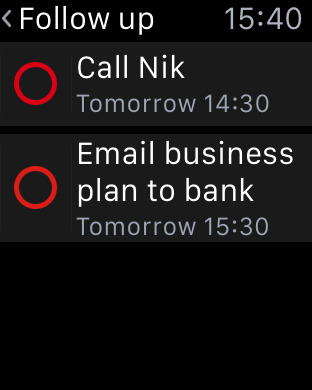 Customer Reviews
Sync is super unreliable
Love hate relationship with Clear. Be forewarned, if sync is important to you, this app is terribly unreliable -- like, really really terrible. It may ultimately be Apple's fault, I don't know, I don't care. I have other apps that have no problems using iCloud to syncing between my phone, iPad and Mac, like 1Password. Clear always has problems, and recovering from them is sometimes easy but often very difficult. There are hidden advanced options on the iPhone and Mac , but oddly not the iPad, to force resync, which sometimes work and sometimes don't. Sync, when it works, is nice, but it only works for like a day, so almost every interaction I have with this stupid app is to force resync, which often requires rebooting multiple devices! These guys are clowns. They seem like nice clowns, but they really need to get their act together.

If you read the other reviews throughout the history of of this app, you'll notice almost all of the negative reviews are about sync issues. Clearly none of the 5 star reviews are from people with multiple devices. The issues are so bad, it's basically fraud that they even advertise sync.
Good app…could be great...
I've been looking for a year for a simple to-do app like Clear, and I like the experience thus far, but I would LOVE it if I could do these things:

1) change the colors of each list. Having everything in one color scheme is, well, boring, and I'd like my immediate to-do list to be the only thing in red (a color, to me, that means super-important-stop-everything-and-do-it-now) and my other less important lists to be in colors that mean something to me and help me differentiate.

2) I turned on edge swiping to get through my lists faster...however, you must be at the 'literal' edge for this to work. I understand that, BUT, I tend to swipe a little too off the edge and end up deleting a task (when swiping right to left) in the list I was on, leading me to desire an UNDO prompt for deleting. When I inadvertently swipe away a task I have the "oh crap, what did I just delete" moment and have to think and re-enter the task.

3) I'd love the option to move a task from one list to another. When something gets ramped up in importance and I have to move it to the urgent list, it would be great to maybe press and hold and have the option to "move to another list". As it stands, I have to copy/cut and then paste in a new list, which works, but not as slick as the able to press, hold and move.

I do love the simplicity and the ability to move tasks within a list. I also like the notifications and reminders. It's a good app overall.
Best list app ever.
A list app seems like a simple thing to make, right? Apparently not, as I've tried a ton and there's always something wrong with them. Either they needlessly complicate things or are simply ugly and unpleasant to use.
Clear is far and away the most elegant list app I've used. It's beautiful, simple and powerful.
I use it for ToDo lists, of course, but I've also found other uses for it. Such as organizing thoughts for writing. Because it's so simple to move items around, you can easily rearrange thoughts or plot points until your narrative is structured properly. Kind of like using Post-Its on a wall. Except you can take Clear with you everywhere, so you'll always be able to get your ideas down quickly.
Clear is on my home screen in the upper right hand corner. I can't think of a better endorsement than that.
View In iTunes
This app is designed for both iPhone and iPad
Works on Apple Watch with an iPhone
$4.99

Category:

Productivity

Updated:

Apr 20, 2015

Version:

1.7

Size:

18.0 MB

Apple Watch:

Yes

Language:

English

Seller:

Realmac Software Limited
Compatibility: Requires iOS 8.0 or later. Compatible with iPhone, iPad, and iPod touch. This app is optimized for iPhone 5, iPhone 6, and iPhone 6 Plus.
Top In-App Purchases
8-Bit Sound Pack$1.99
Bonus Sound PackFree
Sci-Fi Sound Pack$1.99