Clearview
By Canoe Software
Open the Mac App Store to buy and download apps.
Description
Easy-to-use tabbed style ebook reader, equipped with library shelf, supports popular ebook formats as PDF, EPUB (DRM free), CHM, and MOBI. You can make annotations, insert bookmarks, and do searching freely.

What's special with Clearview reader?

• Easy and intuitive books management.

Just drag the folders containing e-book files from finder and drop on the Clearview shelf, all the files information will be imported to the library quickly, then you can browse, search and read the books from shelf easily. With book folders and book collections cooperating together, you will find that books organization is such an easy thing.
- Cover flow preview of books.
- Drag and drop from library or finder to construct book collections.
- Capability to edit book meta info and change book cover.

• Tabbed style window make reading smooth and efficient.

With several related books organized in the same window, you do not have to look for and switch between the book windows everywhere. further more, with a shelf tab and book file tabs living in the same window, browsing and reading is so easy.
- Restore multiple closed tabs;

• Powerful searching capabilities.

You can find a book quickly by the file name, content, author, title or publisher.
You can also search in a book for specified texts.
- Sorting search results by page or rank.

• Popular book formats support, PDF, EPUB, CHM and MOBI, with almost the same excellent reading experiences.

- Thumbnails display of book pages.
- Book page color themes (Normal, Sepia, Night time);
- Text fonts adjustment (Size, line height and font family).
- Printing support for all book formats;

• Each of 4 book formats can be presented in four reading layouts. Page flip or continuous scrolling, single page or two columns.
- adjust page margin;

Yes, you can read a EPUB, MOBI or CHM book like a PDF book in a continuous mode, by scrolling pages quickly, you do not have to flip page and a page, and no need to pause to click the next chapter.

• Annotations and bookmarks support on all 4 book formats.

Revisions will be saved in library database automatically, not on the original book files, so "save changes" prompt dialog won't appear in your smooth reading.
- For pdf, you can also choose (with a preference option) to save annotations to the original pdf file, this way make Clearview a compact editor for pdf;
- Line, arrow, rectangle, ellipse, highlight, strike, underline, free text, comments - for PDF annotations;
- Note/Comment, highlight, strike, underline - for EPUB, MOBI, CHM annotations;
- Customizable annotation colors and line width;
- Export PDF with annotations;
- Export notes as RTF file, pdf or print;
- Export/convert epub/mobi/chm book as a pdf book;

IMPORTANT: No support for DRM protected ebooks! (Such as many of the books sold on iTunes or other book stores)

If you have any questions or feedback, feel free to write to canoesoft@gmail.com, we are sincerely happy to listen to, talk to and help you.
If you want to try before buy, please download the trial version at the Canoe Software website.
What's New in Version 1.7.3
- Bug fix;

New in v1.7.2

• Improve reading for CHM books in traditional chm reading mode;
• A context command to build content search indices for pdf books in folders;
• A command to export book list of current location in shelf;
• An option in preferences to choose to display file name or title of pdf book in shelf;
• A context command to expand/collapse all annotation items in the annotations side bar;
• Bug fix;

New in v1.7.0

• Improve reading for epub made by Adobe InDesign; fix the problem that epub from specific publisher may lose TOC;
• Improve reading for some kind of fixed layout epub;
• A new option to adjust the page margin; other improvement on page layout;
• Click the bookmark area on page to insert bookmark or remove bookmark;
• Improve exporting notes, printing notes, exporting selected pages, print selected pages
• export/convert a whole book of epub/mobi/chm to a pdf book;
• Improve annotation context menu;
• Append note to highlight, underline and strikeout annotations;
• A new way with popup to display and edit note;
• Annotations filters in the annotation side view;
• Improve pdf annotations in editing mode;
• option + scroll wheel for page zooming;
• update the opened PDF when changes to it occur outside Clearview; detect file changes from outside and update the library automatically;
• Drag & drop to change cover image of a book;
• Display book title of a pdf rather than the file name in shelf;
• A new option in preferences for default zoom level;
- Improve animation when toggling side bar
- Fix the pdf page flip direction in Yosemite;
- Improve stability and other bug fix;
Screenshots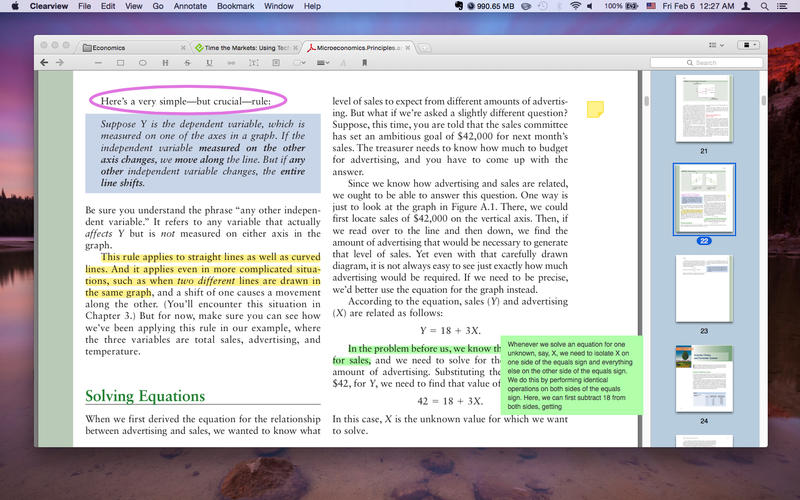 Customer Reviews
BEST eREADER FOR THE MAC
Quality ereaders for the Mac are slim to none. iBooks is sufficient, but barely. Nook and Kindle (for the Mac) are better then nothing but lacking much in polish and options. (Nook for the iPad is good).

Then there is Clearview, which looks like the developers actually care about a quality ereader.

Best features:
1) In addition to page to page scrolling, Clearview offers the option of scrolling as you would a very long webpage. Its more fluid/natural by helping one keep his/her place on the page.
2) Underlining in addition to highlighting. Highlighting is ok in many situations, but I find underlining the best way to go because it is subtle yet clearly distinguishes the chosen text.
3) Clearview handles pdf files nicely, but the real plus is that one can apply a black background. For a pdf that is great!

Whats needed: Clearview offers three themes: 1) black on white and 2) white on black (both functional but nothing exceptional). 3) A sepia theme that is ok. But what Clearview needs to remain on top is the ability for the user to color the text (as BookReader does). User chosen color backgrounds would also be excellent.

Is Clearview the best ereader for the Mac? Yes, although the competition is weak. None the less, Clearview is the ereader to acquire and the price is more than reasonable.
Don't believe the claims of PDF night mode support
I purchased this app specifically because it claimed to have night mode support for PDFs. All it does it turn the white background slightly gray, but nothing else changes. I don't like that there is no way to find this out without buying the app, and that there are no refunds. (like in the Google Play store). Please post a screenshot or description on your website so people can be warned that you don't actually support this feature properly.
Much better now..finally working correctly
much better now, its working again. :-) As for as I can tell, this is the only desktop epub reader that actually has a clue about how scholars work with an epub. He needs to update the demo version so I can help promote it to my scholar friends.
View in Mac App Store
$8.99

Category:

Education

Updated:

Feb 27, 2015

Version:

1.7.3

Size:

4.0 MB

Languages:

English, Simplified Chinese

Seller:

SHUYI ZHONG
Compatibility: OS X 10.7 or later, 64-bit processor