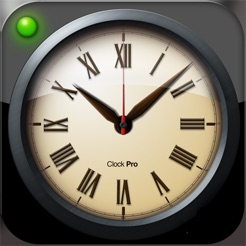 Clock Pro - Clocks, Timers and Alarm Clock
4+
Description
Happy Holidays!! Alarm Clock Company SALE!!!
***** The Best Reviewed Alarm Clock Application! *****
The Alarm Clock Company: Featured by Apple, TUAW and CNET. Also available for iPad!

✔ ALARM CLOCK:
Fully featured landscape and portrait alarm clock in seven beautiful designs! Automatic full screen modus.

✔ IPOD MUSIC ALARMS & iOS4 NOTIFICATION ALARMS:
Wake up with your favorite iPod Music or selected alarm. You can let the music alarm fade in gently and set the fade duration. The music alarm will show a huge snooze button. You can also change the snooze duration.

iPod Music alarms will play when the application is kept open. A shorter alarm will play when the application is closed using local notifications. This system is 100% reliable! Snooze and fade in won't work in this case.

✔ ANALOG CLOCK:
Simple, clean and effective clock with optional sound effects and old-style clock alarms. Automatic full screen modus.

✔ CHESS CLOCK:
The best chess or game clock on the iPhone. Just put your iPhone on the table and both players have an individual playing time clock.

✔ WORLD CLOCK:
Find and display global time zones and cities.

✔ STOP WATCH:
Easy-to-use Stop Watch with lap control. Export your data to any email address you want.

✔ NATURE TIMES:
GPS positioning for your local sunrise, sunset, midday, high tide and low tide. Available for any given date.

✔ SLEEP TIMER:
Plays music for a selected time. Fall asleep with your favorite iPod music.

✔ EGG TIMER:
A complete timer with alarms for all occasions. Count-down multiple timers at the same time. Egg timer alarms are also working when the application is closed!

✔ METRONOME:
This metronome helps you keeping track of the rhythm at any speed. From largo to prestissimo.

✔ COUNT DOWN CLOCK:
Count down towards your special day or tells you how long ago that moment was. Sends you optional a notification alarm when the chosen date has arrived - also when the application is closed.

✔ PROJECT CLOCK:
Create projects and manage them easily. Export by email, record and save projects. The timer will always continue, when you are not running the application or even when your iPhone is turned off.

✔ 24/7 USABILITY
Listen to your iPod, make music or just play a game. No need to run the application. You have full control of your iPhone and are still able to use the the alarm functions of Clock Pro. Isn't that wonderful!

Auto screen lock can be disabled and all timer functions will work while other Clock Pro applications are being used.

☆☆☆☆☆ Share your suggestions!! ☆☆☆☆☆
We will be updating it until it is better than perfect!

MacWorld: App of the week
"Clock Pro, a Swiss Army Knife of Clocks!" iOS4 ready!

Enjoy...
The time is right!
Thanks for making this the best Clock application on the iPhone!! Best reviewed by iPhone users worldwide!

Enjoy1
Customer Reviews
Hung with alarm set; can't find support
This program looked perfect for me and I purchased the Pro version on sale. When I set an alarm and hit the back button, an empty white message box appeared in the top left corner so I could not back out. Nothing I tried would clear it. The next attempt, same result. The next attempt, the program opened on the hung page. I deleted the paid program. I went to the developers home page and there is nothing but ads for other clock programs. A note from the domain host states the domain is parked and potentially for sale. A click on "App Support" led me to the same page. I do not believe the positive reviews are real. If you are reading this then at least something legit is going on somewhere. The alarm is still on, or at least the icon is still there after a restart. I am turning the phone off for the night and tomorrow will let the battery drain. If that doesn't work I will have to find some kind of utility out there which will be over my head. If anyone is listening this is a grotesque violation of what the App store is about. If I am missing something, show me. Is there a way to report? I have never had a problem like this and have never written a bad review here or any at any other site which requests them. Buyer beware.
great for gym
I got this app to use at the gym an the egg timers are great for it. I set up sixty timers each 1 minute apart so I can do one minute of jump rope and one minute of rest for an hour and so forth. it's the only use I've found so far for the app but I could also see the metronome being useful for hitting the speed bag or heavy/punching bag too keep up and improve your rhythm.
this app also includes a chess clock with its obvious use, a nature clock which will tell you your coordinates on the earth, times of your sunrise and sunset and even your high and low tides which can be great for fishing trips, and a sleep timer that you can use with your music on a speaker dock.
the app also includes the features that come with the standard iPhone clock app like the world clock, alarm clock, countdown and stopwatch, but they're just a little more pretty.

great app. cheap. does what it says. how can I not give it a 5?
Great wake up to music alarm!
I love this alarm clock, it does exactly what I wanted in an alarm. I can wake up to the music I choose, and it fades up as it starts. I can set up repeating alarms for weekly or daily events, and it is easy to operate. Thank you for this great app!
I hope to try out some of the other clocks in the app, I'm sure they're great too, but I mostly got it for the wake up alarm.
It would be cool to have a couple additional features tho - if u could press on the alarm bell icon in the clock it should show the active alarms or even just the time till the next alarm. Also would be good on setting the alarm to have an alert that says how long till it will go off as a confirm that it was entered correctly (alarm will ring in 8 hours 57 minutes OR 7 days, 8 hours, 57 minutes). Probably could suggest others because I use this a ton, but it really is a great app!
Information
Seller

Impala Studios B.V.

Size

39.3 MB

Category

Compatibility

Requires iOS 4.2 or later. Compatible with iPhone, iPad, and iPod touch.

Languages

English, Dutch, French, Simplified Chinese

Age Rating

Rated 4+

Copyright

© The Alarm Clock Company

Price

$0.99
Supports
Family Sharing

With Family Sharing set up, up to six family members can use this app.