CNN App for iPad
By CNN Interactive Group, Inc.
Essentials
Open iTunes to buy and download apps.
Description
CNN connects you to the world, wherever you are.

- Stay informed with the latest headlines and original stories from from Capitol Hill and across the globe. Follow up-to-the-minute reporting with breaking news alerts and live video. Lead the conversation by sharing today's news and dig deeper into the stories that matter most to you.

-Get CNN news at a glance on your Apple Watch across 12 personalized categories
-Get breaking news alerts and follow top stories as they develop
-Watch live CNN TV events and shows (as available; check with your cable or satellite provider)
-Get in-depth coverage of international, politics, opinion, tech and entertainment stories
-Elections coverage: Follow up-to-the-minute live blogs, roundups, election results, analysis and commentary


Have questions or feedback on the CNN App? Email us at iPad@cnn.com with your suggestions on how we can create the best possible experience for you.
What's New in Version 4.5
Bug fixes
iPad Screenshot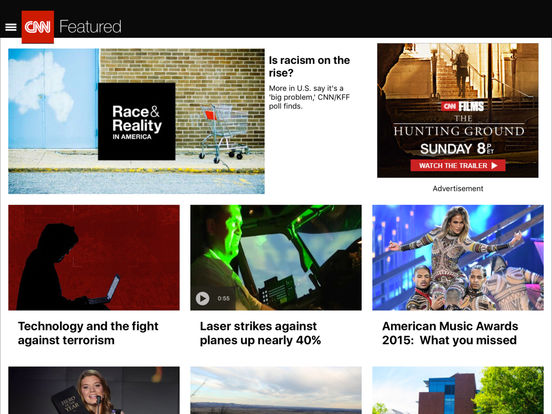 Customer Reviews
Future Fan of CNN
I am writing to express my surprise of the lack of neutral and/or balanced reporting of the presidential election process these past few months. I happen to be a true "vote for the best candidate for our needs" voter/citizen. I have voted democratic and republican for the highest National and State government posts. I was raised in a union family in Detroit and grew into a senior executive officer role in the financial service industry now residing in Los Angeles. I must admit until this election cycle I did not pay much attention to any of the national news networks (CNN, Fox, etc.). I relied on CNN for the election related news as I mistakingly remembered/believed they were the most neutral and balanced of the options. As any business caters their culture to where the money and future is; it seems that the liberal bias has crept into CNN's DNA and culture. I may be old fashioned but I still believe national news outlets need to be balanced and neutral in their coverage. If I want extreme views and related info I can go to any social media site. My search for a high quality balanced national news outlet begins. Maybe such a beast no longer exists. BTW: I will be sharing this position with some CNN sponsors.
Tough times
My husband and I are independents, though have voted Democratic lately. CNN was the one network that provided news, not "entertainment" and not "opinions". Lately, from your recent reviews, it sounds like folks are finding you more biased. I wonder if that isn't a result of the times, rather than your reporting. So many fake news providers are circulating stories with no basis in fact, and as you report and debunk these stories, it does give you the appearance of being biased. That said, do still stay diligent about reporting accurately, with emphasis on reporting both sides of controversies, fairly. At times when listening, some reporters have come across as very opinionated. That is demeaning. We can form our own opinions, if you give us the accurate report of what's happening. So I give you 4stars because you're still the best out there, but you'll lose more than one star if you don't monitor yourselves for bias. I don't want to be able to tell a reporter's personal feelings. In an editorial, fine, not in reporting the news.
Pols
I have been disgusted for months with the bias reporting your network has been doing. I used to watch it because I felt it was the only neutral agency that didn't slant the news like MSNBC and Fox. That's no longer true. Until I read the recent reviews I thought that I was the only one who felt this way, now I see there are many others. The alerts I've been getting on the app report on the many polls that you have been conducting designed to put forth negative and divisive opinions. I did not want to see either Trump nor Clinton elected but had no viable alternative choice. It's over now and we should now move forward and make the best of the results and CNN should be leading the way. Continuing to point out the many divisions that exist with polls designed to reinforce negativity will only make things worse. Of course there are unhappy people right now, but your constant pointing it out is making it hard for all of us to move forward as Americans. Give democracy a chance and report on ideas that will bring us together.
View in iTunes
Free

Category:

News

Updated:

Oct 20, 2016

Version:

4.5

Size:

96.1 MB

Language:

English

Seller:

CNN Interactive Group, Inc.
Compatibility: Requires iOS 8.0 or later. Compatible with iPad.