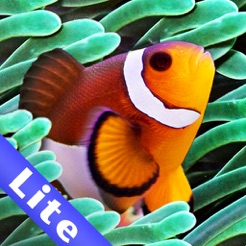 Colorful Aquarium for iPad Lite
4+
Description
Colorful Aquarium is an app, which can make your iPad into a fully customized aquarium, beautifully realistic images and lovely fish will make you relax and pleasure.



FEATURES:

- Feeding: You can feed the fish with food;

- Moss: Moss growing over time, you can use the clean function in tools menu to clean the moss, also you can turn off it in settings;

- Sand Replacement: Now you can choose in blue granules and wite sand;

- Flexible bubbles: You can set the number of bubbles;

- Knock the aquarium: You can click at the screen anyplace to Scare away the fish;

-----------------------------------------------



Usage:

Add fish:

Slide from bottom to top in the screen to open the fish menu;

Drag the fish you want to add into the aquarium;

You can add one fish many times, the size of each will be different;

You can click the undo button on the right to undo the last operation;

In order to make the screen more smoothly, each fish has a maximum limit;

Slide a short distance down to close the fish menu.



Custom props:

Slide from top to bottom in the screen to open the items menu;

Drag the props you want to add into the aquarium;

When you release the props, you can adjust the location with the accelerometer, click any other place to make it fixed;

Each prop has a random shape and size, if you do not satisfied with it, you also can click the undo button on the right to undo the last operation;

After several times addition and adjustment, a customized aquarium will be placed in front of you;

Slide a short distance up to close the items menu;



Custom props:

Paddling down the screen to turn on items menu;

Paddling the props you want into the aquarium;

Each prop has a random shape and size, if you do not satisfied with it, you also can click the undo button in the right to undo the last operation;

After several times addition and adjustment, a customized aquarium will be placed in front of you;

Paddling a short distance up the screen to turn off the items menu;



Tools menu:

Slide from left to right in the screen to open the tools menu;

In the menu there are feeding tools, cleaning tools, bubble setting, and sand choice;

Feeding tools: Click the feeding tools then you can click anywhere on the screen to the fish feeding, click it again to close this function.

Cleaning tools: Moss is growing over time, you can use the clean function in tools menu to clean the moss, also you can turn off it in settings;

Bubble setting: You can set the number of bubbles;

Sand choice: You can choose in blue granules and wite sand.



Setting menu:

Slide from right to left in the screen to open the setting menu;

In the menu there are setting button, help, empty aquarium, and audio switch.



When you exit the process, the aquarium will automatically save the settings.

-----------------------------------------------

Follow Us On Twitter @colorfulaqua
Ratings and Reviews
Good app but kind of limited
I use this when charging my ipad in my night stand. It's a good alternative than just staring at a blank screen. Clock is good but would like it if there's a way to change the clock color into bright red and a way to make it larger. I'm near sighted, so it is helpful for people with my comdition to see the big bright red number at night. Or maybe an added option to control the brightness of the clock number would be great too. Different people has different preferences, you know.
Booooring
It's not bad, but it's soooo boring, I played it for about 2 minutes before I had used up all the options and that was that. If you want an aquarium app, there are many, many much better ones. If you want a free app, it's ok but I would NOT pay for it.
Great
The most realistic aquarium sim I've ever seen. I don't understand why there are so many low ratings.
Information
Seller

Beijing Pingguopie Technology Co., Ltd.

Size

11 MB

Category

Compatibility

Requires iOS 3.2 or later. Compatible with iPad.

Age Rating

Rated 4+

Copyright

© 2010 139.me

Price

Free
Supports
Family Sharing

With Family Sharing set up, up to six family members can use this app.