Colourful Semantics
By London SLTS Ltd
Open iTunes to buy and download apps.
Description
Colourful Semantics is an exciting app from London Speech Therapy that is based on independent research carried out in the UK (in 1997* & 2011**) to work on developing a child's:
- spoken sentences
- answering WH-Questions
- use of nouns, verbs, prepositions and adjectives
- story telling skills
- written sentences
- written language comprehension

Children work through the 5 levels of the Colourful Semantics programme to eventually produce grammatical and informational sentences:
Level 1 – Who? "the man"
Level 2 – What doing? "is eating"
Level 3 – What? "the sandwich"
Level 4 – Where? "in the kitchen"
With the end result being: "The man…is eating…the big …sandwich…in the kitchen"
Level 5 – Conjunction (Scene 1 + Scene 2)
With the end result being: "The man…is eating…the big …sandwich…in the kitchen" + Scene 2


What is unique about this approach is that children learn to associate different 'types' of words with particular colours whereby:
Level 1 – Who? "the man" (Subject – Orange)
Level 2 – What doing? "is eating" (Verb – Yellow)
Level 3 – What? "the sandwich" (Object – Green)
Level 4 – Where? "in the kitchen" (Location – Blue)
Features:
- Multiple students can use the app, with the app personalised for each student
- Choose the level each student is working on, with questions focusing on Who, What doing, What, Where and Describe. Each level has the Colourful Semantics colour coding in place.
- Select from a small library of scenes within the app, or make your own using the iPad's Camera Roll or even take a new photo with your student(s)!
- Choose the number of scenes you want to use in each session
- Fun animation and music to engage and entertain
- Uses vibrant Widgit symbols, used in classrooms across the world
- Review each student's progress, then print or share the report.
- Use your own images and record your own voice for the questions, to enable use in a range of countries and settings


Colourful Semantics is used with a wide variety of clinical presentations including:
- Language delay or disorder
- Specific Language Impairment (SLI)
- Autistic Spectrum Disorders
- Hearing impairment
- Mild and Moderate Learning Disabilities
- Cerebral Palsy
Links to independent reviews:
- http://speechiespeaks.wordpress.com/2013/04/14/app-review-colourful-semantics/
- http://speechtimefun.blogspot.co.uk/2013/04/colourful-semantics-app-app-review.html
- http://speechuniverse.blogspot.co.uk/2013/04/colourful-semantics-app-review-and.html
References:
*Bryan, A. (1997) Colourful Semantics: thematic role therapy. In Chiat, S., Law, J. and
Marshall, J. (Eds) Language Disorders in Children and Adults: Psycholinguistic approaches to therapy. London: Whurr.
- This study found that the key with Colourful Semantics is not to highlight the grammatical structure of a sentence [e.g. subject, verb, object] but to illuminate the meaning relationships of the sentence through coding the thematic roles that the words represent. This sounds very technical, but in practise the basic coding is very simple. Whatever question you ask to get the information that is the colour you use for the words!
** Bolderson et al in (2011) Colourful Semantics: A Clinical Investigation. Child Language Teaching and Therapy October 2011 vol. 27 no. 3 344-353.
- This study revealed "RAPT information and grammar scores and the Bus Story information and mean sentence length scores all improved during therapy but not in the baseline. These results obtained under clinical conditions are encouraging and warrant a larger study of this approach".
Please note:
- To download our instructions please visit the 'Support URL'.
- To ensure you get the complete pre-installed library please update your iPad to the latest iOS software.
What's New in Version 2.2
- New jazzy design
- Crash fixes
- In-app purchasing of new pre-made scenes
- Introduction of "and" to link 2 sentences
- Introduction of the conjunction level
iPad Screenshots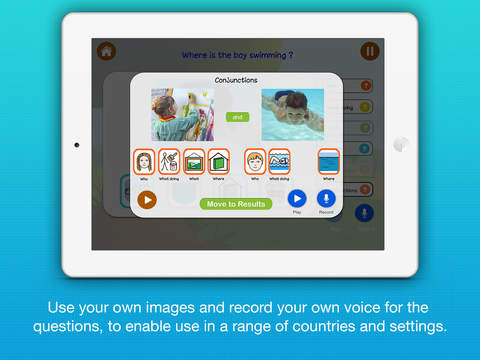 Customer Reviews
Disappointing
I love the concept and setup of the app. However, there are only about 15 pictures/sentences provided. While you can add your own photos, I don't have the time to do that. So sad to have a great tool that gets minimal use.
View in iTunes
$12.99

Category:

Education

Updated:

Mar 28, 2015

Version:

2.2

Size:

275 MB

Language:

English

Seller:

London SLTS LTD
Compatibility: Requires iOS 7.0 or later. Compatible with iPad.
Top In-App Purchases
All ScenesFree
Lady Sleeping$0.99
Kid walking$0.99
Football$0.99
Dish Washing$0.99
Ballon$0.99
Car washing$0.99
Journey$0.99
Girl Hitting$0.99
Pouring Tea$0.99
More iPad Apps by London SLTS Ltd