Convert Units Free - Best Unit Converter & Currency Conversion Calculator
By John Temple Group Pty Ltd.
Open iTunes to buy and download apps.
Description
Convert Units for Free is the #1 Unit Conversion App on the App Store since 2009 with over 24 million users to date.

Download the most Intuitive, Powerful and Essential Conversion App you will ever own.

**NEW** Save your favourite conversions for instant recall.

Convert anything easily. This free (yes, FREE) application lets you convert area, angles, currency, data, density, energy, force, length, mass, mileage, power, pressure, speed, temperature, time, volume, volume flow and more...

Custom Conversions - You can even create your own unit conversions for anything you want, quickly and easily.

Download the only app with custom conversions and real time currency conversions that are updated live!

Convert Units for Free is an essential tool that you'll love and use everyday.

*****
"(…) this app is amazingly versatile and user friendly. Unbelievable that it's free. Converts dozens of measurements and types and does so easily for those of us with no mathematical abilities whatsoever. The customizableness (there's a word...!) makes conversions fluid, understandable and remarkably convenient and easy to input. Can't say enough nice things about this app. Thank you for this much needed and often used tool."
-Adam Schramm

*****
"I would fail geometry without this!"
-Aroga

It doesn't matter whether you're a physics student, a cyclist or a plumber, you have conversions to make. You could use a pen and paper or dig out a calculator but why would you? It's not necessary now that you have Convert Units for Free.

Why tax your brain when you can get conversions in mere seconds, right on your iPhone, iPod Touch or iPad. Need to convert an area or an angle? Want to figure out speed, force or volume? No problem. Convert Units can handle whatever you throw at it and best of all, it won't cost you a cent. Not now, not ever.

Convert Units for Free is not only powerfully capable, it is also the one and only app offering custom unit conversions. It comes with 13 ready-made categories containing hundreds of conversions for you to use but if you don't see what you need, just create a new one!

Here are the included categories that are all set up and ready for you:

* Angle
* Area
* Currency* Data
* Energy
* Force
* Length
* Mass
* Power
* Pressure
* Speed
* Temperature
* Time
* Volume

Think an app that can do all this is hard to use? Nope, it's as easy, user-friendly and intuitive as it possibly can be. You don't need a degree to be able to take full advantage of Convert Units for Free.

Just check out some of the features!

* User-friendly, extremely intuitive interface
* 17 ready to go categories with hundreds of unit conversions
* Real time currency conversions updated live
* Slidable keypad for larger scroll wheel display
* Unit categories can be sorted and turned on/off
* Allows you to easily create your own custom conversions
* Copy and paste functionality
* Is and always will be 100% free

Come and find out why over 35 million users are already making Convert Units for Free part of their everyday lives. Download this unique, one-of-a-kind application for yourself. It doesn't cost you anything and may quickly become your most indispensable tool.

Free the Apps! brings you the quality of paid apps for free. We have registered over 58 million total downloads. Your continued support allows us to bring you more updates and apps for free. If you haven't gotten a chance to try out our other top free apps, check them out and spread the word! Thanks! :D

freetheapps.com
facebook.com/freetheapps
twitter.com/freetheapps
What's New in Version 7.5
Added new category for Blood Sugar and Typography.
Added tips to control blood sugar and equipment that are used to measure length and speed.
iPhone Screenshots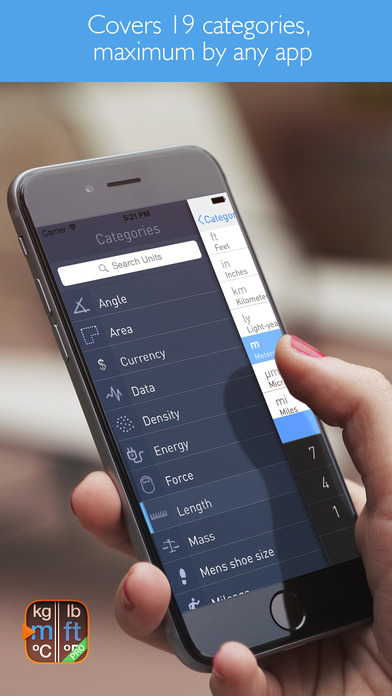 Customer Reviews
If you deal with critical data, you need to stay away!
I'm in the healthcare field, and converting pounds to kilograms and ounces to ml, etc., while not difficult, is best left to calculators because I have too much other information flying thought my head that can't be done automatically. That said, a calculator or conversion app needs to be trustworthy. Back in the day, I didn't have to second guess my TI-81. As long as the data that's entered is correct, the calculation should be correct 100% of the time.

The other day I was calculating a dose of Albenza for a patient. My result was way, WAY off of what my coworker got. I redid the conversion from mcg to mg three times before I realized that this app was off by several decimal places. That's unacceptable and dangerous, and I immediately deleted the app.

Don't get me wrong. Any critical calculations should always be scoured over. At the end of the day, it's my responsibility. But this app, in its current state, is a dangerous liability. I caution all but the casual user to stay far, far away until this app gets fixed. At this point, I couldn't trust it regardless, but I wanted to make this known to any health professionals who think this is a handy and inexpensive tool. Be careful!
Don't Get This App!
I've had this installed for a while, but rarely used it. I'm doing a home project, so now I find myself needing to do conversions. Every time I launch this app there is a barrage of ads. If my phone screen goes to sleep and I wake it, say, while in the aisles of the hardware store, the attack starts all over. Need to convert volume after a quick length conversion? Prepare for screaming, flashing ads to over-run your phone like well-designed malware. It was so violent just now (again in the hardware store) that I couldn't even close the app, I had to hit the home button to get it to stop. Launched the app again, to see the conversion that I missed when my phone blew up--you guessed it! A whole new series of assaults. Seriously, this is one of the worst "free" apps I've ever downloaded. Save yourself the aggravation and skip right over this one.
Ad-free version, EXCELLENT!
Astrophysicist and ballistics physicist. Converts even things I would not have thought to convert, like shoe sizes. I'd like to be able to add some custom conversions to some of the existing menus, such as angle units for minutes and seconds, and perhaps even add categories. I under stand the need to update exchange rates for currency, but it might be nice to do that by request rather than every time the app starts. Would start faster, I think. That said, it certainly is intuitive and works very well. My little wish list aside, it still garners five stars in my opinion.
View in iTunes
Free

Category:

Utilities

Updated:

Oct 05, 2015

Version:

7.5

Size:

24.4 MB

Language:

English

Seller:

John Temple Group Pty Ltd.
Compatibility: Requires iOS 6.0 or later. Compatible with iPhone, iPad, and iPod touch.
Top In-App Purchases
Remove Ads$2.99
Free Version Limit$3.99