Corel Painter Lite
By Corel Corporation
Open the Mac App Store to buy and download apps.
Description
Welcome to the original natural-media app, Corel® Painter™ Lite, that will provide aspiring artists with the most realistic digital art experience. Make a seamless transition from canvas to computer as you feel how a digital art pen behaves just like traditional art media. Come experience the intuitive brushes, rich paper textures, layer support and other artistic tools. High-quality painting and sketching tools are now within reach. Painter Lite brings you the best of both worlds: award-winning digital art software at a getting started price.

Key Benefits
• Award-winning digital art software priced for aspiring pros and hobbyists
• The most realistic natural-media painting and sketching experience
• Wide range of brush categories including special effects, blenders, crayons and chalks
• Intuitive digital art pen behaves like traditional art tools (supplied by Wacom)
• Easy-to-use interface, navigation and features

Product Features
Core brush categories
• Acrylic and Air Brushes
• Chalk, Pastels and Crayons
• Digital Watercolor
• Erasers, FX and Gouache
• Impasto, Markers
• Oil brushes
• Pencils, Pens and Sponges
• Sumi-E (Ink)

Trendy tools and effects
• Blenders and Palette Knives
• Kaleidoscope painting
• Mirror painting

Wacom pen tablet compatibility (supplied by Wacom)
• Pressure sensitive brush control - select brushes will fan out as pressure is applied
• Select media will tilt and behave accordingly
• Brush rotation for 6D pen users

Complements other popular software and hardware
• Wacom® pen tablet compatibility
• Extensive file support, including PSD

Screenshots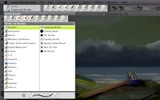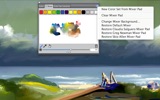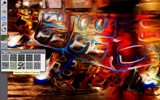 Customer Reviews
Outstanding value at this price . . .
I recently purchased a low end Wacom tablet with pen. I am not an artist and did not want to spend a lot of money discovering my level of ability. I downloaded the trial version of Corel's Painter X3 and was blown away, but the price of admission was more then this hobbyist will pay. Then I heard about the Corel Painter Lite software and was intrigued based on my experiences with it's big brother Corel Painter X3. Reading some of the negative reviews in this forum gave me pause. Then I realized the negative reviews were coming from people attempting to use the software with a common mouse . . . LOL. A mouse will not get the job done. You can not paint or sketch with a mouse. This artistic software must be used with a pen and tablet similar to the Wacom tablets. The Corel Painter Lite is a great software package. It doesn't have the grid, rulers, and guides that come with the full blown Painter X3, but it has more than enough brushes and pencils to produce some very nice images. I found the software to be easy to use. There are a number of tutorials on the Corel web site to get the newbie headed in the right direction. The menus for the Corel Painter X3 and the Corel Painter Lite are virtually the same with the Lite version missing a few tools. I should be able to scan my own grid and rulers into a layer. I am good to go.
Corel Painter Lite
Clearly worth $70. It has a fantastic brush engine, with no lag contrary to other reviewers. IMO amazing brush engine and better program than photoshop elemsts or artrage. I really dislike sketchbook pro for painting etc. (It's also better than fire alpaca too btw!) If your computer is too slow for painter, no way can you use photoshop's brush engine either.
I also own artrage and this feels more natural. BIG THING I'D LIKE TO SEE ADDED to painter lite is layer locking through an app update. It's a feature in every painting program I've ever used, and I use it constantly to prevent from stupid mistakes. PLEASE ADD LAYER LOCKING. Other than that I do reccomend. Easier to learn than full version. Compare with artrage/ps elements. If you own photoshop and like it, you might not need corel painter, as they're similar in many ways.
Only four stars cause I really need to spend more time with painter and put it through it's paces. I suspect I'll be using this program exclusively, but maybe with artrage sometimes.
Not a positive experience
I am sad to say Corel Painter Lite disappoints me, after a half year of use. I used to be an avid Metacreations Painter Lite user (since about a decade ago, on Mac OS 8) and wanted to upgrade to a newer version without spending a large amount on Painter 12 when I bought a MacBook Pro in 2012. Corel Painter Lite seemed the perfect solution, but the software has a number of bugs and inconveniences that make it frustrating to work with.
The app invariably "quits unexpectedly" when it tries to save images in PNG format, the mouse lags when using brushes or when holding the space bar to move the canvas, and some of the features from the original Painter Classic are missing in Painter Lite. Pinch-to-zoom does not work and somehow most operations (like cropping an image) take seconds.
I was about to upgrade to Painter 12 (which should work better) but I went ahead and purchased the Adobe CS6 student edition instead and have been editing my photos much more easily after I overcame Photoshop's initial learning curve.
View in Mac App Store
$69.99

Category:

Graphics & Design

Released:

Oct 26, 2012

Version:

1.0.821

Size:

42.4 MB

Language:

English

Seller:

Corel Corporation.
Compatibility: OS X 10.6.6 or later
More by Corel Corporation