Corkbin
By Inmite s.r.o.
Open iTunes to buy and download apps.
Description
Download the free Corkbin app and you'll never lose track of another bottle. It's the easiest way to remember, discover, and buy wines you love.

Corkbin is brilliantly simple and easy to use. Just take a photo of the wine label with your iPhone or iPod Touch, add a brief description if you like, and it goes into your digital wine collection. Using image recognition technology, Corkbin automatically recognizes the name of your wine. So next time you're ordering wine, you don't have to rack you brains for that great bottle you had last time, you can just ask Corkbin.

Features:
- Capture wine labels, comments & location with ease
- Find wines for purchase through wine.com and wine-searcher
- Dictionary of common wine terms
- Food & wine pairing guide provided by Hello Vino
- Send postagrams of wine

**Important** Note: Corkbin requires users to register with an email address. This provides our users the ability to access their data from multiple mobile devices. Rest assured that your email address will never be shared with 3rd party.

User Testimonials:

"Very convenient way to keep track of our favorite vino! Photos of labels are a nice touch and it's fun to take a look at what other locals are drinking!" - ★★★★ - by L.mommy - Version 2.0.2 - 02 November 2011

"Best way to keep track of my wine period." - ★★★★ - by Thomas Charlton - Version 2.0.2 - 27 October 2011

"Stumbled upon this app on my way to my first Napa / Sonoma vacation week and it's been a great tool! Helps me keep my favorites in file with pictures (cuz my text file already got lost!) and keep friends on FB updated. Thank you tech dudes for another good one:-)" - ★★★★ - FunInCaliAtSonoma - Version 2.0.2 - 27 September 2011

"What a wonderful and easy way to log your tastings and share them with Twitter and Facebook too. Gets better with every update!" - ★★★★ - by DownhillAddict - Version 2.0 - 27 January 2011

"Gorgeous design, simple user interface, perfect wine logging app while out and about (fast data entry and location tracking). A model wine app." - ★★★★★ - by Rick Breslin - Version 1.5.0 - 5 October 2010

"An original way to a long wine journey. Who drinks what and how does it taste?" - ★★★★ - by Michiel Houtman - Version 1.4 - 21 August 2010
What's New in Version 2.6
- added label editing
iPhone Screenshots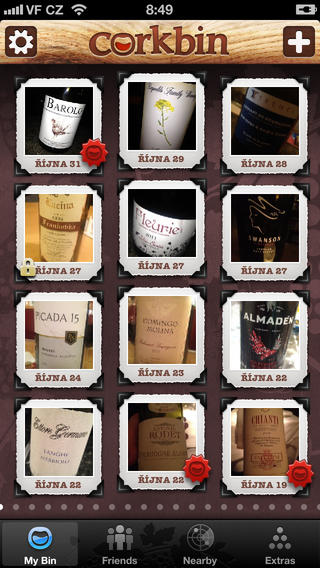 Customer Reviews
Great App with EXCEPTIONAL customer service
A few days ago I left a two star review of this app. After using this product for some weeks,capturing several photos of wine bottles and storing them on this app, along with my comments, I thought that I had lost them all, as one day I turned on my app and there were no photos, nothing.

After voicing my displeasure, and disappointment with this app, here, on the app store, I was surprised to receive an email, with a kind offer of assistance from the author, and creator, of the app. I answered her email, explaining what I had done, and within an hour, I received an answer solving my problem. After applying her solution to my problem, I was able to once again have available all of the wine bottle photos, and comments, that I had created.

There was no fault with the program as the problem was created entirely by me.

Now, that's what I call customer service. I am super satisfied with this product and will continue to enjoy its use.

Thank you Ms. App Creator, it's a pleasure doing business with you.

FIVE stars to you,
The Lone Realtor
Spend your dollar on a cr@p bottle of Sutter Home instead.
I'm a wine-lover and was bummed to find that this app is such a simpleton.

There isn't a way to organize your wines-- for example, to filter by varietal, region, purchase location & price, personal ratings, or to distinguish between wines you've tried and the ones you want to remember to try. All things I want to find QUICKLY when choosing a wine at a nice restaurant or at the wine store.

Strangest (non)feature: the developer decided to limit a user's personal notes on a wine to just 120 CHARACTERS. That's shorter than a tweet! For better or worse, wine aficionados tend to be a verbose bunch. Much of the fun in wine, IMHO, is identifying flavors and aromas with friends. Taste buds being social; thoroughly and mindfully enjoying each sip. It is not in the spirit of wine to limit its discussion and characteristics to 120 characters. Unless you just buy Yellowtail Shiraz every time-- but then why bother with a wine app???

If you have even a basic knowledge of wine, avoid this app.

If you're a wine n00b, the sections on recommended food pairings and the wine-lingo glossary might be helpful. But you can get that same info via your web browser in about 10 seconds.
Beautiful app, BUT...
I love this app, beautiful graphics and a simple entry method, however, now that my collection is growing, I really need a way to group them. It would be amazing if I could group them by type, "Pino, Marlot, Vognier" but I'd even be happy with "red" and "white". The fact that grouping is not possible is unforgivable, and now I am searching for a new app that allows me to. I'm hoping that they fix this problem,I really don't want to leave. Grouping ability, sort ability (faves first?) and the ability to see a 2-3 word comment under the bottle on the front page would make this a 5 star app! I'll keep checking back...for a while
View in iTunes
Free

Category:

Food & Drink

Updated:

Jan 15, 2013

Version:

2.6

Size:

10.3 MB

Languages:

English, Czech

Seller:

Inmite s.r.o.
Compatibility: Requires iOS 4.3 or later. Compatible with iPhone, iPad, and iPod touch.
More iPhone Apps by Inmite s.r.o.