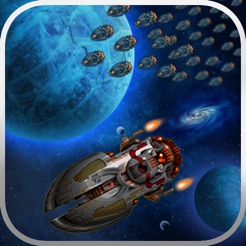 Description
***********
Appvader: 4/5 "Detailed graphics and swarming aliens in an action packed package of space destruction"
***********

Cosmosis is an action packed, arcade style 2D space shooter, featuring stunning space backdrops and awesome parallax scrolling backgrounds.

Unknown aliens have launched a life threatening attack on various human colonies across the galaxy. It is up to you to intercept incoming waves of aliens destroyers, who protect massive bomber warships (bosses), en-route to our surviving outposts and systems.

Cosmosis features great space backdrops and graphics, fluid gameplay, and awesome particle effects. Destroy enemies to gain score, pickup new weapons and bonus items for your ship whilst you attempt to thwart the alien invasion in Campaign mode. Otherwise, try out the Survival mode for a relentless, action packed session against increasingly difficult waves of alien ships.

Compete with others online on the leader boards and earn other great achievements with OpenFeint integration.

- Features 12 action packed levels (plus one bonus level) with stunning graphics and backdrops.
- Survival Mode - nonstop relentless action. Compete for the highest possible score.
- Unique alien enemies to fight, along with powerful bosses!
- Many different powerups and bonus items to collect.
- Smooth graphics and stunning particle effects.
- OpenFeint achievements and scoring
- Arcade-like, 2D space shoot-em-up action!
- Unlocked all levels by default
- New (Second) Bonus Level added
- New enemy ship type added
- New enemy ship attack patterns (more challenging/interesting)
- New scrolling level select screen
- Main menu redesigned and new ambient music added for menu and in game
- OpenFeint updated
- New News menu option added for the latest news and announcements
- Game difficulty tweaked to make it slightly more challenging
- Bosses are a bit to tougher to fight now
- Survival mode difficulty tweaked
- New loading & credits screen
- App rating dialog that appears after a few days now works!
Ratings and Reviews
Easy to master controls make this shooter a delightful distraction!
I am a very picky gamer who almost exclusively plays games that take place in space. I have little tolerance for a games poorly made. When you consider how many years I have been gaming, that adds up to many great and not so great games.

One of the first things I look at is controls. If the game controls are sloppy, I spend more time trying to overcome poor design than actually playing the game.

The designer of this game seems to have a great deal of insight. There are three options: touch, accelerometer (which I detest) and (virtual) joystick. I tried all three but settled on touch which I found toss be comfortable to the point of feeling natural. I am a south paw sporting a wide grin since this is one of the rare instances when the control scheme suits a left handed player.

This is a standard side scrolling shooter with plenty of power ups providing opportunities to upgrade your weapon. The graphics are a treat to experience too. I am playing this on an iPod Touch 4G which is handling everything with ease.

In sum, this us a great little space shooter with tight controls and a gentle learning curve. I suspect it would appeal to everyone from young kids to older gamers. Give it a try and you won't be disappointed.
Fantastic App Support
Always meaningful updates from this developer and new challenges from these updates are what keeps this app on my phone!
Information
Seller

Sean Duffy

Size

20.1 MB

Category

Compatibility

Requires iOS 3.0 or later. Compatible with iPhone, iPad, and iPod touch.

Age Rating

Rated 12+ for the following:

Infrequent/Mild Realistic Violence

Frequent/Intense Cartoon or Fantasy Violence

Copyright

© 2011 Sean Duffy

Price

Free
Supports
Family Sharing

With Family Sharing set up, up to six family members can use this app.