Couch to 5K® - Running App and Training Coach
By Active Network, LLC
Open iTunes to buy and download apps.
Description
Get off the couch and get running with the OFFICIAL Couch to 5K® training app presented by Special K! This oft-imitated program has helped thousands of new runners move from the couch to the finish line. Spend just 20 to 30 minutes, three times a week, for nine weeks, and you'll be ready to finish your first 5K (3.1-mile) race!

Get more information about the Couch to 5K app here: http://www.active.com/mobile/couch-to-5k-app

Continued use of GPS running in the background can dramatically decrease battery life.

The Couch to 5K coach you select talks to you during your workouts. To save your battery, Couch to 5K sends audio notifications when your screen is locked or another app is in use.

To be sure you hear the coach during your workout, please do the following:
• Turn on Notifications permissions
• Turn on the hardware ring/silent switch (no red showing)
• Turn your ringer volume up
• Turn off Do Not Disturb (swipe up for Control Panel and the moon button should not be white)
• Within the app, in Settings > Workout Options, be sure the Trainer Volume is up

Without granting notification permissions, during a workout you can click the lock icon at the top left to keep the app active and still hear the coach.

For support please contact us at: MobileSupport@activenetwork.com We would love to hear from you.

WINNER of the 2012 Appy Award for best Healthcare & Fitness App!

Features
• Training plan designed by Active.com trainers
• Choose from 4 different motivating virtual coaches—Johnny Dead, Constance, Billie or Sergeant Block
• Hear human audio cues to guide you through each workout
• Listen to your favorite playlists with in-app music player
• Calculate your distance & pace and map your routes with FREE GPS support*
• Log your workouts and share your progress on Facebook
• Get support from the largest running community on Active.com Trainer
• Repeat workouts and track your best performance
• Treadmill support allows manual entry of workouts
• Track your progress with total distance and average pace
• Graphs for workouts to compare distance and pace

Finished the Couch to 5K program and ready to take your running program to the next level? Check out our 5K to 10K app to prep for your first 10K race here. https://itunes.apple.com/us/app/5k-to-10k/id526458735!

Praise
"The popular Couch to 5K app helps new runners avoid injury from doing too much, too soon."
—Runners World, June 2012

"It's ridiculously easy to use (it's hard not to, as you just do what you're told) and it's fantastic that you have an encouraging voice talking you through things."
—Engadget, June 2012

"Active.com's Couch to 5K is one of my favorite… apps. With its customizable features, interactivity, and well-rounded interface, I may actually stay off the couch this time."
—148Apps, October 2011

"I knew as soon as I decided to start the Couch to 5K program that I would need something to keep me accountable—not just to showing up for my training, but to actually doing it properly. Of course there's an app for that."
—CalorieLab, April 2012

"If you have been struggling to get your buns off the couch and somewhat in shape before the summer hits, training for a 5K is not a bad way to start. If you are looking for a program to help get you there, then the "Couch to 5K" running plan by CoolRunning is probably your best bet if you haven't done an ounce of athletic activity for a number of years."
—Droid Life, April 2012

FAQ
• Once you purchase the app, it is yours to keep. It does not expire after 9 weeks.
What's New in Version 3.5.3
– Remove ads.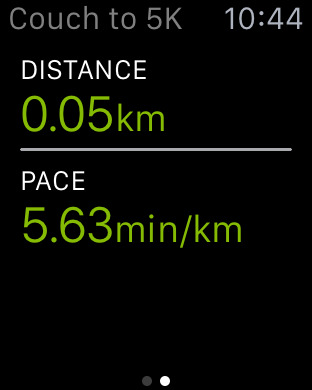 Customer Reviews
Love it! Some suggestions, but basically perfect. ❤️
This program changed my life. In general, I love this app! Everything about it--it's taken me to places I never thought I'd reach in a million years and it makes me want to continue running past the 5k achievement. I love that it monitors your time so you aren't constantly checking and can focus solely on the run. It would be perfect if a) it would still work properly while the phone is locked or the app is on in the background, and b) if it weren't so easy to accidentally skip ahead in the run when trying to skip a song. A suggestion I would make would be to provide some guidance for when someone falls off track. I got sick for a week and a half and repeated my last workout, but two days later went to do the next one and had to take a few breaks--week 6, day 2, and the first time I've had to stop a running segment. Maybe that's my own responsibility to gauge, though. Would still appreciate some more concrete in-app advice. Also--very, very occasionally, I think mine is either quiet or skips the notification because I've missed some, but truly only a handful of times and my phone's storage is nearly full, so it's probably my own issue. But I LOVE THIS PROGRAM!!! I struggled to do 3 minutes when I started and was able to do 20 straight minutes one month later. I love it.

Also - wish the music didn't stop when the workout stops!
A few tweaks and this would be 5 star
I really love this app. I have literally gone from couch to running trails, and I have never felt better. I read reviews similar to this before downloading myself. I rolled my eyes and muttered a few choice words under my breath. During the first two weeks I'm fairly certain my lungs went on strike, and I considered destroying my phone on several runs just to not have to do anymore. I run voluntarily now, and it feels amazing.

I have a few things I would like to see changed. The first is skipped workouts. I went on holiday for a week and when I came back to the app it skipped an entire week of workouts and put me further ahead than I should have been. The second is when I rate a workout as too difficult I would like the app to dial it back until I rate it as "ok" before moving onto the next step. We don't all need to be running a 5k in a certain number of weeks, we'd just like to get there in the end! Finally, I'd love to be able to upgrade the app to a 10k and continue on.
Unreliable audio cues
I see others have the same issue. I've done 8 workouts. I got audio on five and no audio on three.
If you tap help the only article is a list of things to try to get the audio to work. So clearly the app developer knows this is an issue. I've done all of them multiple times to no avail. In my most recent workout I had audio cue for two intervals and not the others. That was with the lock screen on and all other related settings triple checked.
The halfway audio alert, which has a separate control, has played two out of the eight workouts. One of those times it was way late. So lots of extra long walks to get back to my car the first few workouts.
I've also seen the issue that someone mentioned where the app suddenly added more time or jumped back to a previous interval.
Going to check out the competition and wish o could get my $ back for this one.
View in iTunes
Offers Apple Watch App for iPhone
$2.99

Category:

Health & Fitness

Updated:

Jan 16, 2017

Version:

3.5.3

Size:

95.5 MB

Apple Watch:

Yes

Language:

English

Seller:

Active Network, LLC
Compatibility: Requires iOS 8.0 or later. Compatible with iPhone, iPad, and iPod touch.