Credit Karma Mobile - Free Credit Score & Credit Monitoring
By Credit Karma, Inc.
Open iTunes to buy and download apps.
Description
Credit Karma is the free, effortless way to stay on top of your credit. Get always-free credit reports and credit scores from two leading credit bureaus and daily credit monitoring of your TransUnion credit report. Making sense of your credit was never so easy.

Free, Helpful Features for Your Credit:

• Credit reports and scores provided by both TransUnion and Equifax
• Weekly updates of credit scores and reports
• Daily monitoring of your TransUnion credit report
• Push notifications for credit alerts
• Personalized recommendations
• Tools to track all your reported accounts in one place

What's New:

• Credit reports and scores provided by both TransUnion and Equifax
• Cleaner, redesigned layout
• Upgraded dashboard quickly highlights key changes to your credit profile
• Easy-to-read list of your alerts and notifications

Next Update:

We'll be continuing to update our app in the next few months with new features. Stay tuned!

CREDIT KARMA HAS BEEN FEATURED IN
• MSNBC
• SmartMoney
• Wall Street Journal
• Forbes
• TechCrunch
• USA TODAY

Credit Karma is both a free consumer service and a personalized marketplace. We provide more than 35 million people with free credit scores, reports and credit monitoring, and we specialize in helping you find financial products that fit your specific needs. We believe that taking charge of your credit and reaching your financial goals go hand in hand. To learn more, visit www.creditkarma.com.

Frequently Asked Questions:
Q: Is Credit Karma really free?
A: Yes. Credit Karma will never ask for your credit card information.

Q: Will accessing my credit report hurt my credit?
A: No. Checking your own score does not negatively impact your credit score.
What's New in Version 2.0.0
• Credit reports and scores provided by both TransUnion and Equifax
• Cleaner, redesigned layout
• Upgraded dashboard quickly highlights key changes to your credit profile
• Easy-to-read list of your alerts and notifications
iPhone Screenshot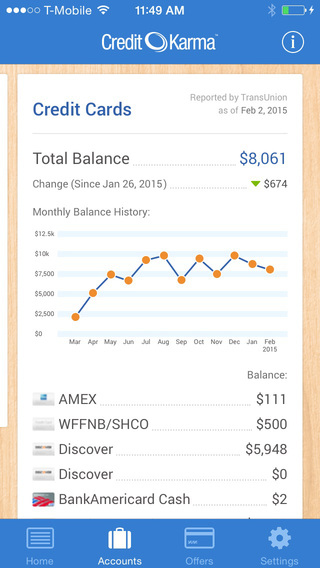 Customer Reviews
Manneedinghelp
This is one of the best decisions that I have made in a long time! Wonderful way to build or repair your credit!👍. Lexington helps very much also which I was led to their services by Karma! My advice is, go slow! I got two new credit cards within 3 months of each other and they were and are still great cards "suggested by CK "! %0 interest on both for 6 months, low limits of which I need some help with control. Prepaid cards are excellent at building credit also. But don't go too fast!! 3 months into Credit Karma my score increased from 551 😁 to 638 😊. But I should have slowed down. If you add credit cards to fast, it hurts your score. So space it out and put 4-5 months in between applying (after your first few ). Do what CK tells you to and watch your score rise! My mistakes were 1. I didn't keep my card balances under30-35 percent! Go over %50 and your score drops. 2. Open a savings account at your bank and keep it positive... Anyways, awesome app that can change your credit life fast. I highly recommend it 👍
So helpful!
My husband and I started using this app/website after we needed to obtain our credit reports for a house we were trying to rent. It is very useful to see all the data that affects your score, and has helped us to make better choices regarding how we utilize our credit cards, etc. I have read some negative reviews that are complaining about changes in their credit scores, scores going down etc., but what does your credit score going down have to do with the app? This app has been nothing but helpful for my family, and it's a FREE service, which is even better! I have recommended Credit Karma to my friends and family.

I'm just trying out the updated app for the first time and while I like the addition of the Equifax score, it seems like I cannot access all of the information about my credit that I could before. This may be user error though, so I'll have to go back in and play around with the app. Overall, I am completely satisfied with Credit Karma!
Update Pros and Cons
Pros: Credit Karma now includes scores from two credit bureaus instead of one, which is awesome. I was thrilled to see the additional depth when I recently logged in to view my score.
I was also delighted to see additional tools that allow me to view how aspects of my score compare to those in the same or different states, age ranges and/or income ranges. The compare tool is surprisingly robust and interesting to use.
Cons: The new interface is in desperate need of a makeover. I liked the old interface much more because it was straightforward and simple. The updated version lacks simplicity and navigation isn't intuitive. Also, some features and scores are available for Transunion that aren't available for Experian- the lack of uniformity leaves me wondering how to reconcile the differences between the two scores. What I REALLY want is the ability to compare every credit sub-category side-by-side.
In summary, Credit Karma did awesome job adding another credit bureau, but they dropped the ball on the interface. I'm confident they'll figure it out- when they do, I'll add more stars.
View In iTunes
Free

Category:

Finance

Updated:

Feb 09, 2015

Version:

2.0.0

Size:

16.1 MB

Language:

En

Seller:

Credit Karma, Inc.
Compatibility: Requires iOS 7.0 or later. Compatible with iPhone, iPad, and iPod touch. This app is optimized for iPhone 5.