Cubasis 2 - Mobile Music Creation System
By Steinberg Media Technologies GmbH
Open iTunes to buy and download apps.
Description
Cubasis 2 equals ease of use and is as powerful as a fully featured iOS-based music production system can be pushing your capabilities out of limits. Whether you're capturing simple ideas or complex musical masterpieces — It ships with outstanding, touch-optimized tools carrying you into the fun of recording, editing, mixing and sharing your music with the world right away. Get fascinated by the brand new features that Cubasis 2 comes with such as real-time time-stretch and pitch shift, a studio-grade channel strip, Spin FX, massive instrument refills and many more powerful features. Put hands on three internal instruments, numerous loops and instrument sounds to creatively lift your music to perfection using the included mixer and effects. Once recorded, share your music with the world via a simple tap or transfer it directly to Cubase.

Key features
• Unlimited number of audio and MIDI tracks
• 24 assignable physical inputs and outputs
• 32-bit floating point audio engine
• Audio I/O resolution of up to 24-bit/96 kHz
• iOS 32- and 64-bit support
• Real-time time-stretch and pitch shift featuring zplane's élastique 3
• Micrologue virtual analog synthesizer with 126 ready-to-go presets
• MicroSonic with over 120 virtual instrument sounds based on HALion Sonic, Haliotron and Allen Morgan drum kits
• MiniSampler to create your own instruments (includes 20 factory instruments)
• Mixer with studio-grade channel strip per track and 16 effect processors
• Fully automatable DJ-like Spin FX effect plug-in
• Over 550 MIDI and time-stretch-capable audio loops
• Virtual keyboard, chord- and drum pads
• Sample Editor and Key Editor with MIDI CC support
• MIDI Auto Quantize
• Automation, MIDI CC, program change and aftertouch support
• Export to Cubase, iCloud Drive, external hard drives, wireless flash drives, Dropbox, SoundCloud, AudioCopy and email
• Core Audio and Core MIDI compatible hardware supported
• MIDI over Bluetooth LE support
• Full Audio Unit, Inter-App Audio and Audiobus support to use compatible apps as insert/send effects and virtual instruments or simply record their audio output
• Import audio from your iTunes music library or iCloud Drive or iTunes file sharing, use AudioPaste or set up a Wi-Fi server in Cubasis
• Audio mixdown and MIDI export
• MIDI clock and MIDI thru support

"Probably the best iPad-based DAW in terms of usability and flexibility, and it links up with Cubase on your desktop, too."
— MusicTech.net

"So all in all Cubasis is a hands down victory. Everything supplied here works and works perfectly. If you are a Cubase user and own an iPad, this is simply a no brainer, you have to have it."
— askaudiomag.com

Technical support
http://www.steinberg.net/cubasisforum

Polyphony:
48 voices: iPad 2, iPad mini
128 voices: iPad 3, iPad 4, iPad mini 2, iPad mini 3, iPad Air, iPad Air 2, iPad Pro

Audio Unit extension requires iPad Mini 2, iPad 4 or newer model.

Project export to Cubase requires Cubase Pro 8/Pro 8.5/Pro 9, Cubase Artist 8/8.5/9, Cubase LE/AI/Elements 8/9.
Cubasis project importer extension must be installed and is available at http://www.steinberg.net/cubasisimporter

Please check the Steinberg End User License Agreement on this website:
http://www.steinberg.net/eula
What's New in Version 2.0
• A Refreshed User Interface – Enjoy profound usability by straightforward workflows
• Real-time Time-Stretch – Tempo match audio loops to your song's tempo in a snap
• Pitch shift with formant correction – Easily change keys of any tracks and tune them to perfection
• A studio-grade channel strip – Reach true sound perfection for all channels
• Spin FX – Tweak and mash-up your tracks with DJ-like breaks, stops and stutters
• MicroSonic TAPE instruments – Perfectly recreate trademark sounds from the '60s era
• 76 new Micrologue presets – Lay down your tracks with cutting-edge modern synth sounds
• Factory loops tempo match – Enjoy the freedom to use included audio loops at any tempo
• MIDI Auto Quantize – Sync MIDI tracks with the beat while recording
• Ready for iOS 10 – Cubasis 2.0 is fully tested and proven iOS 10 compatible
• Maintenance and improvements – For the complete list of improvements, issues and solutions please visit www.steinberg.net/cubasisforum

Please support us by rating this app on the App Store if you like it!
iPad Screenshots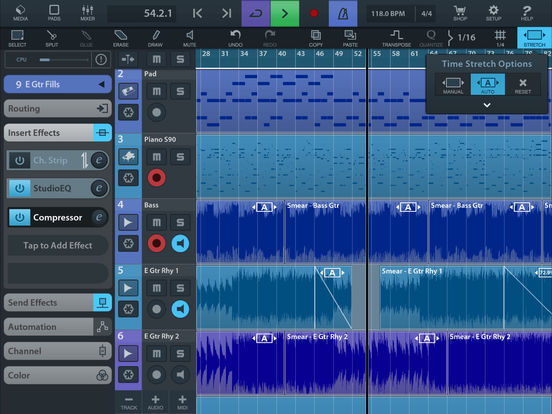 Customer Reviews
Love It
I grabbed Cubasis when i saw the half price promo, for $25, hard to pass it up. I have been using Beatmaker 2 since 2012 and became quite good at using it to create songs. BM2 kept crashing when trying to go to audiobus and back. To the point I would save songs every minute i used it. BM2 workflow was painful. Cubasis does not require that you save as it saves every time you change something in the song, but it maintains snap shots so you can even go back to a version you preferred and lost while continuing to experiment with sounds and fx. BM2 does have more to offer as a drum sampler (better wave editing), but the inter-app on Cubasis is flawless and allows me to use iMPC Pro as my sampling drum machine but for a keyboard sampler BM2 does not come close to Cubasis. After I transfer my songs from BM2 i am uninstalling it and using Cubasis as my primary DAW. Also, Cubasis has the best fx and mixer. It is worth the $50 and wish I would have purchased it long before the half price promo, because it may have saved me countless song loss due to BM2 crashing problem.
The upper-level DAW best adapted to iOS
Cubasis and Auria Pro are often cited as the two premier DAW's for music production, especially since the latter upgraded to "Pro" and obtained MIDI capabilities. While many power users prefer Auria and swear by its deeper feature list and exclusive plugins, I've come to prefer Cubasis in my short time with it. (Actually, I would throw MultiTrackStudio as a less sexy but equally functional 3rd option).

Cubasis, by and large, just works on iOS and makes the experience of recording and editing audio and MIDI data easy and enjoyable. The user interface is colorful and informative in terms of how to route instruments, add effects, etc. I would also add that Cubasis (and MTS) currently support AU plugins, which Auria Pro (as of September 2016) still does not.

I think the Cubasis team could do some additional work in terms of file management and the ease with which different setups, pad assignments, and instruments can be recalled without having to dive through a series of menus.

But aside from that critique, this is a top-notch product. The Minilogue synth within Cubasis (as well as the sampler instruments) is also a hidden gem and assists with sketching out ideas without even needing to go outside of the app. This doesn't have the full power of a ProTools, Ableton, or other desktop giant, but at a fraction of the price and significantly more portability and convenience, it's a great option for creating music on iOS.
Now it's excellent.
I was very harsh on early versions of Cubasis due to severe project data losses and crashes and max 16bit depth, lousy effects etc. That's NOT the case anymore.
I've always preferred the interface and fluid workflow. The general design makes me want to use this the most.
Now with automation, better effects (not great) and vastly improved stability, Cubasis is my goto iDAW.
Auria is still technically superior, there's no doubt about that. Thing is, Cubasis has caught up enough to the point where the shortcomings or gap between the two has narrowed greatly.
I find myself using this almost exclusively now.
I bought the FX pack with the reverb, stereo imaging, delays etc and generally prefer them over the stock counterparts. They are worth the price and are not bad at all. Not exactly anything remotely as good as Auria's plug ins, but with the way we can route things so easily these days, there are plenty of excellent FX apps to bring into the flow.
The included instruments have gotten a little better, some still sound cheap. The guitars are mediocre at best.
MIDI use with Cubasis is as easy as it gets. Even audio centric folks like me who are slightly midi handicapped at times can get along without troubles.
This is getting too long. So I'll end with a simple, yes get Cubasis. It's way better now than it's early versions were.
View in iTunes
$49.99

Category:

Music

Updated:

Sep 22, 2016

Version:

2.0

Size:

1.03 GB

Language:

English

Seller:

Steinberg Media Technologies GmbH
Compatibility: Requires iOS 8.3 or later. Compatible with iPad.
Top In-App Purchases
FX Pack 1: Reverbs & Delays$6.99
FX Pack 2: Vintage FX$6.99
More iPad Apps by Steinberg Media Technologies GmbH