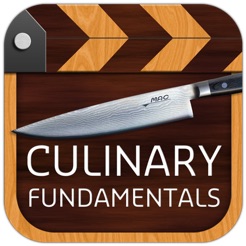 Description
Access over 280 professional training videos on your computer. Created by professionals with years of experience training chefs in licensed culinary schools around the globe. Now you can access professional training on your computer that you'd normally pay hundreds of dollars for.

A Culinary school on your computer – anyone can be a top chef!

***************************
Reviews from the popular iOS app:

★★★★★ "As a chef instructor, I find the videos both informative and useful. Students now are in the information age and small segmented videos play right into that. Long lectures don't get the point across as well as 15 minute blurbs. I use whatever means at my disposal to ensure I am producing the future trendsetters in the industry. Thanks so much for a great product."

★★★★★ "Crazy good!! Shows great skills and techniques in cooking and preparing. Great for young and old cooks"

★★★★★ "Love this app! Great value, I'll be using it a lot."

***************************
CONTENT

Includes over 280 skills videos with detailed voiceover instructions.

Essential techniques for every chef and home cook – knife skills, filleting fish, shellfish preparation, trussing poultry and much more.

9 Categories including: Precision cuts, Meat preparation, Seafood preparation, Poultry preparation, Fruit preparation, Vegetable preparation, Basic cooking knowledge, Methods of Cookery, and Chef's Tips.

Suggested menu applications for each culinary technique.

All video content is currently used in hundreds of top culinary schools across the globe.

Fully searchable with beautiful photos.

New videos coming with free updates!

************************

ABOUT FUTURA GROUP

Futura has a reputation for providing the highest quality resources for chefs and culinary students around the world. With years of experience and a focus on professionalism and innovation, you can be assured you are learning the correct techniques every time.
Customer Reviews
It's easy to come up with things that would make this better
In fact, lets do that: it could support full screen mode in lion, or resizing the window, it could contain links to more information elsewhere online. The videos are often ridiculously short, and the action seems to be sped up-- just the opposite of what you'd want. It's clearly a quick port of the iPad app-- some time spent looking at best-of-breed mac apps would do the developer good, it simply doesn't feel at home on the mac.

The content seems OK-- I feel like there could be more depth. Imagine if each technique was accompanied by a few recipes that use it, or even just links to relevant wikipedia articles, or provided a space for discussion.
Ok but...
The concept for this app is great and the videos are helpful. My main problem is with the price. Almost all of the videos are only 20 - 30 seconds long and as a result seem a little rushed as well as leave out information. For example, the roasted garlic video says to put the garlic in the oven until golden brown, but no temperature or general time is mentioned. In the fruit section there is a video for tomato wedges but nothing for diced tomatoes, which is pretty common. I know I sound like I'm nitpicking, but there should definitely be more content and more detailed videos for the price of the app seeing as how much of it can be obtained from the internet for free. Right now I'd say the app is worth more like $5 instead of $11. I do like the meat section however as the videos are longer and cover some good topics.

Add more videos with more detail, and I'll improve my rating.
Good aid for Culinary School
I'm currently in culinary school at Johnson and Wales University, and we're required to make extremely precise knife cuts. Learning to become really fast at all the knife cuts can be difficult without seeing little tricks on how to turn vegetables after each cut, and so on. The videos in this app are great, and although I agree that there are occasions where it doesn't go into detail enough (like oven temperatures), it shows some really fine detail in other places. It has a couple dozen videos on various ways to cut fruit which give really good ideas for garnishes. The app is also excellently organized… separating methods, fruit, vegetables, meat, seafood, poultry, and other tips. I think it's a great buy if you're interested in learning traditional ways of performance in the kitchen.
Information
Seller

Futura Group Pty Ltd

Size

23.8 MB

Category

Age Rating

Rated 4+

Copyright

© Futura Group Pty Ltd

Price

$8.99
Supports
Family Sharing

With Family Sharing set up, up to six family members can use this app.