Curlington HD
By Tore Bernhoft von Obstfelder
Open iTunes to buy and download apps.
Description
"While there are not many Curling games on the app market, Curlington HD is a definite download. I may not know much about the sport, but the game is tons of fun. Fun features such as TNT stones and other add ons make this game a must." ⎯ APProved by Famigo!

"Curling, once a sport of, well, not kings, but folks in cold climates, is now available for everyone, even you folks in hot climates (we're jealous, we are). With Game Center support and locally stored achievements to be uploaded when online again, this one's bound to please." ⎯ 148 APPS

"An arcade game that takes the stone-sliding sport known as curling to a whole new level." ⎯ APP ADVICE

"The game is really well polished: good graphics, controls and environments. After you play the game…you'll want to try the real deal on ice."
[5/5] ⎯ LOVE FOR TECH

"The gameplay is great - some people call curling chess on ice - simple enough to get started but absorbing enough to keep you coming back for more." ⎯ iTREVIEWS

"As long as you have an iPad or iPhone this game will be there for you!"
⎯ Rating: 9 out of 10 by MACNEWS 2YOU

"They have managed to do the unthinkable: they actually made curling cool."
⎯ SMOKIN APPS Reviewed: 4/5 stars

"Who knew that curling could be so much fun!"
⎯ PADGADGET


Join the Top Secret Curling Academy! Play in the hidden mountain facility and master the game of Top Secret Curling! Use gadgets, Special stones and the interior to your advantage! Standard curling rules with a completely new gameplay! Optionally you can also relax with a game of normal curling...

Features:
• Extremely fine tuned and super smooth controls...
• Detailed HD Graphics with a steady 30 frames per second
• You get a sense of the curling stone weight!
• GameCenter support - Leaderboards (4) and Achievements (12)
• Achievements are stored locally when offline and uploaded next time online
• Full length curling sheet on the runway
• Option to turn off the "arcade" gameplay for normal curling
• Levels are now streamed for faster loading
• Multitouch for extra power is now just as precise as using single touch
• New and updated instructions and rules / game information
• Smarter AI (iPad player) with easy or medium settings
• Choose number of rounds to play showing approx. durations based on player count and stones per round. Perfect game-speed / duration control
• Options for graphics and physics settings (lock physics objects)
• Game Pause
• Realtime statistics while in-game for various data
• Swiping on takeouts (two fingers for opponent stone, and still swipe with one for getting own stone closer to target)
• Slow down the Stone by swiping downwards pushing ice debris in front of it
• Special Agent Light Sensitive Binoculars on runway rink
• Position stone sideways, slide to add force and direction
• Sweeping affects the friction for longer glides and less curl
• Faster sweeping gives more effect and lighter sweeping for more finesse
• After stone is released, sliding sideways adds rotation to stone and increases curl when stone speed slows down
• Earn and collect bonus point and use them in the equipment store
• Shoot bonus targets
• Stones are breakable
• Use two or three fingers for more power
• Bonus-game inside cargo aircraft
• Anti-gravity stone
• Explosive stone
• A lovely stone
• Castle Guard stone
• 1-4 Players
• AI Player
• Training mode

PRIVACY POLICY:

− DOES NOT contain In app advertisements served from 3rd party ad networks
− DOES NOT integrate with social networks such as Facebook or Twitter
− DOES NOT track a user's location from the app
− DOES NOT include hyperlinks to the internet that open a mobile web browser
− DOES NOT contain In App Purchase functionality, allowing users to purchase content through buy or unlock features within the app
What's New in Version 1.2.1
✓ iPad 2 support
✓ Updated Icon graphics
✓ Fix for freeze in aircraft training
✓ Fixes for several minor issues

iPad Screenshots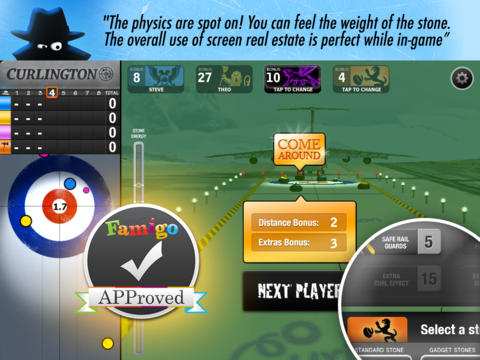 Customer Reviews
Curlington for all.
This is a fun and challenging take on the game of Curling. Sure we've all seen curling on the Olympics and this game has that and much more. This game offers two kinds of curling, arcade mode which is a little easier to play and has a few extras you won't see in real life like the exploding stones and a few other specialty stones. It also offers a simulation mode which is more difficult to master but is more true to the real game. This game also offers three different courses to master, the short course for learning, the long course for masters, and the shuffle puck course which is just fun throwing stones out the back of a flying plane although I don't think that's the point. As you can see from the picture the developers have done a good job of giving you everything you need to play and enjoy the game without cluttering up the screen. The controls are easy and intuitive, the graphics are nice and clean, everything a good game should have. Honestly this game feels like something you would be playing on your PS3 or your computer, a full featured game with all the bells and whistles. This game is a great deal for the asking price, I would think this game would be at least $4.99 or $9.99 but it's not so grab it up!
Feels like real stones
I like my shuffle board app and love to wqtch curling when i can find it on u.s. tv...rare... I got this due to sale price and am very pleased. Amazingly, the stones feel heavy. The sliding launch and release aspect of the game is very good and really feels like curling... As seen from watching it. You actually slide your launch before release using a powerbar. Then you can add spin, as if yiu spun the handle on release. Great fun. I was worried about the arcade exploding stones etc ruining the game. I was pleased to find simulation mode too. Which is real curling with no toys. The arcade mode with toys will be a nice variation to help with logevity of playing this game. I went 4 rather than 5 stars because there is room for improvement graphically. The left... Birds eye view is a big crude and not really 3d as would be seen from above, and i think id like an option / toggle. Maybe to have the camera track along with the moving stone. Like the spy cam stone offers. Essecially for the computer ai shots. As waiting for the computers play is a bit boring.
I'M CHALLENGING YOU SO CALLED GAMERS
You so called gamers are you tired of just pushing buttons and going brain dead. Are you people up to playing a grown up game that will challenge you, do you want to be challenged?
Graphics, gameplay this game has it all. So put down your pacifier and grab this one.
Gamers who call this game shallow I find there review both disgusting and disturbing. I suggest they rewrite there review and apologize to the developers of this fine game and the potential app purchasers they deceived.
People think before you write your review, and above all be fair to the developers who are bending over backwards to give you spoiled children a great game.
View in iTunes
$0.99

Category:

Games

Updated:

Apr 01, 2011

Version:

1.2.1

Size:

22.3 MB

Language:

English

Seller:

Tore Bernhoft von Obstfelder
Compatibility: Requires iOS 4.2 or later. Compatible with iPad.