DanKam: Colorblind Fix
By Dan Kaminsky Holdings, LLC
This app is only available on the App Store for iOS devices.
Description
Can your iPhone correct your color blindness?

"I used it today in the real world. It was amazing! I was at Target with my girlfriend and saw a blue plaid shirt that I liked. She asked me what color it was so I pulled up DanKam and said "purple." I actually could see the real color, through my iPhone! Thanks so much!"

"I am literally, almost in tears writing this, I CAN FRICKIN' SEE PROPER COLORS!!!!"

"Thank you so much for this app. It's like an early Christmas present! I, too, am a color blind Designer/Webmaster type with long-ago-dashed pilot dreams. I saw the story on Boing Boing, and immediately
downloaded the app. My rods and cones are high-fiving each other. I ran into the other room to show a fellow designer, who just happened to be wearing the same "I heart Color" t-shirt that you wore for the Forbes photo. How coincidental was that? Anyway, THANKS for the vision! Major kudos to you…"

"@waxpancake: Dan Kaminsky made an augmented-reality iPhone app for the
colorblind. And it *works*. http://bit.ly/gOJAn0"

Apparently so :)

DanKam is a iPhone app that displays video from the camera (among other sources), remixed so that it's a lot easier for the color blind to see colors, and the differences between colors, more accurately.
What's New in Version 1.7
- Fixed bugs related to static images
iPhone Screenshots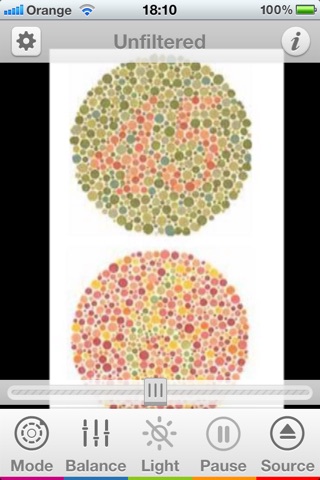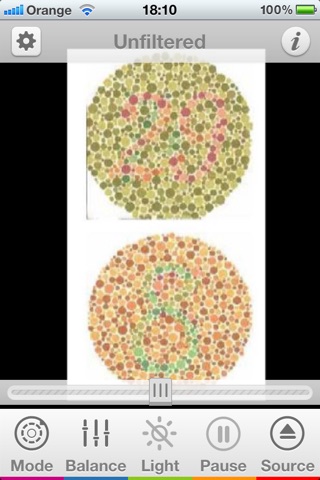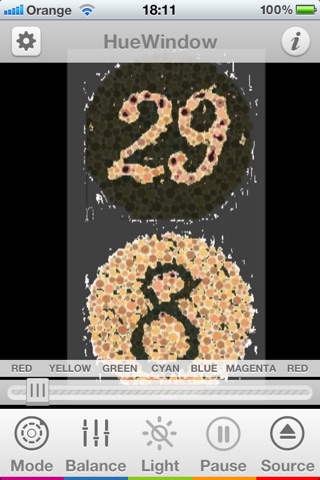 Customer Reviews
Fantastic tool to differentiate color
Just wanted to say thanks to the developer. This is a really excellent tool that assists color blind users in differentiating between different hues. It's quite sad to see the negative reviews and it's clear in each case they expected the app to somehow impregnate their retinas with properly functioning photoreceptors so as to regain "real" color vision and "see" red for the first time in their lives.... sadly, such a cure doesn't exist... and it certainly doesn't exist for a couple bucks on the App store!
However, if you frequently need to differentiate between different hues, like me, then this is a great tool. I am a microscopist and neurobiologist and frequently must look at red/green pseudo colored images in which I am supposed to see "yellow" in the areas of overlap... which is extremely difficult if not impossible. This app allows me to find a setting in which the two shades "pop out" and become easily discerned.
For those wanting to know the "right" setting... there is no "right" setting! If you are actually colorblind and you point this at something and start randomly playing with the settings, you WILL see differences between areas of the image that you did not realize were different... and that is the point. Again: there is no right setting to suddenly restore normal color vision.

My only request to the developer: Please update the app for newer iPhone 5/6 screens!!
but thank you! this is really great!
Best of the bunch!
Okay, so just to be clear: this app won't help a colorblind person to see "normally"...but what it will do is enhance what few colors they DO see so they can at least differentiate between the bazillion shades out there. I'm severely red-green deficient, and spent a good part of the day today running around like a little kid, pointing my phone at *everything*. For the first time in my life, I was able to see all the numbers on the dreaded Ishihara plate test, and discovered lovely patterns that had been hitherto invisible to me in my rugs, bedspreads and clothing. I was also shocked that stop signs, spring grass, butterflies and certain paintings were far more vivid than I'd realized. I've tried several apps for the color-impaired, and I gotta say this one has been the best so far. Once again, it doesn't "fix" your eyesight, but simply indicates parts of the missing spectrum using adjustable filters/algorithms. Definitely worth the price, though. If it ever gets on the Google Glass platform, I'd buy it again in a heartbeat. Think of the possibilities...
Please Add "Help"
Great app, it would be nice if you add help in it .. To tell "what" color is converted into "what".
And update it to fit properly on screen
Also i bought it because i am on ios 8 and 9 on my devices so make it compatible as much as possible
View in iTunes
$2.99

Category:

Lifestyle

Updated:

Mar 13, 2013

Version:

1.7

Size:

2.2 MB

Language:

English

Seller:

Dan Kaminsky Holdings, LLC
Compatibility: Requires iOS 4.3 or later. Compatible with iPhone, iPad, and iPod touch.