Danmaku Unlimited Lite
By Sunny Tam
This app is only available on the App Store for iOS devices.
Description
###Reviews for Danmaku Unlimited###

NINEOVERTEN (5/5)
"If you are a bullet hell shmup lover, this is a must have"

TOUCHARCADE (4.5/5)
"a gorgeous 2D shooter that offers up challenging stages and lots of competition"

POCKETGAMER (8/10 - Silver Award)
"A blistering combination of killer visuals and arresting shooter gameplay"

SLIDE GAMER (8/10)
"a beautiful, unique, and challenging title that deserves being checked out"

148APPS
"The game is absolutely gorgeous."

ファミ通App - FAMITSU APP
"App編集部オススメ!" - Editor's recommendation!

IPHONE AC
"とにかく高クオリティーなシューティングです" - This is simply a high quality shooter

###Danmaku Unlimited###

The wait is over! Inspired by the best of 2D shooter games such as the Touhou series and other doujin games from Japan, Danmaku Unlimited is an authentic bullet hell shooter experience on a level that is rarely available on mobile devices!

Danmaku, or bullet curtain, is a variation of the classic 2D scrolling shooter where there could be hundreds if not thousands of bullets on screen at any given time, each of them arranged in patterns that require skillful manoeuvring by the player to dodge. It is not all one sided as the player wield amazing firepower that decimates lesser enemies with ease, resulting in a dramatic, fast-paced gameplay experience.

Set in the not so distant future, Danmaku Unlimited places you in a world that is gripped by destruction, caused by the will of nature to cleanse the earth of mankind that for long has been abusing her gifts. The manifestation of her wrath comes in the form of six goddesses, or Valkyrias. As beautiful as they are deadly, they wield the power to transform and re-purpose man's creation to their cause.

As humanity crumple against nature's righteous onslaught, will you, the only Valkyria that still sees hope in mankind, fight to give humans a second chance? Or will humanity receive the judgement it so deserves?



###Requirements###



-firmware 4.1 or newer



#Optimized for#
-iPhone4/4th gen iTouch



#Minimum#
-iPhone 3GS/3th gen iTouch and above



(the game may run on older devices but not at a desirable level of performance, please download the lite edition to try it out on your device first)

-as this is a graphically intensive game that requires a lot of processing power, it may be necessary to change the graphic settings of the game to a lower level on older devices. This can be done in the options menu. The graphic settings changes the intensity of the special effects and have no impact on gameplay.



###Features###



-An authentic Japanese style bullet curtain (danmaku) shooter experience on the iphone/itouch!

-Vibrant, detailed graphics.

-State of the art procedurally generated special effects.

-Intuitive touch based controls, with automatic control assists for an optimized mobile experience.(Can be toggled off for more precise player control)

-Customizable control sensitivity.

-Intense amounts of bullets arranged in intricate patterns for you to dodge!

-Multi-stage boss battles

-3 levels of difficulty to ensure that both newcomers and veterans of the genre will have an enjoyable challenge.

-A certain segment proving to be a touch nut to crack? Purchase upgrades at the shop for your fighter to improve your chances!

-Unique skill based scoring system that rewards living life on the edge!

-Global leaderboard via gamecenter, compete with the best in the world for the top score!



What is included in the lite edition:

-access to the first stage of the arcade mode
-3 difficulties
-3 playable fighter types
-dedicated trial version gamecenter score board
-full access to the upgrade shop



Upcoming features in the full version:

-epic 5+ level arcade mode
-special bonus stages
-full gamecenter score board support
-gamecenter achievement support
-ad free!
What's New in Version 2.0
-dynamically adjustable screen size
-improved screen scrolling
-improved touch based controls
-fixed texture related memory leaks
iPhone Screenshots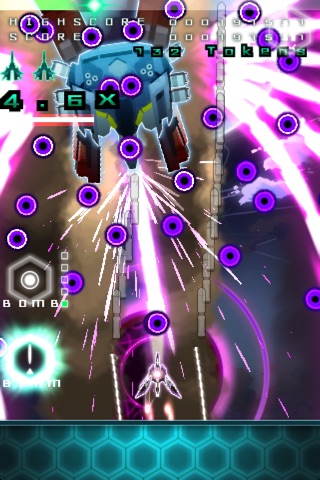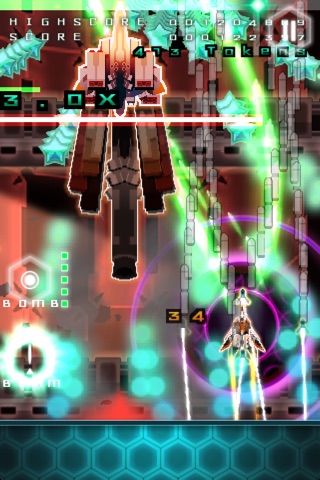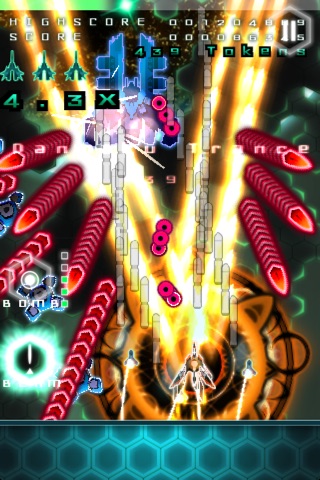 Customer Reviews
Inspired, for sure.
I'm Japanese and I have played many shmup games, and this is great, game difficulty is nicely balanced.

It's just... Well, I'll call this a "american danmaku". It's like eating Japanese food in Japan, then go to U.S. and eat Japanese food and you feel like "what is this, this isn't Japanese food!" and you still eat it because it tastes good.

Whole this isn't really a "danmaku" shmup, since 1.bullets are too big 2.ship itself is fairly big, or 3.screen is too small for whole thing to fit in and 4.screen is moving way too much. You can also tell that this isn't Japanese shmup game, by listning background music.

But did I hated? After I played for 15 minutes, I realized that if I treat this game differently from Touhou and Cave's shmup, I started to fall in love with different style of danmaku.

If you expect this to be a substitute for Dodonpachi, you'll be disappointed. It's great, but not danmaku perfection.

BTW... People who has older device, it's unfortunate, but your device has not enough power to operate the app. It's not app's fault. It's your ipod's problem. This applies to almost all of the other shmup games like Cave's game. If you ask to fix, what they can do is to make game ridiculously easy or make game less intense.

Note: I used reference of American, but I assume it was made by chinese, but I am not certain... Dear author, I hope I did not offended you.
WAY TOO MANY blending colors
The core and other colors blend in together with the back round way too much! It's fine when your slow or on easy mode, but in the midst of intensity in other difficulties, it's hard to notice a shot until you're already dead. That's why tohou and other games have a LOT more fame, they have the colors clearly different. The games a god game, but not exactly good on that one flaw.
Very bad graphics, but has potential
The graphics are very bad. The spaceship is the same colour as the enemies and the stars you get from killing the enemies are also the same colour! The game gets very confusing because of that.

Also, the font is hard to read.
View in iTunes
Free

Category:

Games

Updated:

Mar 07, 2012

Version:

2.0

Size:

17.8 MB

Language:

English

Seller:

Sunny Tam
Compatibility: Requires iOS 3.0 or later. Compatible with iPhone, iPad, and iPod touch.