Danse Macabre: Crimson Cabaret HD - A Mystery Hidden Object Game (Full)
By Big Fish Games, Inc
This app is only available on the App Store for iOS devices.
Description
Unlock the complete adventure with a single purchase! No in-app purchases!

Famous artist Henri de Toulouse-Lautrec needs your help with finding his friend's murderer. Can you gather enough evidence to track down the wanted killer?

• WHICH CLUES CAN YOU FIND WITHIN THE MOULIN ROUGE?
The star of the famous club, Sophie Dubois, has been poisoned by a single rose. Find which admirer has gone too far and why!

• QUESTION EVERY SUSPICIOUS CHARACTER YOU MEET
Search for missing items and compare specimens in various mini-games with some help from your forensics kit.

• EXPOSE SECRETS THAT WERE BURIED LONG AGO
Comb through beautifully progressive hidden object scenes and get closer to solving the mystery!

• EXPLORE LA PARISIENNE IN THE BONUS CHAPTER
Continue the investigation in the additional chapter and also enjoy Collector's Edition exclusives including achievements and replayable mini-games.

*** Discover more from Big Fish! ***

Check out our entire game library with our Big Fish Games app absolutely FREE here: http://bigfi.sh/BigFishGamesApp

Sign up for our newsletter and never miss a new release or promotion again: http://bigfi.sh/iSplashNewsletter

Big Fish is the leading global marketplace to discover and enjoy casual games. You can enjoy our virtually endless selection of games anytime, anywhere — on your PC, Mac, mobile phone, or tablet. Learn more at bigfishgames.com!

Become a fan on Facebook: http://www.facebook.com/BigFishGames

Follow us on Twitter: http://bigfi.sh/BigFishTwitter
iPad Screenshots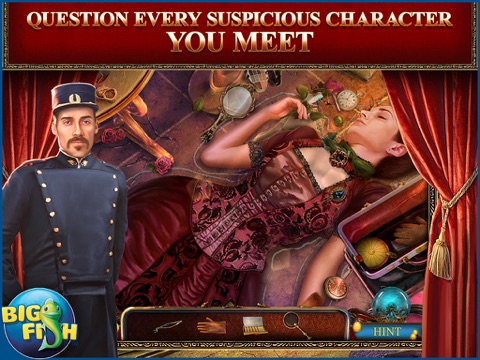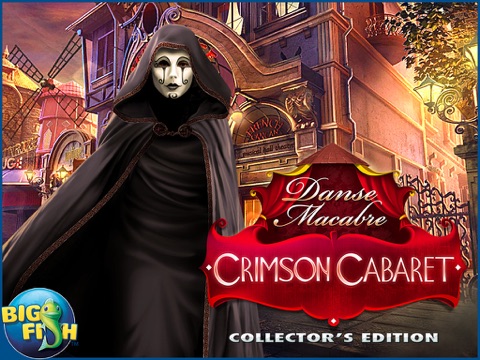 Customer Reviews
Really enjoyed playing 💌
Absolutely beautiful artwork and scenery .. & loved the music. It could have been a bit longer tho.. A nice variety of puzzles...some were quite easy, but others were great brain teasers (which I love) but not too tough. I really appreciate the traveling map.
The main issues that kept me from giving it 5 stars, were that there were a few glitches.. One was with the forensic case... To find the matching pieces with the glass, and then use the tweezers.. It would not let me pick up the tweezers so I had to use the skip button 😕
Also the voices kept going off.. Not a huge deal, as you can read the script. I also had a wee bit of trouble with being able to click on some items. Some of the windmills were too faint for me to see (not everyone is gifted with great vision) and especially the morphing items. Lastly, just a pet peeve of mine.. But I find it annoying when you click a bit too close to the bottom of the screen in some areas, you step out of the area a bit too easily.. In other spots I had trouble getting out.. I really like it when games give you an arrow on the first tap, and then let you out on the second tap.. So no accidental leaving. So just a few minor things, but all in all a great game & well worth the $$ 💖
Beautiful, but the task bar is sloppy and the map is in the menu
It's a five star game, but the devil is in the details...and sadly there were a few big deductions.

What's good: graphics, storyline, voice overs, labeled inventory, some new twists and innovations (there are plenty of reviewers like Kim Twilight who describe these in more detail, so if you want to know before you buy, please read their reviews). Fast loads and lots of different scenes should have made this great.

But...it wasn't.

Big deductions for sloppy handling of the map location (really, having to go through the menu to access both the evidence board *and* the map is just silly). Also the strategy guide button is very close to where I usually touch the screen to go back, so I found myself unwillingly popped out of the game and into the guide very often. Both of these issues took me emotionally and mentally out of the game as well as physically, so I never really got into it all that much. And the puzzles themselves weren't all that fun or challenging.

For those reasons, I give it a rounded down 3.5 stars. If you see it on sale, it may be worth buying...but I can't recommend it for full price.

I hope my fellow reviewers are well...enjoying November's changing moods... And as always, Thank you for the great reviews. 🍭🍭💜💜💙💙
Outstanding
Loving it. Found a morphing object, quite by accident. Yay. Voice talent just OK, but great graphics, tricky puzzles, zoom, map, period atmosphere. Ack. Not quite. Maid's knee-length uniform simply would not have been worn during Toulouse-Lautrec's lifetime (died 1901), even in scandalous Montmartre. But that is a pretty dinky nit to pick.

No fairies, wizards, elves, vampires, angels, ghosts—Yay! At least so far. Also no rats. Ha! A monkey just showed up. Hope it isn't a cutesy-poo sidekick. Could be useful, though. Monkeys have hands and can get into places people can't.

BTW: Most extras are only accessible after completing the game (and I just started) but the "Making of" video is available up front. Check it out. Best I've ever seen.

Get while it's on sale!
View in iTunes
$6.99

Category:

Games

Released:

Nov 02, 2015

Version:

1.0.2

Size:

1.26 GB

Languages:

English, French, German, Japanese

Seller:

Big Fish Games, Inc
Compatibility: Requires iOS 7.0 or later. Compatible with iPad.