Dark Sky Weather
By Jackadam
Editors' Choice
This app is only available on the App Store for iOS devices.
Description
Dark Sky can tell you at a glance exactly when it will rain (or snow) up to an hour in advance, so you're free to walk the dog or run out to lunch and know you'll stay dry. You can also explore the most beautiful weather animation you've ever seen, both forward in time or back.

(Dark Sky is available in the US, UK and Ireland.)

YOUR WEATHER, DOWN TO THE MINUTE
Using GPS, Dark Sky is able to create forecasts for your precise location, giving you minute-by-minute predictions for the next hour and hour-by-hour forecasts for the next day and week.

BEAUTIFUL WEATHER ANIMATIONS
The same technology that powers Dark Sky's predictions also allows us to make the world's first perfectly smooth radar animation. Other apps show you a chunky slideshow that makes it nearly impossible to tell how storms are moving. But Dark Sky's radar animation lets you see the actual path of the storm: how it moved in the past, and where it's going in the future.

PUSH NOTIFICATIONS
Dark Sky comes with advanced notification options: Receive down-to-the-minute alerts before it starts raining at your exact location, get notified of government severe weather alerts (for such things as thunderstorms, flooding, hurricanes, etc), or even create your own custom notifications covering the next 24 hours for things like temperature, wind, precipitation and more. Even if you haven't opened the app in days, Dark Sky will tell you what you need to know, when you need to know it.

TODAY WIDGET
The Dark Sky Notification Center Widget tells you at a glance what's going to happen in the next hour and the next week, so you don't even have to unlock your phone to quickly check the weather before heading out.

APPLE WATCH
Dark Sky looks great on your wrist. Get notifications and check out the weather for the next week with the Dark Sky app built from scratch for Apple Watch.
What's New in Version 5.3.4
Updated map controls for iPhone X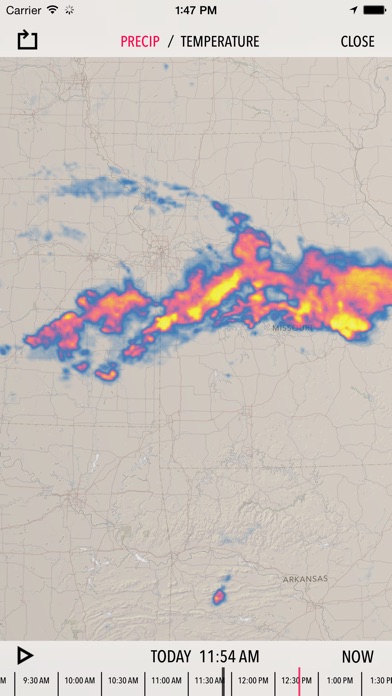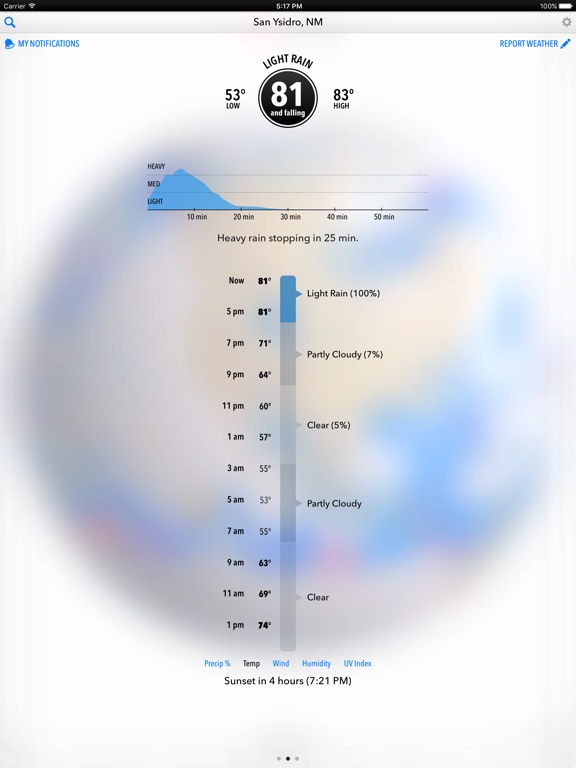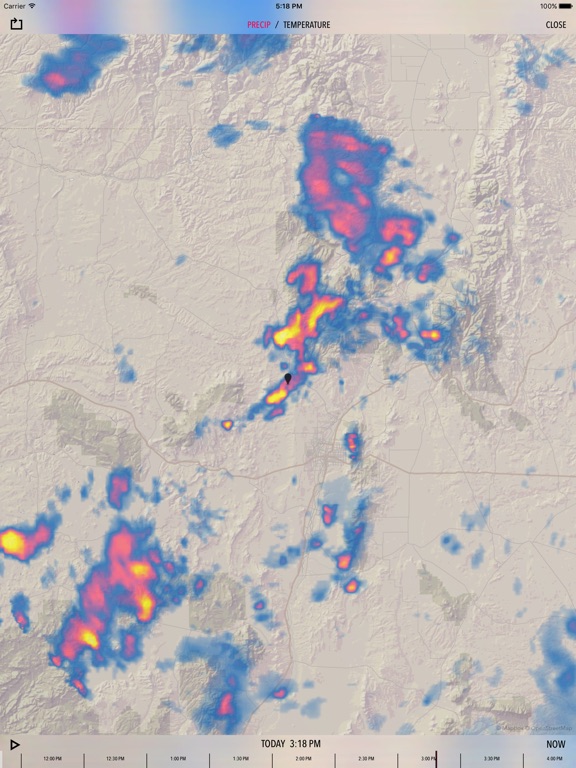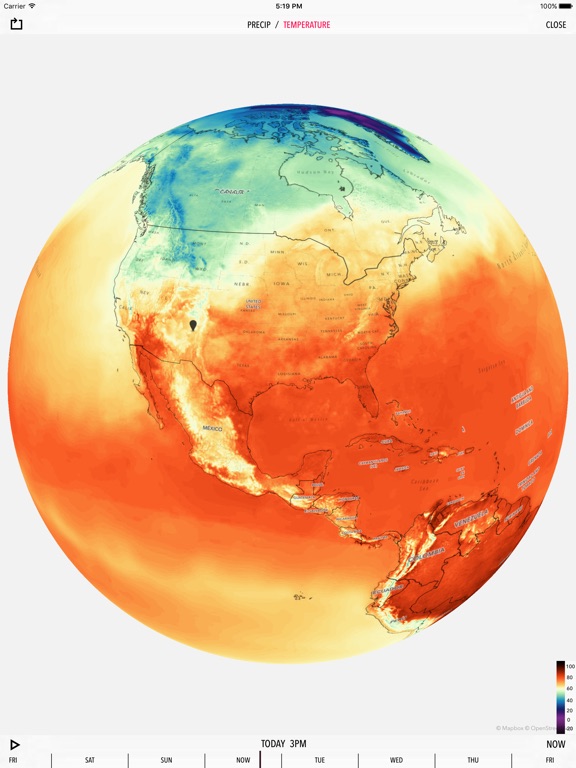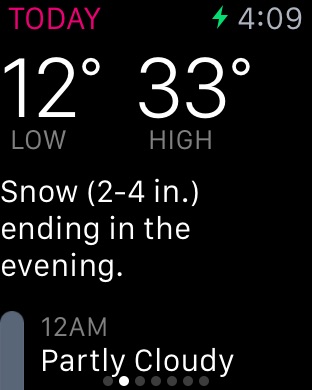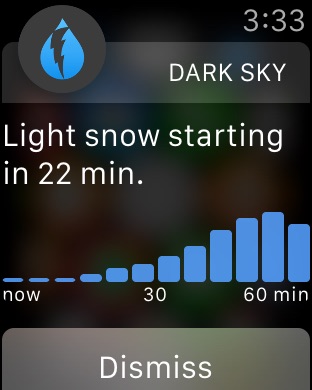 Customer Reviews
OverRated
I figured with this being the number 1 weather app it would be amazing. I am into weather and run a weather page on FB so I know my way around weather apps and utilities. I find the interface on this app not well laid out. There isn't much to this app. I guess its main purpose is to tell you if it's rain or snowing and for how long. You can set up very limited alerts but they require you to enable GPS always on your phone. I notice my gps symbol would stay on no matter what even after closing the app. I don't like any app to constantly use my gps so I set it to only use gps when using app like other apps I have. That fixed the constant gps symbol but now the app complains and turns off all alerts. I guess this app is ok if you like a basic weather and alert information. There is way better weather apps and even some free ones better than this. I prefer the app storm which has a much better layout and way more information. If I could get a refund I would but I guess it could be buyers remorse as I expected so much more.
Don't understand all the hype!
I am a meteorologist. I have many weather apps. This is the least useful one that I have. Sure, the radar maps transform smoothly. Sure, it's a cute little trick to try to predict when the rain will stop at my house. But, it gets many things wrong. Right now it's telling me it's drizzling outside when it's spectacular clear and sunny. This is not the first time this has happened. Also, the default zoom level for the radar is completely useless! I don't really care what the radar is showing for all of North America, I want to see it where I am. The graphical and tabular views of the weather are not nearly as useful as the Weather Underground app. The charts are not as intuitive, nor do they impart as much knowledge in a glance as the weather underground app charts do. This is the kind of app that makes me wish Apple had a try before you buy policy for the App Store. I am likely to uninstall this app pretty soon.
Quick, Down + Dirty" Data that is Specific and Clear
PROS:
Quick, Down + Dirty" Data that is specific and clear about parameters of temp, wind, precipitation, humidity, + UV intensity. (I think I may have seen occ allergy risk reports.)

It breaks down data into hourly aliquots.
There are absolutely NO superfluous "newsy" or distracting ads or videos. It is simple, but quite robust. Scientists would say it is elegant.
It is worth the money in terms of time saved checking the weather report.

Dark sky is the first thing I look at every morning when I get up.

It is also clear and concise on my Apple Watch.

CONS:
It uses small icon symbols to represent a short hand for weather states such as for: snow, rain, sun, clouds, wind, etc. But some others are confusing and / or unknown to me.

THERE IS NO KEY TO SHOW WHAT ALL THE LITTLE DRAWINGS or SYMBOLS STAND FOR.

AN ADDITIONAL PROBLEM IS THAT SOMETIMES THE REPORTS ARE WRONG PARTICULARLY ABOUT THE AMOUNTS OF PRECIPITATION THERE WILL BE DUTING THE DAY. EG: Occasionally, the morning report is not concordant with the afternoon weather or their is much less snow than they predicted.

When snow or winter storms are predicted I need to check with the "obscene" Weather Channel to confirm or clarify what dark sky is predicting.
View in iTunes
This app is designed for both iPhone and iPad
Offers Apple Watch App for iPhone
$3.99

Category:

Weather

Updated:

Jan 04, 2018

Version:

5.3.4

Size:

19.0 MB

Apple Watch:

Yes

Language:

English

Seller:

jackadam
Compatibility: Requires iOS 8.0 or later. Compatible with iPhone, iPad, and iPod touch.