DataVault Password Manager
By Ascendo Inc.
Open the Mac App Store to buy and download apps.
Description
DataVault Password Manager for Mac protects confidential information such as passwords, usernames, credit card numbers and financial information using Advanced Encryption Standard (AES), the most powerful technology to keep your data safe.

Secure. Powerful. Simple. Try DataVault Password Manager today!

* * * * * Huge Fan of DataVault!!
"Everything I wanted in a Password manager! It looks great on my iPad, it works great on my Mac! The customer service is amazing!"

* * * * * DataVault is an excellent program from a great company.
"The program is easy to use. The Graphics are nice and simple. Syncing with my iPad and iPhone was easy. I recommend this program highly."

* * * * * Fantastic!
"I like having all the information I need right at my fingertips no matter where I am. All in all, this is the best password protector app I have used."

* * * * * Perfect
"This is just what I have been looking for and it works very smoothly and accessible from all my devices. Great Buy!"

SECURE YOUR DATA
- DataVault encrypts your information using AES, the global standard for data protection. Your master password isn't stored anywhere on the device. Not even Ascendo has the key. Only you can unlock your data.
- Provides 256-bit encryption with PBKDF2 and salting to insure the highest level of security of any password manager.
- Set a Security Timeout to require login after an inactivity delay.
- Set Maximum Login Attempts to wipe your data after successive failed login attempts.
- Set a Master password hint in case you forget your master password.
- Use Field Masking to shield data from prying eyes.

POWERFUL FEATURES
- Automatically enter usernames, passwords and fields using extensions for Safari, Chrome or Firefox. See user guide for installation instructions.
- Save web form contents directly to DataVault.
- Access DataVault's password generator from Safari, Chrome or Firefox.
- Backup your data automatically to insure you never lose your important information.
- Create strong passwords using build-in Password Generator with settings for length and types of characters to include.
- Strength Meter tells you if you passwords are weak, good or strong.
- Synchronize with DataVault for iPhone, iPad, iPod Touch and other devices (sold separately).
- Synchronize using iCloud, Dropbox, Wi-Fi or Webdav.
- Automatically sync over Dropbox each time you start DataVault and changes have been made on other devices (DataVault Premium).
- Manage conflicts if an item has been changed on two devices.

SIMPLE TO USE
- View items in list view or folder view.
- Use Templates for rapid entry of common items such as bank accounts, credit cards and logins.
- Select from 25 default templates or create your own.
- Use categories and types to organize items.
- Duplicate items for faster entry.
- Search Settings including fields to search and case sensitivity.

And a whole lot more...
- 200 icons to personalize your items.
- Import from Keeper, 1Password, EWallet, SplashID, mSecure, Keepass and other 3rd party applications.
- Import from text files in CSV format.
- Print items.
- Great email support.

Unlike other password managers, DataVault does not require an annual subscription fee. One copy of DataVault can be installed on up to 5 Macs authorized to an iTunes account.

Incorporated in San Diego, California, Ascendo has been a leading software developer since 2004.

Questions? We would love to hear from you! Email info@ascendo.co

Get peace of mind with the best password manager for Mac. Download DataVault Password Manager today!
What's New in Version 6.1.5
- Fixed issue with icon selector.
- Improved sync animation icon in menu bar.
Screenshots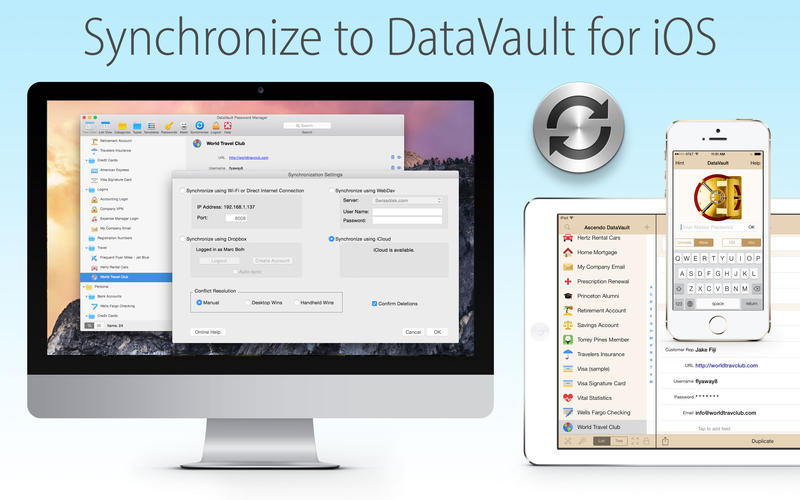 Customer Reviews
I've used this for years… ALWAYS reliable and stable!
FIRST: GET A PASSWORD MANAGER. period. Then USE IT, for ALL your passwords. Make it your habit. Then use it to make longer, more secure passwords, and change them easily. Truly, it is a worthwhile investment, and loads better than a ratty notebook in the drawer by your keyboard. [End PSA rant]

I recommend DataVault, as I've used it for years, and it has never disappointed me. DataVault has stood the test of time, a rarity in the iOS universe. It's remained relevant and become more powerful and easier to use, without bloating into something it aughtn't be in the first place. The desktop-iOS integration is seamless, and iCloud sync works flawlessly across my devices. If I remember correctly, DataVault was a month or two behind 1Password to introduce Touch ID (which saves loads of time), but when they update, it works… period. In fact, in all the years I've used DV, no update has ever been unstable or flaky–also a rarity for iOS apps. This developer takes both our security and our trust seriously.
Reliable - period. Get this. Now! Go. Do it.
Researched extensively before purchasing. Actually bought 3 different cheaper systems first, but trashed them all for various reasons - hard to use, poor cross platform behavior, awkward interface, etc. Works across all my iOS devices and MacBook Pro. Syncs neatly. Reasonable export options. Wouldn't be without it. To all you cheapskates out there - just spend the bucks!! The investment is more than worth the peace of mind, not to mention the convenience. If you are really paranoid about backups of the entire DataVault file "just in case," you can periodically export a CSV file, open & save in Excel, even export that to PDF if you want a more universal visual file, then password encrypt whichever one you've made, save to a USB stick, (or even print out if you are storing under lock & key), and stash the backup in a safe. If you have a few hundred passwords, it's a little extra assurance.
Great app with outstanding customer service...
Five stars!! I have been using DataVault Password Manager for some time and found it to be the perfect app for what I needed. Love that it works so flawlessly accross my iMac and IOS devices. When I had a question about syncing the information to my husband's devices also (he has a different account) DataVault's customer service responded promptly and were very helpful in sending step by step instructions on what I needed to do and how to set it up. They also went the extra step and followed up by making sure I was able to accomplish what I wanted. I thoroughly recommend DataVault to anyone and everyone needing to store their logins, accounts, personal information and passwords safely, and be able to access their information from other devices. Thank you DataVault!
View in Mac App Store
$9.99

Category:

Productivity

Updated:

Jan 06, 2016

Version:

6.1.5

Size:

4.6 MB

Language:

English

Seller:

Ascendo Inc.
Compatibility: OS X 10.7 or later, 64-bit processor