DataVault Password Manager
By Ascendo Inc.
Open the Mac App Store to buy and download apps.
Description
DataVault Password Manager for Mac protects confidential information such as passwords, usernames, credit card numbers and financial information using Advanced Encryption Standard (AES), the most powerful technology to keep your data safe.

Secure. Powerful. Simple. Try DataVault Password Manager today!

* * * * * Huge Fan of DataVault!!
"Everything I wanted in a Password manager! It looks great on my iPad, it works great on my Mac! The customer service is amazing!"

* * * * * DataVault is an excellent program from a great company.
"The program is easy to use. The Graphics are nice and simple. Syncing with my iPad and iPhone was easy. I recommend this program highly."

* * * * * Fantastic!
"I like having all the information I need right at my fingertips no matter where I am. All in all, this is the best password protector app I have used."

* * * * * Perfect
"This is just what I have been looking for and it works very smoothly and accessible from all my devices. Great Buy!"

SECURE YOUR DATA
- DataVault encrypts your information using AES, the global standard for data protection. Your master password isn't stored anywhere on the device. Not even Ascendo has the key. Only you can unlock your data.
- The standard version employs 128-bit encryption as used by online banking sites. DataVault Premium (in-app purchase) provides 256-bit encryption with PBKDF2 and salting to insure the highest level of security of any password manager.
- Set a Security Timeout to require login after an inactivity delay.
- Set Maximum Login Attempts to wipe your data after successive failed login attempts.
- Set a Master password hint in case you forget your master password.
- Use Field Masking to shield data from prying eyes.

POWERFUL FEATURES
- Automatically enter usernames, passwords and fields using extensions for Safari, Chrome or Firefox. See user guide for installation instructions.
- Save web form contents directly to DataVault.
- Access DataVault's password generator from Safari, Chrome or Firefox.
- Backup your data automatically to insure you never lose your important information.
- Create strong passwords using build-in Password Generator with settings for length and types of characters to include.
- Strength Meter tells you if you passwords are weak, good or strong.
- Synchronize with DataVault for iPhone, iPad, iPod Touch and other devices (sold separately).
- Synchronize using iCloud, Dropbox, Wi-Fi or Webdav.
- Automatically sync over Dropbox each time you start DataVault and changes have been made on other devices (DataVault Premium).
- Manage conflicts if an item has been changed on two devices.

SIMPLE TO USE
- View items in list view or folder view.
- Use Templates for rapid entry of common items such as bank accounts, credit cards and logins.
- Select from 25 default templates or create your own.
- Use categories and types to organize items.
- Duplicate items for faster entry.
- Search Settings including fields to search and case sensitivity.

And a whole lot more...
- 110 icons to personalize your items, 90 more with DataVault Premium.
- Import from 1Password, EWallet, SplashID, mSecure, Keepass and other 3rd party applications.
- Import from text files in CSV format.
- Print items.
- Great email support.

Unlike other password managers, DataVault does not require an annual subscription fee. One copy of DataVault can be installed on up to 5 Macs authorized to an iTunes account.

Incorporated in San Diego, California, Ascendo has been a leading software developer since 2004.

Questions? We would love to hear from you! Email info@ascendo.co

Get peace of mind with the best password manager for Mac. Download DataVault Password Manager today!
What's New in Version 5.2.39
Thanks to all of our awesome customers for their suggestions and help testing the new version. We hope you will like this new release!
- Yosemite enhancements including translucent panels.
- iCloud synchronization with DataVault for iOS (sold separately) in addition to Dropbox, and Wi-Fi. Please note: You must select iCloud or upgrade to iCloud Drive on all devices you wish to sync. Backup your data before turning on iCloud sync and check our support page for additional information.
- Improved toolbar icons to match cleaner, flatter look of Mac OS X.
- Improved mask & copy to clipboard icons.
- Added Synchronization and Logout buttons to toolbar.
- Improved layout of Setup Password and Synchronization Settings windows.
- Added hi-res item icons for retina screens.
- Moved Add, Edit & Delete buttons to bottom of item details panel.
- Improved usability of buttons at bottom-right of main window for expanding and collapsing list and folder views.
- Improved layout of item details panel.
- Improved synchronization conflict resolution for items with long notes.
- Enhanced list view with alternating line shading to distinguish rows.
- Added IP Address to Sync Settings window to verify it is the same on both devices.
- Fixed issue of adding an item when category & type filters are active. Now displays added item.
- Fixed Chrome Save Form issue which required restarting DataVault to display newly added item.
- Fixed vertical scrollbar issue after editing an item.
- Fixed issue of sync settings persistence.
- Improved login window.
If you like this new release, a review would mean a lot to us! If you have any suggestion or feedback, don't hesitate to reach out to info@ascendo.co
Screenshots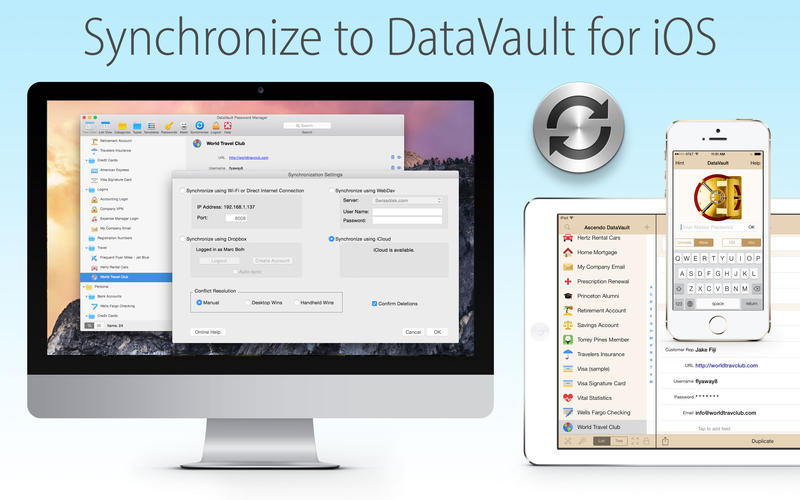 Customer Reviews
The is the BEST Password Manager
I have used this for years and the latest update is awesome! Since the latest update, I don't need to use Drop Box to sync all my devises, I just use iCloud! It works without any issues at all. I have Data Vault on my MacBook Air, my iPad Mini and my iPhone. What is great about this is, I can make a change to any of my devises and it will sync the other devises for me, always keeping my important and up to date information on what ever devise I am using at the time, it doesn't get any better than that for me. It is also very secure with the 128 bit encryption standard and the premium level allows a 256 bit encryption to keep your passwords safe! The last but most important item for me is the owner of this software company. Marc is incredible, he is ALWAYS available and works hard to make sure you are satified. Over the years, I have had questions or due to my mistake not understood a feature of this product. Marc has gone above and beyond to make sure that his product is working correctly and I am utilizing all the features of this software. I can honestly say that he is the easiest and best developer I have EVER worked with on the app's that I own. I would highly recomend you buying this app if you are in need of an affordable and easy to use Password Manager.
A good passage from password hell
For the past 10 years, I just had a text file for passwords, account numers, and related information. I was always concerned about security of the file, and the information could get corrupted because I would occasionally accidentally change or lose information or update and forget to save the file.

Datavault was a welcome relief, solving virtually all of my concerns, and having a systematic structure. By using cloud storage, the data will be available on other computers/phones.

I encountered 2 bugs. I added my information for 100+ accounts manually over a period of several days, and sometimes the tree view would only show a few of my entries. At other times I could not enter infomation into the notes section at the bottom of the editing form. Both of these problems went away when I closed then re-opened the app.

There are also a couple of wishes: 1.Although there is room to add notes with an entry, it is text only. I'd like to have the ability to add screenshots or scans of documents. 2.The app provides a few dozen icons that can be used to make the display a little nicer, although many are so cryptic I don't even know what they are supposed to represent. I thought it was bizarre that they offer a higher level version that adds more icons. That and the fact that I will have to buy a separate app at the same cost for your phone indicates that they have a bit of a not so customer friendly conniving price strategy.
DataVault is a Must Have
With the numerous data breaches involving passwords to banks, online services like Dropbox (which I use), and other websites, like you, I need to have a unique password for nearly every location I visit on the web. With DataVault, I only need to remember one password - the one for DataVault itself. Once inside I can access passwords for even those rarely-visited places on the web, like my power company's website.

I also keep all my most important information in DataVault. Everything from bank accounts to insurance policy information, to frequent flyer details, and everything in between is stored in my DataVault. I never need to remember a password, account number, customer service phone number, or WiFi password again. It's easy to use, simple to sync with my iPhone and iPad over my wireless, and gives me anytime, anywhere access to my most sensitive data from my devices.

Can't live without DataVault!
View in Mac App Store
$9.99

Category:

Productivity

Updated:

Nov 07, 2014

Version:

5.2.39

Size:

4.5 MB

Language:

English

Seller:

Ascendo Inc.
Compatibility: OS X 10.7 or later, 64-bit processor
Top In-App Purchases
DataVault Premium$4.99