DataVault Password Manager
By Ascendo Inc.
Open the Mac App Store to buy and download apps.
Description
DataVault Premium on Sale Today for $0.99! DataVault Password Manager for Mac protects confidential information such as passwords, usernames, credit card numbers and financial information using Advanced Encryption Standard (AES), the most powerful technology to keep your data safe.

Secure. Powerful. Simple. Try DataVault Password Manager today!

* * * * * Huge Fan of DataVault!!
"Everything I wanted in a Password manager! It looks great on my iPad, it works great on my Mac! The customer service is amazing!"

* * * * * DataVault is an excellent program from a great company.
"The program is easy to use. The Graphics are nice and simple. Syncing with my iPad and iPhone was easy. I recommend this program highly."

* * * * * Fantastic!
"I like having all the information I need right at my fingertips no matter where I am. All in all, this is the best password protector app I have used."

* * * * * Perfect
"This is just what I have been looking for and it works very smoothly and accessible from all my devices. Great Buy!"

SECURE YOUR DATA
- DataVault encrypts your information using AES, the global standard for data protection. Your master password isn't stored anywhere on the device. Not even Ascendo has the key. Only you can unlock your data.
- The standard version employs 128-bit encryption as used by online banking sites. DataVault Premium (in-app purchase) provides 256-bit encryption with PBKDF2 and salting to insure the highest level of security of any password manager.
- Set a Security Timeout to require login after an inactivity delay.
- Set Maximum Login Attempts to wipe your data after successive failed login attempts.
- Set a Master password hint in case you forget your master password.
- Use Field Masking to shield data from prying eyes.

POWERFUL FEATURES
- Automatically enter usernames, passwords and fields using extensions for Safari, Chrome or Firefox. See user guide for installation instructions.
- Save web form contents directly to DataVault.
- Access DataVault's password generator from Safari, Chrome or Firefox.
- Backup your data automatically to insure you never lose your important information.
- Create strong passwords using build-in Password Generator with settings for length and types of characters to include.
- Strength Meter tells you if you passwords are weak, good or strong.
- Synchronize with DataVault for iPhone, iPad, iPod Touch and other devices (sold separately).
- Synchronize using iCloud, Dropbox, Wi-Fi or Webdav.
- Automatically sync over Dropbox each time you start DataVault and changes have been made on other devices (DataVault Premium).
- Manage conflicts if an item has been changed on two devices.

SIMPLE TO USE
- View items in list view or folder view.
- Use Templates for rapid entry of common items such as bank accounts, credit cards and logins.
- Select from 25 default templates or create your own.
- Use categories and types to organize items.
- Duplicate items for faster entry.
- Search Settings including fields to search and case sensitivity.

And a whole lot more...
- 110 icons to personalize your items, 90 more with DataVault Premium.
- Import from 1Password, EWallet, SplashID, mSecure, Keepass and other 3rd party applications.
- Import from text files in CSV format.
- Print items.
- Great email support.

Unlike other password managers, DataVault does not require an annual subscription fee. One copy of DataVault can be installed on up to 5 Macs authorized to an iTunes account.

Incorporated in San Diego, California, Ascendo has been a leading software developer since 2004.

Questions? We would love to hear from you! Email info@ascendo.co

Get peace of mind with the best password manager for Mac. Download DataVault Password Manager today!
What's New in Version 5.3.41
Thanks to all our wonderful users for suggesting improvements and testing beta versions!
- Numerous enhancements to the Item details panel including layout, fonts, background color.
- Field labels truncated instead of wrapped. Expand main window to expand label size.
- Improved usability of Copy to Clipboard and Mask icons in item details screen.
- Increased maximum Security Timeout value from 10 to 60 minutes.
- Fixed issue causing startup hang in some circumstances when user selects iCloud sync.
- Added Clear Clipboard on Exit option to DataVault Preferences.
- Implemented persistency for tree view so DataVault remembers position between startups.
- iCloud sync now syncs field masking information reliably.
- Selecting iCloud from Synchronization Settings initiates Sync Now to avoid delays.
- Several improvements and bug fixes to iCloud sync.
- Clicking on "x" in search field now maintains focus and cursor live for next search string.
- New templates for standard version including Facebook, Twitter, Amazon & LinkedIn.
- Over 20 new templates for DataVault Premium including Whatsapp, Evernote, Craig's List.
- Fixed synchronization settings persistency issue.
- Fixed issues with conflict resolution settings.
- Improved Restore from Automatic Backups to display most recent first.
- Blank Category and Type fields replaced with Unfiled to reduce display errors in tree view.
- Improved in-app purchase screen layout and purchase flow.
- Minor bug fixes and improvements to in-app help.
If you have any problems, please email support@ascendo.co and we'll do our best to straighten things out.
If you like this free update, please take a minute to rate DataVault for Mac favorably. Thanks!
Screenshots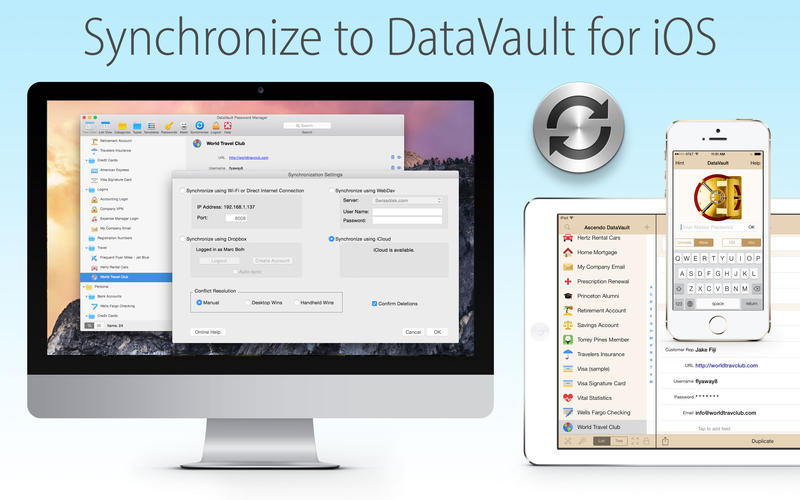 Customer Reviews
Slightly better than using a spreadsheet
The one function I was looking forward with this product was cross-platform syncing. So far, this has not worked properly. I have it installed on a Mac and an iPhone (so a total of $20 spent so far), and the only way to synchronize records is to export and restore from one device to the other. The only part of synchronizing that works properly is when I add or delete an entire record. If I merely edit an existing record (like updating the password) on either device, it does not show up on the other device. I have tried everything in their manual and FAQ to resolve this, including several emails with tech support and it does not work properly.

Of course, this severely limits the usefulness of this program, if I can't depend on password updates getting propagated without going through the clunky export and restore process.

Very disappointing.
Syncs with iPhone over wifi
I like the fact that I can save and organize many passwords and sync with my iPhone over my local WiFi. That way nothing is stored in the cloud and if I lose a device (phone or laptop) I have the information on the other device.

My complaint:
Recently the mac version 5.3.41 changed its appearance (I am running OS X 10.9.5) .
If i click on an entry on the left (tree or list view) the details at right start off looking ok but if I edit anything and cancel, the formatting at right looks either badly formatted in boxes or is completely black. Once the program gets into this state, every entry will look this way, e.g. black so I cant read the details. If I enter edit mode I can still see the details.
One of my most-used apps—worth every cent!
I have 162 records in it, and I keep thinking of more things to add. It's very intuitive and easy to customize I also have the iPhone version, and the Windows one at work, and I can easily sync them and keep them all current. No more hunting for passwords I don't use often, or writing down my work ones on Post-Its because they make me change them every month (yeah, that's a GOOD security measure!) My one complaint used to be that the Mac version defaulted to opening all the folders when it opens, even when I left them closed—but this version fixed that (now it they'll just do the same on the iPhone one…)
View in Mac App Store
$9.99

Category:

Productivity

Updated:

May 11, 2015

Version:

5.3.41

Size:

4.5 MB

Language:

English

Seller:

Ascendo Inc.
Compatibility: OS X 10.7 or later, 64-bit processor
Top In-App Purchases
DataVault Premium$0.99