DAW Remote HD
By Xiao Yixiang
This app is only available on the App Store for iOS devices.
Description
DAW Remote HD is a DAW(Digital Audio Workstation) software controller just like your hardware control surface. Instead of getting stuck in front of your computer to compose, record, and produce music/audio, you can use your iPad with DAW Remote HD to control DAW functions anywhere in your studio wirelessly. Why? Because let's face it, wires suck!
(Well, if you don't mind, it also supports USB/MIDI cable)

DAW Remote HD supports HUI protocol and Mackie Control protocol and compatible with both MAC and Windows. It works with almost every DAW softwares. We provide over 10 default layouts which are specially designed for the most popular DAWs respectively.

Moreover, You can modify the layouts as you wish or even customize a new one! You can also share your customized layouts with others.

DAW Remote uses Network MIDI with Apple Bonjour over WIFI network and Ethernet, you DON'T NEED to install any softwares or drivers in your Mac to enable it. For Windows user, you should install rtpMIDI to enable MIDI Network function.

By using DAW Remote, you can:
1. Forget about messy complex-functioned studio controller, focusing on your inspiration.
2. Easy to control tracks.
3. Get creativity in an environment away from the computer
4. Remotely control your DAW softwares from onstage in live performance without messy cable runs.
5. Customize your own layouts to do what exactly you want.
6. All functions just like hardware control surface.

=== DAW Remote HD Features ===
★ Supports Logic Control Protocol, HUI protocol and Mackie Control protocol
★ Optimized control surface layouts for most popular DAWs
★ Customize layouts (only for Logic/Mackie Control Protocol)
★ Cross Platform. Compatible with MAC and Windows
★ Well designed
★ Combination Keys
★ Supports the new iPad Retina display.
★ Rich Instructions, Help and FAQ to help you setup connection much easier
★ Use Wi-Fi or USB/MIDI cable to connect with host computer


=== Supported DAWs ===

With Optimized Layout
★ Apple Logic Pro/Express
★ AVID ProTools
★ Ableton Live
★ Steinberg Cubase
★ Steinberg Nuendo
★ FL Studio
★ Cakewalk Sonar
★ Studio One
… and any DAW supports Mackie Control Protocol

Other Supported DAWs Mappings (Download from our website)
★ Cooledit
★ Reason
★ MOTU

For more supports please visit our website:
http://DAWRemote.com


====Notice====
Some user claimed that DAW Remote HD keep losing connection with DAW, it's NOT the BUG of APP, it's caused by unstable/incorrect wireless network configuration.


===About EUMLab=== 
EUMLab's goal is to unleash your music talent ! With magic technology, EUMLab provides many products to help you create or learn music. 

More about us on www.eumlab.com 
Follow us on Twitter/Facebook @EUMLab 
Questions? Write to us: feedback@eumlab.com 
Watch videos on bit.ly/eumvideo

What's New in Version 1.5.1
===What's new in DAW Remote v1.5.1 ===
1. Fixed track name displaying problem when using iRigMIDI
2. Added MIDI diagnose console
3. Fixed other small bugs.

===What's new in DAW Remote HD v1.5 ===

1. Bugs fixed
2. Big Timecode control added
3. 2x Big Button control added
4. Multi-page Control Surface supported
5. Editing mode for customizing Mackie Control layouts
6. More specially designed layouts for Cubase, SONAR, FL
7. Studio, Studio One, etc.
8. New user manual
9. Auto dim out configuration in system settings
10. USB/MIDI Cable supported
iPad Screenshots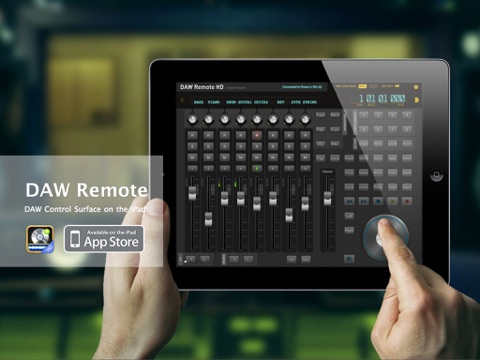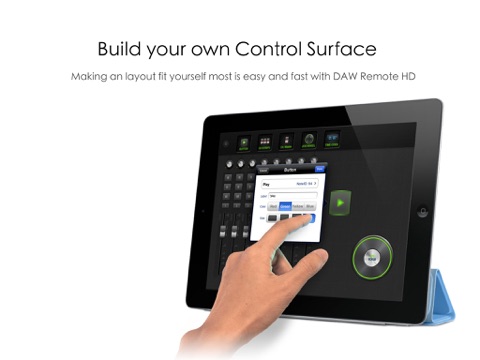 Customer Reviews
Prootools 10 on Win7, works ok, but limited functionality
I cant give it a 100% thumbs up, this app requires external rtpMIDI software to run on your machine and you have to set up protools to work with that software. Getting a connection between all of the devices is tricky, though once it is running it has been stable for me. If you do not have the software running correctly (or want to run protools without the remote) you have to remove the external MIDI software setup in protools. Also the developer seems to have disappeared, his website is gone. So I can't say there will be updates or support. The other issues are a limitation of functionality. It lets you control the time line, play stop, record, and basic control of tracks such as volume, pan, mute, solo, and arm ing the track for recording. You can undo and save a session, but that is about it. Also, you can only see and work on the first 8 tracks of a session. Meters do not work well (they are only good for telling if signal is present) , and there is no visible timeline or track waves. Still, it seems to the best option for Windows versions of ProTools at the moment, and if you need to work away from the computer this will do the trick! I am happy to have it for what it is, and hope the developer will continue to support and improve it.
Very, very nice, but connection buggy
Doesn't get much better than this. The author has created comprehensive DAW decks that work like a charm and offer themselves seamlessly to your workflow. I use it for Sonar, with the provided layout, but also for Samplitude Pro X with the super-functional Mackie Control layout.

It's just super. The intelligence behind this is amazing. I now take my pad over to my drum set and control me recording transport without having to go to the PC keyboard. I walk around the studio to various instruments and control the transport, levels and all track functions from my pad.

FREEDOM AND FUNCTION, when it connects. Keep your rtpMIDI program updated!

I would have paid $15 for this, or more.
Is this good? - DAW!!!
I was thinking of some expensive controller for my Pro Tools software. But then I purchased my iPad & then found this app. I couldn't believe all this architecture & quality in a $15 app. EUMLabs are true pioneers. I noticed the reviews all seemed to give great remarks except for developer support for future upgrades. This does concern me a little but I already feel way ahead in my small investment.
View in iTunes
$14.99

Category:

Music

Updated:

Aug 28, 2012

Version:

1.5.1

Size:

42.0 MB

Language:

English

Seller:

Xiao Yixiang
Compatibility: Requires iOS 4.3 or later. Compatible with iPad.