Day One Journal
By Bloom Built Inc
Editors' Choice
Open iTunes to buy and download apps.
Description
App Store Best of 2016 *50% off for a Limited Time!*

Capture life as you live it. From once-in-a-lifetime events to everyday moments, Day One's elegant interface makes journaling about your life a simple pleasure.

---

With Day One 2.0, we're proud to provide Day One Sync — a fast, free, and secure service for syncing your data between all your devices. Day One Sync lays the foundation for many new features: a web app, an IFTTT channel, private-key encryption, and more. In tandem with Day One Sync, you can also use iCloud for backups.

PLEASE NOTE: iCloud and Dropbox syncing *are not* supported in Day One 2.0. If using iCloud or Dropbox syncing is essential to you, use Day One Classic.

For more information, see: dayoneapp.com/faq2

---

"Day One, our favorite way to journal with your Apple devices, just got a huge update. Rebuilt from the ground up, the plethora of features that made Day One so great are still present." — The Sweet Setup

---

WHAT'S NEW:

- Multiple Photos per entry (up to ten inline photos)
- Multiple Journals (up to ten journals with unique colors and names)
- Day One Sync 2.0 (See dayoneapp.com/sync-faq for more details.)
- Map View
- Custom Reminders
- Entry Management (select, move, tag, and delete multiple entries at a time)
- Timeline Filters (star, tags, location, year, activity, and music)
- Timezone Support
- 3D Touch
- Local, Exportable Backups

---

"It's hard to make the best even better, but the sequel to Day One lives up to expectations—and then some." — App Store Editor's Choice

---

OTHER FEATURES:

- Passcode Lock with Touch ID
- Automatic metadata (location, weather, motion activity, step count, and music)
- Apple Watch App
- Search
- Tags and Stars
- Export to PDF with smart filters
- Today Extension
- Share Extension
- Export to PDF and plain text
- Elegant Markdown Editor

---

"The new Day One has a slicker design, a much bigger emphasis on photos, and a handful of new ways to filter your journal to see entries from a certain place or time or from a specific topic." — Wired Magazine

---

LEARN MORE:

Day One 2.0: dayoneapp.com/faq2
Day One Sync: dayoneapp.com/sync-faq

---

For technical assistance or other inquiries, email: support@dayoneapp.com
What's New in Version 2.1.9
Introducing Day One Book Printing!
- Beautiful design and high-quality books, starting at just $15 for 50 pages. Easy purchase with Apple Pay.
- Go to Settings > Book Printing.
- Note: Initially available in the United States only. International users can test the book creation process.

Improved:
- "Show Metadata in Read View" changed to "Show Map in Read View".
- Horizontal rule added to Markdown formatting bar.
- Extra margin and metadata bar removed in Edit mode with landscape device orientation.
- Keyboard automatically hides when scrolling through search results.
- Improvements to timeline ordering of entries.

Fixed:
- Adding a photo and applying photo metadata doesn't update Metadata bar or date.
- Multi-select bar hidden.
- iPad: Entries viewable on lock screen.
- Crash when using the photo picker.
- Various other crashes.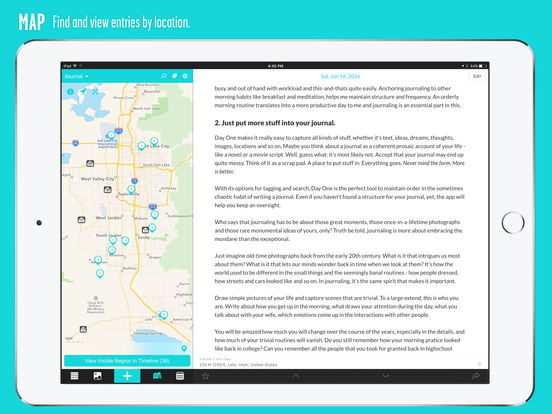 Customer Reviews
• "private" journals, no warrant required!
Now it is easy to pay the developer to publish our private journals. Whee? +1 star for bug fixes, ok? Security, however, is still fatallly flawed. Do not use. [We can dream that this developer might eventually employ the new, forthcoming Apple File System (APFS), to finally implement end-to-end encryption, promised previously. But really, don't hold your breath, mate. Instead, use Apple's Notes app with its own encryption.] This Day One app now uses proprietary sync on shared, 3rd party AWS servers, without any encryption (neither end-to-end, nor otherwise). Turns out that, as the journals are unencrypted, and particularly considered to be in possession of a 3rd party, the Fourth Amendment is not held to apply under current judicial interpretation, and any practicing lawyer may issue a subpoena to easily access them, without notice -- i.e., no warrant or probable cause are required. Taking the position that one does not care about privacy because one has nothing to hide, is very much the same as claiming one isn't concerned about freedom of speech because one has nothing to say. We don't and won't currently employ this product for private data, having objected when iCloud sync was removed from this app at the beginning of 2016. We continue to hope that this developer will eventually implement encryption, as finally promised back then. Apple's Notes app is more stable and secure.
Entries lost, so is confidence
A couple of entries from the middle of March disappeared (at the time a Day One tweet said they were doing sync maintenance). I contacted support as soon as I noticed—which has been a month ago—and the response has been lackluster. I was asked for information that I included in my support request. I was told to rebuild the index. I did. I was told to update all apps, which were already updated. Then I was asked what email address I use for syncing, and I'm not sure why. The tech's name is Spencer, but there was a notation on one of his replies that it came from somewhere in China. In the month since I contacted support, I've received 4 replies, and I have responded immediately to them. I still have no idea what might have happened to my entries, and at this point I have to guess I never will. I've had Day One on my iMac, iPhone, and iPad for years, but I no longer feel confident using the apps. :(

Previous 5 star review: I love being able to have a separate journal for different things (garden, work, health, etc.), so I'm using the apps much more now. I have Day One on my iPhone and iPad, as well as on my iMac--it's been stable and syncing has been faultless so far.
The newness of the app warrants a new app purchase, too, I think. It seems unreasonable and unrealistic to expect infinite updates without ever having to pay again.
Almost a full year of journaling now and Day One is great!
It's an interesting discipline, writing a journal entry each day. But, that's a subject for a different forum. I really like the improvements that have been made to Day One in the year I've been using it, particularly the formatting controls. Now, if they could just get those little grey asterisks to disappear. :-) I find it very easy to use, take advantage of the cloud sync to do Day One from my phone occasionally (mainly use my iPad), and love that it automatically captures so many little details of my surroundings as a I write. I've started to embed pictures from time to time and find that works well too. I also like the ability to edit entry date & time because I sometimes don't get to my journal entry until the next morning. The main thing for me overall though is ease of use; I think it's very good in that regard.

Now it's 6 months and I'm still logging entries every day. I really, really like this app - and I'm not even tapping into probably 70% of what it could be doing for me. That just means more great stuff to look forward to!
View in iTunes
This app is designed for both iPhone and iPad
Offers Apple Watch App for iPhone
$4.99

Category:

Lifestyle

Updated:

Apr 24, 2017

Version:

2.1.9

Size:

184 MB

Apple Watch:

Yes

Languages:

English, Arabic, Czech, Danish, Dutch, Finnish, French, German, Italian, Japanese, Korean, Portuguese, Russian, Simplified Chinese, Spanish, Traditional Chinese

Seller:

Bloom Built Inc
Compatibility: Requires iOS 9.0 or later. Compatible with iPhone, iPad, and iPod touch.