Dedografía - Escritura A Mano
De Gee Whiz Stuff
Abre iTunes para comprar y descargar Apps.
Descripción
Únase a los 5 millones de personas que redescubren la magia de la escritura cursiva. Escritura A Mano® es un fantástico organizador personal para iPhone e iPad que le permite escribir notas, crear listas y organizar su vida con su propia escritura a mano.

Además sirve como redactor de mensajes. Puede utilizarlo para publicar mensajes escritos a mano en Facebook o Twitter o simplemente enviarlos por email.

LA MEJOR MANERA DE ESCRIBIR

¿Está acostumbrado a escribir frenéticamente con sus pulgares en un teclado virtual? Con UYH podrá escribir hermosas notas manuscritas con suaves y continuos movimientos de manos y dedos. Si al leer esto se siente relajado, le resultará todavía más satisfactorio poner en práctica lo que dice.

ÚTIL ORGANIZADOR

Nuestros usuarios dicen que UYH es "un sustituto del bolígrafo y el papel". Cree listas ilimitadas de notas multinivel* sin límite de extensión. Corte y pegue notas entre listas, haga que las notas parpadeen o se atenúen para indicar su prioridad. Cualquier nota puede convertirse en una lista con solo pulsar dos veces. UYH hace que tomar notas sea más simple que nunca.

HERMOSA CALIGRAFÍA

No importa si desde la primaria le dijeron que debía mejorar su letra. Tiene una escritura manuscrita hermosa. Lo que no podía hacer con un bolígrafo, puede hacerlo con UYH. Escriba sobre blanco o negro, escoja entre diferentes estilos de escritura* y su caligrafía asombrará todo el mundo de inmediato.

SINCRONIZACIÓN SIMPLE, HABILITADA PARA WEB

UYH tiene un componente basado en la nube denominado MyUYH, que le permite visualizar sus notas y publicarlas como páginas web que pueden ser vista por sus amigos y familiares en un navegador de red. MyUYH también le permite sincronizar sus notas y listas entre múltiples dispositivos con solo tocar un botón. Esta es una función pagada disponible como una compra integrada en la aplicación.

La aplicación también ofrece nuestro paquete especial, "Best of Use Your Handwriting", disponible como una compra desde la aplicación. La compra activa una suscripción que se renueva de forma automática mensualmente, cargándose a la tarifa aplicable en su país a su cuenta de iTune: http://www.myuyh.com/terms_of_use.txt.
Novedades de la versión 10.0
* Finally! Automated Sync across all of your devices. When you leave the app after making changes, it transparently makes it to all of your devices.
* Stability improvement in subscriptions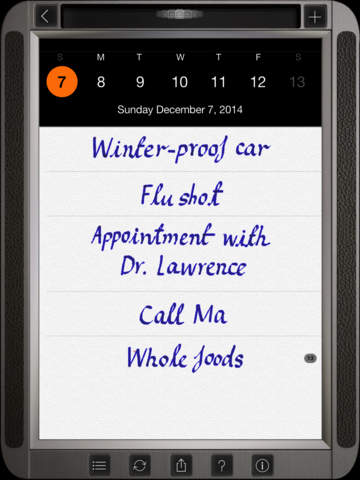 Reseñas de usuarios
Great!
Couldn't ask for more. It does exactly what it says. Clear, easy to follow instructions make what seemed complicated at first glance very simple. I love the way the tutorial actually takes you through step by step and can be utilized for reminder lessons the same way. The colors and options bring a little fun to taking notes for my number-crunching desk job. The formatting makes it very easy to organize to the tiniest detail or just jot a quick note. And kudos to the app developer for online access and such easy sharing options. The only thing I would add is the option to include sub lists/tasks all at once when forwarding. I ran into a few glitches setting up my online account after downloading the app to my iPhone first. The support team was fantastic and so efficient. (I actually emailed on a Saturday expecting a response on Monday. I got one on Sunday!) Nice to see a developer devoted to a quality product and great customer service. Loving it so far. Very impressed.
Great app for people who cannot speak. Please, please upgrade!
Your apps have changed my life because it merges low and medium tech communication methods in a unique format! I'm a subscriber with cerebral palsy who's visually impaired, Deaf and mute. I've worked in the speech technology industry since I was old enough get paid for my input and designs. I utilize UYH and Calligraphy to communicate with style when text-to-speech apps just don't work. The colors and ability to underline allow to put inflections in my voice.

Hospitals and clinics are looking for something like this. In emergencies writing and pointing at messages is much quicker. However the interface must be enlarged a little bit in order to create editable templates and communication boards. Will you please consider widening the board so we can point messages?

I appreciate your efforts, time and attention! Thanks!
Use it, but don't live it as much as I used to...
Great app. The problems since recent update:
1) the super annoying & loud ads in an otherwise silent app= ridiculous.
2) it used to automatically scroll as you wrote & the words were continuous. Now it jumps & leaves an annoying, huge space in the middle of a word
Seriously considering dumping this app, but I used to really love it. Now I have to try & write super tiny & end up rewriting most of the time, which defeats the purpose of an otherwise much faster note writing app. Change it back PLEASE!!!
Ver en iTunes
Esta App esta diseñada para el iPhone y el iPad
Ofrece la app para Apple Watch para iPhone
Gratis

Categoría:

Productividad

Actualizado :

23/09/2015

Versión:

10.0

Tamaño:

38.6 MB

Apple Watch:

Sí

Idiomas:

Español, Alemán, Chino simplificado, Chino tradicional, Coreano, Francés, Inglés, Italiano, Japonés, Portugués, Ruso, Turco, Árabe

Vendedor:

Gee Whiz Stuff LLC
Compatibilidad: Requiere iOS 7.0 o posterior. Compatible con iPhone, iPad y iPod touch.
Top compras dentro de la app
Best of Use Your Handwriting$0.99
Pase a la versión completa$9.99
Más apps de Gee Whiz Stuff