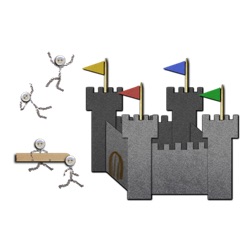 Description
Celebrating over 1 million downloads on iPhone, iPod & iPad! Best-selling Nintendo WiiWare hit and Casual Game of the Year nominee. The original game of castle defense -- accept no imitation!

PRESS

"You'd be insane not to give Defend Your Castle a download. Final Score 9/10" - Joystiq.com

"It's more cathartically satisfying than bubble wrap and a whole lot prettier" - iPhone Games Network

Featured in Apple's "Best Castle Defense Games"

DESCRIPTION

Prepare to Defend your Castle against the relentless army of crayon invaders! Those crafty barbarian hordes have amassed their forces once again to challenge your domain. Will you and your court rise to the challenge, or stand aside as they raze your Castle to the ground?

FEATURES

• Battle many different types of enemy invaders, requiring varying tactics to defeat
• Upgrade your kingdom with fortified walls, the archery range, wizard tower, craftsmen's workshop, and the demolition laboratory
• Strengthen your forces by converting soldiers and assigning them as Archers, Wizards, or Craftsmen to work within your castle or deploying them as Bombers
• Cast powerful spells with the aid of your Wizards
• Your superb defending abilities now earn you up to 45 new achievements!
• Unlimited levels: Continue to grow the strength of your Kingdom indefinitely
• Heroic difficulty mode for players of royal descent
Fixed an issue on Macs with certain graphics hardware
Ratings and Reviews
Works Fine For Me
I haven't had any issues with the game crashing like a previous reviewer mentioned. Right now I'm on level 38 or so. The two gripes that I have with this game is that 1.) if you have hot corners set up, it's very easy to activate them when you are frantically swiping away. I don't know if the developers can do anything about that or not and 2.) During the winter season when there is snow falling it is very difficult to see your mouse cursor. I don't know if this was intentional or not, but I'm not a big fan of it.

What I do REALLY like is the ability to save your game. The first 10 or so levels can be way too easy on Normal difficulty if you've played this type of game before so it is really nice that you don't have to repeat them if you die later on. Also, the achievements is a nice touch to keep the game from getting boring. I figure once I rack in all the achievements I'll consider that I won the game since it has ∞ levels.
Good Game but my hard time seeing the mouse cursor kind of ruins it at higher levels
I really enjoy this game but I have one gripe about it. Hopefully the game creators will take my advice and fix the game. My only issue with the game is that at the higher levels when there are many of the enemies on the board, it becomes quite hard to see my mouse cursor. It is often lost amongst the background or the heads of my enemies as I am rapidly flinging them into the air and I tend to lose track of it. This makes the gameplay quite difficult because at times, I cannot even tell what I'm doing. Hope this review is acted upon. A larger and colored (Red?) cursor would be much appreciated.
Pretty good.
Good game, only complaints would be that the cursor gets lost, and that the archers don't give you any points for the enemies they kill, which makes it a lot harder to upgrade once your archer tower is fully upgraded, due to the fact that they kill so many enemies and yet you get none of the points.
Information
Seller

XGen Studios Inc.

Size

38.3 MB

Category

Age Rating

Rated 9+ for the following:

Infrequent/Mild Cartoon or Fantasy Violence

Copyright

© 2011 XGen Studios, Inc.

Price

$1.99
Supports
Family Sharing

With Family Sharing set up, up to six family members can use this app.