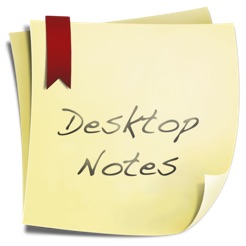 Description
ATTENTION: Due to a change made by Apple Desktop Notes does currently NOT work with 10.6.8. All earlier and later versions work!

Desktop Notes makes it easy for you to just write down the stuff you need to remember. It doesn't need a complex interface, it just provides you with what you want: Taking notes and reading notes quickly and easily, without them being in your way when you don't need them.

===============
Key Features:
===============
• Easy-to-use interface. Just create, delete and edit notes the way you expect it

• Notes are auto-saved when you change them so you never lose data

• Notes are not in your way: By default, notes stick to your desktop. But if you need them, you can bring them to the front with a single click

• Let Desktop Notes run all the time: It doesn't come with a dock icon, so it doesn't disturb you. A little icon in your menubar - that's all you'll notice

• Create and edit notes even if they stick to your desktop. Use F11 to always get to your notes, even if your monitor is cluttered by windows

• Rich-Text support: Use different fonts and control font size, color and style

• Built so external changes to your notes are recognized and immediatly reflected. This allows you to sync your notes through third party services like Dropbox
bug fixes - further enhancements to come
Ratings and Reviews
Could Be Further Developed Sticky Notes
I have used, enjoyed, and appreciate Desktop Notes and its features. It's not full-featured and a back-up system would be nice but for many years have been convenient for me on my MacBook. I've been waiting on an update and tried to google the developer. I guess development has stopped for this app, unfortunately. That's too bad.
Works Fine
ChildOfTheFence-KeyEntity
I have not updated my computer with Lion OSX, and this application works just fine for me. It does everything it says it would, and even has an option to add things to iCal. If yours isn't working, it's probably because you're clicking the icon on the dock. It doesn't open that way; you have to click the mini icon at the top of your screen on the Apple Menu bar.

Hope this helps!
Perfect!!
This is just what I was looking for. Something that sits on the desk top that i can put in a corner. Works great. You have to open it not on the dock but up at the top menu bar where your day date time, volume icon, bluetooth icon,and time machine icon etc is. It looks like a little black square. just click that icon and away you go . perfect!!
Information
Seller

Mario Schreiner

Size

502.4 KB

Category

Age Rating

Rated 4+

Copyright

© 2010 Mario Schreiner

Price

$1.99
Supports
Family Sharing

With Family Sharing set up, up to six family members can use this app.