Destination Piraeus
By Ntrenogiannis I. & Co E.E.
This app is only available on the App Store for iOS devices.
Description
Ανακαλύψτε τα αξιοθέατα και τα μυστικά του Πειραιά μέσα από αυτή την πρωτότυπη και πλήρως διαδραστική εφαρμογή.

Ένας πλήρης και εύχρηστος οδηγός πόλης με πρωτότυπα κείμενα και υψηλής ποιότητας φωτογραφίες. Περιέχει ιστορικά στοιχεία και όλα όσα αξίζει να δει ο επισκέπτης στην πιο διάσημη πόλη-λιμάνι της Ελλάδας. Από την Πειραϊκή και το Πασαλιμάνι, μέχρι την Καστέλλα, το Μικρολίμανο, το Στάδιο Καραϊσκάκη, το ΣΕΦ, τις μαρίνες. Ολα τα μουσεία, τις εκκλησίες και τους αρχαιολογικούς χώρους. Προτάσεις για περιπάτους, φαγητό, διασκέδαση, shopping.
Η εφαρμογή παρέχει τη δυνατότητα εντοπισμού όλων των σημείων ενδιαφέροντος στην περιοχή όπου βρίσκεστε (λειτουργία NEAR YOU για αξιοθέατα, μουσεία και αρχαιολογικούς χώρους). Για πρώτη φορά σε ελληνική εφαρμογή ενσωματώνεται λειτουργία AUGMENTED REALITY. Ενεργοποιώντας την κάμερα του κινητού σας τηλεφώνου, όλα τα ενδιαφέροντα σημεία που έχουν επιλεγεί εμφανίζονται στην οθόνη με μέτρηση απόστασης.
Η εφαρμογή είναι σχεδιασμένη για να λειτουργεί OFFLINE, ώστε να μην χρεώνεστε για το «κατέβασμα» δεδομένων από το δίκτυο κινητής τηλεφωνίας.

Διαθέτει ενσωματωμένη λειτουργία Search για γρήγορη αναζήτηση στα περιεχόμενα. Εχει λειτουργία Favourites για να διαλέγετε τα δικά σας ενδιαφέροντα σημεία. Επίσης, άμεση σύνδεση με τα μέσα κοινωνικής δικτύωσης (facebook, twitter) και δυνατότητα μοιράσματος και αποστολής του περιεχομένου μέσω e-mail.

H εφαρμογή Destination Piraeus δημιουργήθηκε από την ταξιδιωτική ομάδα Experience Greece.
iPhone Screenshots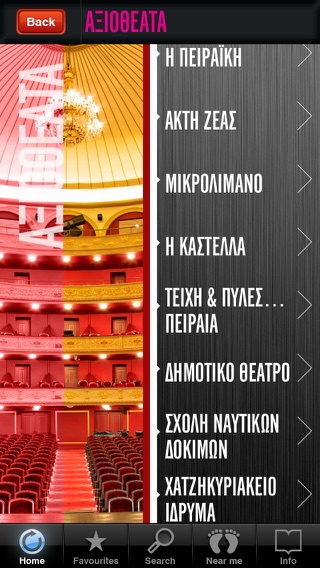 View in iTunes
Free

Category:

Travel

Released:

Aug 29, 2014

Version:

1.0

Size:

63.9 MB

Language:

English

Seller:

NTRENOGIANNIS I. & Co E.E.
Compatibility: Requires iOS 6.1 or later. Compatible with iPhone, iPad, and iPod touch.
More iPhone Apps by Ntrenogiannis I. & Co E.E.