DiabetesPal
By Pascal Freiburghaus
Open the Mac App Store to buy and download apps.
Description
DiabetesPal is a diabetes management software. There is also the companion iOS App on the iTunes Store. This is the first Diabetes Software that syncs your data using iCloud! So your data is accessible on all your devices. Use the iOS App to input the data during the day and analyze your data on your desktop.

Key features:
- Log all relevant information for your diabetes management: Blood sugar, Insulin, Medications, Ketone, HbA1C, Weight/Height, Carbs, Activities. Blood Pressure and Pulse
- Get a quick overview of your daily glucose and insulin data in an easy to read diary
- Analyze your Blood sugar and other indicators using various ready to use graphics
- Produce reports and print them or mail them to your doctor
- Sync your data automatically to all your iCloud devices
- Supports different international units for Glucose (mmol/L, mg/dL), HbA1C (%, mmol/mol)
- Export your data to CSV
- Import data from Accu-Check Smart Pix, Accu-Chek Mobile, BayerContour Next USB, Bayer Contour Next Link and CSV Files
What's New in Version 1.8
- New Daily Insulin Scheme: this is useful for people with a fixed carb intake who adapt insulin dosage based on past days glucose values (mostly children)
- Various Useability Improvements
- Axis in Weight/Height and BMI Charts do not start at 0 anymore
- Columns sizes are now stored again
- Problems with CSV Import in german localization fixed
- PDF/Print Output is now bigger

People using the iPhone version as well, please also load the update on your mobile device. The database will be updated. Running the app with an outdated version might corrupt your data. Remember that you have a built-in backup in case you loose data.
Screenshots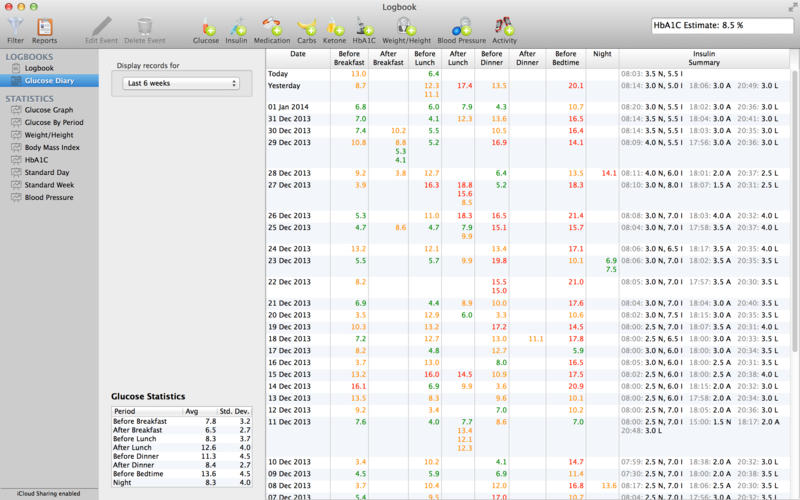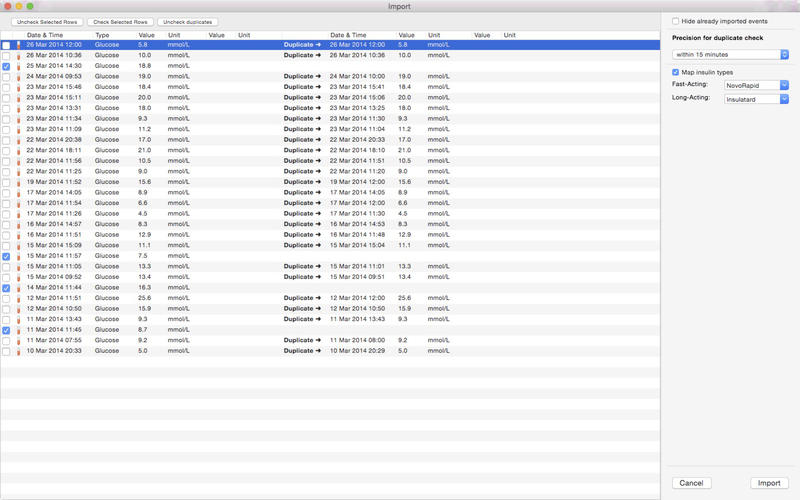 Customer Reviews
Works great with iOS app, more secure than Bayer's software
Update for version 1.8 —

This app just keeps getting better and better. Based on my own informal survey of diabetes data management apps for the Mac, I think this is the BEST one available for the following reasons:

1. The developer is VERY responsive to questions and feedback. A huge corporation has thousands of employees to handle customer service, but the ones to whom I wrote asking for support on their apps took a week or more to respond. While I think the developer is the only one who supports this app — and has a personal life to balance — I got responses the same day or next day. My only advice to others is, be reasonable and take into account the difference in time zones when expecting a response.
2. This app was the only one I found for the Mac that supported data import from multiple meters AND the import of CSV data that was exported from other diabetes data management apps.
3. The price is very, very reasonable. The matching iOS version and the integration with iCloud are unique and valuable — both work together!

This is a wonderful app and I recommend it!

Five stars!

============= original title: Works great with iOS app, more secure than Bayer's software
I originally bought this app because I was concerend about the security of the Bayer GlucoFacts software that uses an older version of Java for both the Mac and Windows. Moreover, the Bayer software isn't signed and I wasn't comfortable relaxing my security settings. So, I looked on the Mac App Store for an app that might be a more secure alternative.

Before buying the app, I sent a note to the developer asking how the software read results from the Contour Next USB meter. I got a response within 18 hours that answered my question, bought the app, and imported results from my Bayer Contour Next USB meter without any problems.

I turned on iCloud sync, then bought the iOS versions on the same day. The iCloud sync worked to duplicate results from the Mac version to my iPhone — a great form of automatic backup.

In my experience so far, technical support is great and the software works with my meter. While it lacks some of the reports of other glucose data software I've used, it is far more secure than Bayer's version and I hope the developer will continue to add improvements.
View in Mac App Store
$4.99

Category:

Medical

Updated:

Jan 28, 2015

Version:

1.8

Size:

5.7 MB

Languages:

English, German

Seller:

Pascal Freiburghaus
Compatibility: OS X 10.9 or later, 64-bit processor