Diagrammix
By Deep IT Pro
Open the Mac App Store to buy and download apps.
Description
Diagrammix is a tool for efficiently building attractive diagrams. Compatible with the latest 10.12 and earlier!

What are the main features of the app?
- Several unique styles to create professional looking diagrams.
- Simplicity of use.
- Context-oriented menus for changing appearance of shapes.

What kind of diagrams are supported?
- Flowcharts,
- UML class and sequence diagrams,
- data flows,
- workflows,
- organization charts,
- structured charts,
- network diagrams, etc.

How to extend the shapes library?
Use http://graffletopia.com to import sets of shapes from the following categories: android, architecture, badges, film & TV, iPhone, Macintosh, maps, miscellaneous, networks, people, programming, science, symbols, user interface.
You can also drag and drop to a diagram any image and save it with Image Manager for re-using.

How to connect shapes?
Drag any shape from the palette and drop it to the drawing. Then create a connection: select source shape, press 'c' shortcut or click 'Connector' from the popup menu, drag line to a target shape, drop it at any point. That's it! You can also connect a line to special sticky spots on the shapes.

How to enter a text to a shape or connector?
Just select a shape or connector and press 't' shortcut or click 'Text editor' from the popup menu.

How to show popup menu?
Double click shape or connector.

How to create my own style?
Create a document with "Customizable style".

How to put a diagram in other app?
Diagram can be saved in a number of formats including JPEG, PNG, TIFF, PDF or copied to text processors via a clipboard.

How to print?
There is standard printing dialog, but also Diagrammix has a special layer "Pages" for a Print Preview and Page layout. Each page can be scaled to the target paper size from File>"Page size" panel. Select a page with Cmd to add it to a printing range.

Other uses in addition to diagramming?
- Image annotation: attach annotation to photos, screenshots. Move image, annotation will move as well.
- You can create tables that can be connected to each other.
- Free form of mind mapping: any direction of the tree, any count of source nodes, any connections between nodes and lines.
- Creation of user interface prototypes with imported UI elements sets.

Where is the user manual and more examples?
Visit our "Deep IT Pro" web site.

It is highly recommended to use a shortcut keys. Doing so will dramatically increase your productivity.
- 'c' - start connector from selected shape;
- 't' - open text editor for selected shape or connector (double-click mode for editing is also available);
- 'Esc' - close text editor;
- 'p' - open appearance options panel for selected shape or connector;
- Cmd + 1, 2, 3, 4 - from selected connector make a straight, polyline, smooth, orthogonal connector respectively;
- Cmd + 6, 7, 8, 9 - copy, apply, reset style of selected shape or connector.

Detail list of features:
- well thought out usability;
- specially designed attractive elements and connectors grouped in styles;
- 23 shapes for flow charting in 10 styles;
- built-in clipart (more then 500 shapes);
- built-in support for UML class diagrams;
- set of shapes to create your own style (customizable style);
- ready-to-connect elements;
- quick connector: just select a source shape, press 'c' and drag a line to a target shape;
- straight, polyline, smooth Bezier and orthogonal connectors;
- automatic and manual stickyspot placement for attaching connectors to a shape;
- shapes automatically change size to correspond with inner text;
- several layout rules for a text on a connector;
- tables;
- layers;
- color scheme editing;
- guides and smart guides;
- groups and editing a text inside groups;
- import stencils from Graffletopia.com;
- Retina, iCloud, Sandboxing, Versions and Fullscreen are supported.
- export to PDF, PNG, JPG, TIFF, SVG.

Follow us in Twitter: @Diagrammix
Facebook: www.facebook.com/Diagrammix
What's New in Version 2.13
- bug fixes;

NEW in previous version:
Command Driven Style where you type commands like A-->B and the flowchart is built automatically. Supported flowcharts and sequence diagrams. Help for commands is available in the app. Create a document with "Command driven" style. You will see a help button for the commands.
Screenshots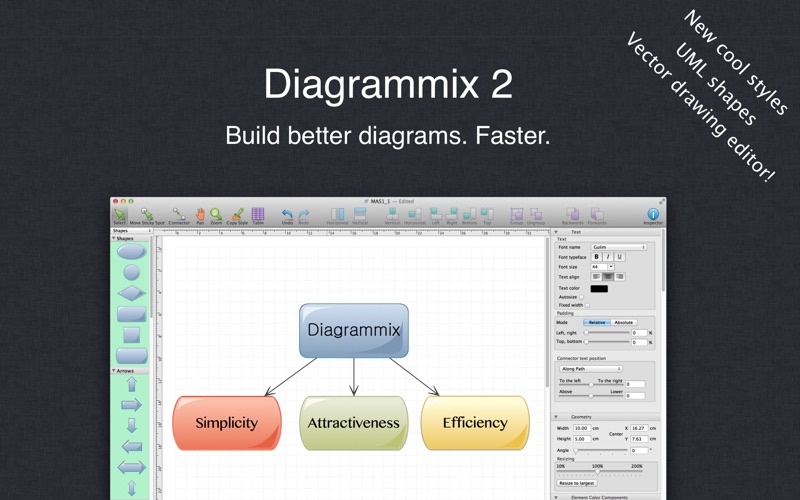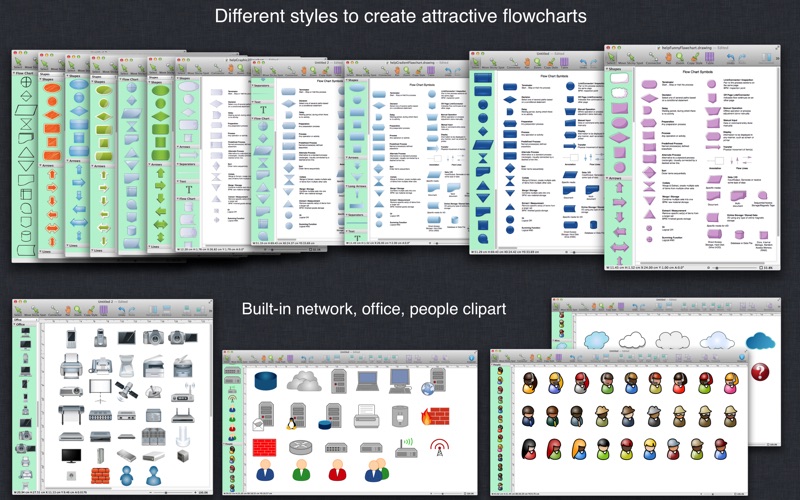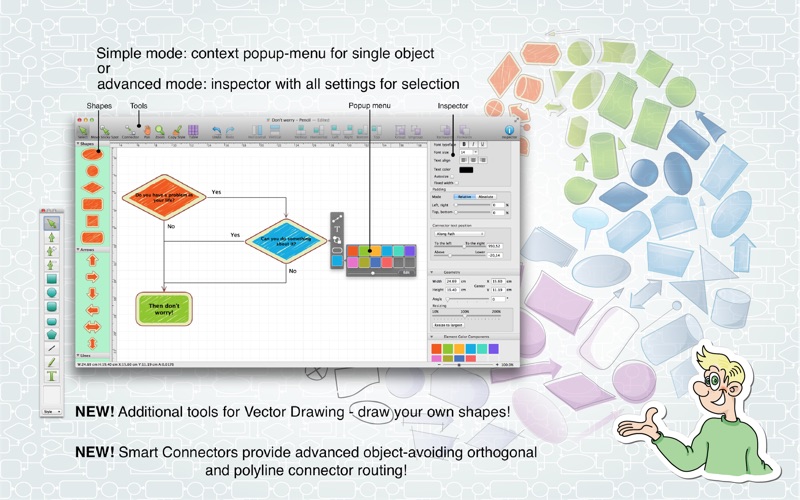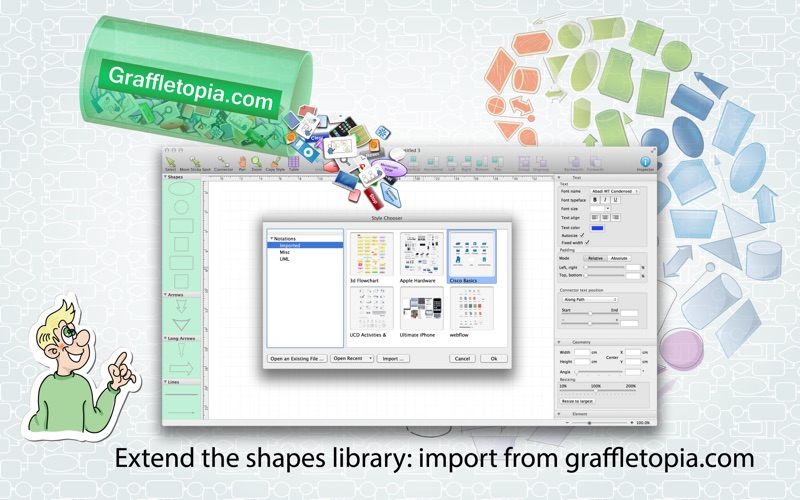 Customer Reviews
Great Program! Great Customer Service!
The program does what it says it does. The new command driven option is nice. I had a simple problem in that all of my diagrams built using the new command driven option were solid black. I emailed the company and received a response within 12 hours. (I needed to hit "restore default" under the style option.) Really quick response. Now everything works as it should. I use the program several times a week to build flow diagrams and will probably use it more with the new command driven option.
Life is Easier
I used to HATE HATE HATE doing sequence diagrams. You spend hours building them and then find that you need to make a few changes which takes a ton more time. Moving things around and formatting them takes forever and is tedious.

I found this application and now I LOVE LOVE LOVE doing sequence diagrams. You can put in each message and specify the source and destination in one step and then hit BUILD and the software builds the diagram for you. It is a snap to reorganize the diagram. Putting in colors and changing the connectors is easy.
Great Tool, great update
I belive this is the most powerful diagramming and idea mapping tool:

formated text on nodes (rtf), and flexible linking arrows toward specific parts of a document. Also when you paste a selection from pdf (text , diagrams and equations) if source is postscript will be rendered with quality and not converted to jpg .

I tend to make large diagrams/maps and this app manage them many times better than the alternatives, even during zooming in and out.

still some minor bugs/misbehaviors but developers deliver updates frequently improving performance and usability.

The idea of an intutitive command driven diagram generation, is so so promising (although the command editor can only be accessed with a command template, and with serious formatting problems). in any case Kudos for this graphing script idea, a lot of potential. I Hope tools to do smart search and visualization will emerge with this.
View in Mac App Store
$12.99

Category:

Graphics & Design

Updated:

Apr 02, 2016

Version:

2.13

Size:

31.9 MB

Languages:

English, French, German, Italian, Portuguese, Russian, Simplified Chinese, Spanish

Seller:

Igor Belyaletdinov
Compatibility: OS X 10.7 or later, 64-bit processor
Top In-App Purchases
Smart Connectors$4.99
Vector Drawing Tools$4.99