Digit: Smart Money Sidekick
By Hello Digit, Inc
This app is only available on the App Store for iOS devices.
Description
WELCOME TO DIGIT
Saving money used to be hard. Now it's easy! Digit is the effortless way to save money without thinking about it. Every day, Digit checks your spending habits and moves money from your checking account to your Digit account, if you can afford it. Easily withdraw your money any time. Fast Company named Digit 2017's second most innovative company in finance having now saved over $500 million dollars for its customers. It only takes a minute to get set up!

FEATURES
* Digit saves the perfect amount of money everyday based on your income and spending.
* Withdraw money from your savings at any time. Digit allows unlimited transfers and has no account minimums.
* Earn a 1% Savings Bonus for saving money with Digit. Every 3 months Digit will automatically reward you for saving with a Savings Bonus (currently 1% annually). No fine print, no account minimums. Just sit back and collect your bonuses.

PRICE
Digit is completely free to try. After your trial period, a monthly subscription costs $2.99 and can be canceled anytime.

WHAT PEOPLE ARE SAYING

US News: "The Digit app makes automatic saving a breeze." [1]

The Verge: "Digit is the automated savings plan we've been waiting for" [2]

Fast Company: "Turning saving money into a mindless task" [3]

USA Today: "The best part about Digit is its ability to calculate how much to save from day to day." [4]


[1] http://money.usnews.com/money/blogs/my-money/articles/2016-10-27/these-apps-will-help-you-save-more-money-for-the-holidays
[2] http://www.theverge.com/2015/2/19/8064431/digit-is-the-automated-savings-plan-we-ve-been-waiting-for
[3] https://www.fastcompany.com/3067885/the-10-most-innovative-companies-in-finance-2017
[4] https://www.usatoday.com/story/money/personalfinance/2015/03/21/saving-apps-digit/24978473/
What's New in Version 1.6.13
Here's the latest from the Digit dojo. (That's what I've taken to calling our office. Not everyone is on board with it yet. "It doesn't look or feel anything like a martial arts studio," I'm told. Yes, Nathaniel, I'm aware of that. It's a metaphor.):

One of my teammates told me we'd hit a snag on some signups, with the account selector not selecting, and that led to missed connections. First of all, I just want to say — it wasn't you, it was me.

So we huddled up and fixed that hiccup. Now it should be smooth saving from here.

I love this job.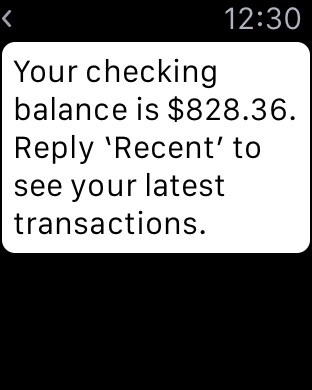 Customer Reviews
No weekend transfers
It's a good app for saving. But, what's the purpose of having it it you can't get the money you saved when you need it. I needed to transfer some money to my checking account to avoid an overdraft fee. I did my transfer on Friday morning and Digit told me it would be in my account my by Monday. That doesn't help me at all. I need my money now....I feel like it's a set up, from Wells Fargo or Digit. I'm still going to have to endure an overdraft fee because of Digit. By Monday I won't need the money because the overdraft fee will already be there 😡. I know Wells Fargo has all these legal things going on about fraudulent accounts so they are trying to make money back with overdraft fees from there customers. I also don't understand why you have to be with a major bank to save. You should be able to save from any type of account whether it's a major bank or not. I probably won't recommend this app to anyone else. This app lies; it does not give you your money when you want. It's never the same day. It's always the next day or if on a Friday you'll get money. What a big inconvenience. Why should I have to wait for my own money?!?!. I shouldn't have too wait if this app lived up to its promise. I'm going to find another money saving app to try. I'm over this on. Thanks for nothing!
Greedy people behind digit
This app was Perfect. I used it for a about 8 months to a year and I've recommend it to so many people but the best way i got others to sign up was telling them it was FREE! Then down the line the people behind digit got greedy and decided to charge $3.00??? I thought it was very thoughtful of them to help people who really wanted to save, but then they decided they wanted to make money too which i kind of understand we all want to make money but it shouldn't be with a savings app its like saying I want to help you save money but you have to pay a monthly bill in order for me to do so" even though it's 3.00 that's another bill we already have bills plus what about college students who can't afford that because college is already expensive and parents who's trying to save just to make ends meet or w.e ... but that's greedy people who don't care! A savings app should want to help just from the kindness of their hearts... there's other saving apps now that's free like Qapital which is really good i recommend it and many other apps so good bye Digit!!!!!
Loved it... at first
I loved this app when I first got it. It saved me a bit by itself and I also transferred in money when I could for different goals. It's easy to transfer money in and out, but it does take one business day.

So this morning (a Friday) it decided to transfer ALL of my money from my checking account. Every single penny. I never once requested this. I have no money for the weekend, and I don't use credit cards. I have half a mind to sue, I am positive this wasn't in the terms and conditions. I may still. And transferring it back won't go through until Monday. Could not be more angry right now. DO NOT USE THIS APP. It's not worth letting some random company mess with your checking account. At least now I know better!
View in iTunes
Offers Apple Watch App for iPhone
Free

Category:

Finance

Updated:

Nov 15, 2017

Version:

1.6.13

Size:

85.5 MB

Apple Watch:

Yes

Language:

English

Seller:

Hello Digit, Inc.
Compatibility: Requires iOS 8.0 or later. Compatible with iPhone, iPad, and iPod touch.