DIRECTV App for iPad
By DIRECTV, Inc.
Open iTunes to buy and download apps.
Description
DIRECTV's new iPad app. Now your favorite shows, movies and sports are just a tap away.
Available for customers in the USA only.

FEATURES
- Highly customizable remote control functionality right on your iPad.
- Browse and discover movies, shows and sports - without interrupting the show you are currently watching on TV.
- Set recordings or channel tune instantly, and access more information on shows, cast & crew, with parental ratings.
- Access sports scores and schedules and set your favorite teams.

HOME SCREEN (Customizable modules)
- What's Hot – Displays the most popular shows, movies and sports people are watching on DIRECTV right now.
- Currently Watching – More information about the show you are watching now and suggestions for similar shows.
- Guide Favorites – List of favorite channels selected through the Guide.
- Channel Guide – Displays up to 14 days of upcoming shows for a selected channel.
- Favorite Channels – Create user preferred lists of channels (by category, his or her list, etc.)
- QuickTune – One-touch selection of your favorite channels by name or icon.
- News Channels – All the news channels in one module.
- Kids & Family – All the kids & family friendly channels in one module.
- Sports – Browse available sports events and scores by game or favorite teams.

DEDICATED TABS (Playlist, Guide, Movies and Sports)
- Organize and view all of your recorded content by poster or list view.
- View list of recorded content for each receiver.
- Search listings up to 14 days in advance by traditional grid view or selected channel.
- View show descriptions, Cast & Crew, Photos, Suggestions & Parental Information.
- Share your favorite shows with friends on Facebook and Twitter.
- Select shows from Facebook/Twitter that your friends are watching and instantly launch the DIRECTV app to see more information and set recordings.
- Change channels, set recordings and get more information.
- Customize the guide by favorite channels.
- View current sports matchups and scores by league, with the option to watch or record.
- Record On Demand Movies.
- Recording and remote control functionality is available to DIRECTV customers only.

REQUIREMENTS
- iPad® 2, iPad® Mini and iPad® Air running iOS 8 or later
- DIRECTV customers must have a residential home account registered on DIRECTV's website to access the DIRECTV for Tablets.
- Watching select Live TV Streaming channels outside the home requires an active Wi-Fi or mobile network connection. For best performance, connect to a strong Wi-Fi signal.
- Available content is based on your current programming package and premium service. Not all content is available to stream at this time.
- Live TV Streaming in-home only channels and remote control requires a Wi-Fi connection to your home network and a DIRECTV Plus® HD DVR (models R22, and HR20 or higher) connected to a broadband Internet connection. Remote control also works with HD receivers (models H21, H23 or higher) connected to a broadband Internet connection.
- Scheduling a recording requires a Wi-Fi, or mobile network connection and a DIRECTV Plus® DVR or HD DVR.
- Receivers do not require phone or Internet connection to schedule a recording.

For complete details on technical requirements, please visit: https://support.directv.com/app/answers/detail/a_id/3426/

For Tips, Tricks and Customer Support, please visit: http://forums.directv.com

This DIRECTV App features Nielsen's proprietary measurement software which will allow you to contribute to
market research, like Nielsen's TV Ratings. Please see the Nielsen Digital Measurement Privacy Policy at
http://www.nielsen.com/digitalprivacy for more information about this Nielsen measurement feature.

Use of the DIRECTV for iOS Application by DIRECTV customers is subject to DIRECTV's Customer Agreement and Privacy Policy (available at directv.com.)
What's New in Version 4.0.2
Bug fixes
iPad Screenshots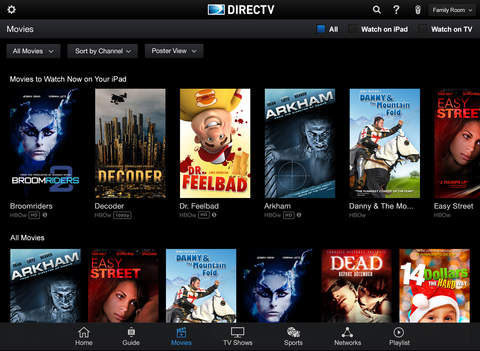 Customer Reviews
Is no one ever happy?!?
Some of you need a good counselor and some wine or a Xanax. Apps don't work 100% perfectly 100% of the time. Additionally, it is often YOUR iPad with a zillion selfies and 70 programs running. I know life can be so hard when you are all set to watch that episode of Secrets and Wives and OMG during the 30th discussion about how hard it is to actually work comes to an end and your iPad shuts down. Just boot it back up, it is not rocket science and not like you dropped a call from your oncologist telling you if you were going to live or die! My 3 year old can run this app even when it is being buggy and doesn't whine like most of you! Please people life is short, I have 2 rare and incurable diseases with no idea on how much time I have because no one has had them at the same time EVER. Quit complaining and hug someone or get some fresh air, DirecTV is doing their best. Peace and Kindness and Love
Disappointed
I came back to Directv after years of Time Warner Cable because they did not deliver what they promised...I always loved Directv when I had it before, and now they have some new products"Genie" and this app...the App most definitely needs improvement, it crashes constantly, sometimes is takes forever to open, they definitely are not delivering what they promise...I never thought I would say that about Directv, I have bragged about it for years and was so happy when I talked my husband into going back...I hope they are still working on this app...and don't even get me started on the "on-Demand" feature of the Genie, this is not the forum for it...Directv, please make some improvement fast so I can go back to recommending you to friends and family, otherwise I will tell them to just stick with who they have, no one delivers the product they advertise...the grass is not greener on the other side after all.
Get over it...
I am having issues with this app about the update thing but it is annoying to hear people complain to techs at directv. I work as a tech for them and we can do nothing about an app except have you uninstall and reinstall it's an freaking app what do you expect them to do? Everyone complains about how they are paying for something they can't use COUGH COUGH this is FREE you pay nothing. Wish I could scream that to idiots who call in. They've known about this problem for months and have to work on EACH case which is a lot. Use it on your computer there is never a problem there because it's not an app because that is what I will be doing! If you don't have it then whatever it's not something you pay for so you can still enjoy your tv. And if you want to switch my god just do it no one wants to sit there and hear how you've been with us 10 years and complain because AGAIN what do you want to be done? Either switch or shut up.
View In iTunes
Free

Category:

Entertainment

Updated:

Mar 16, 2015

Version:

4.0.2

Size:

103 MB

Language:

English

Seller:

DIRECTV
Compatibility: Requires iOS 8.0 or later. Compatible with iPad.
More iPad Apps by DIRECTV, Inc.