DISH Anywhere for iPad
By DISH Network LLC
This app is only available on the App Store for iOS devices.
Description
Take your TV with you. With the DISH Anywhere app, you can watch every TV channel you get at home on your iPad. Enjoy your favorite live or recorded programs anytime, anywhere. Also, manage your home television with a full-featured DVR manager and a searchable program guide. This is a must-have app for DISH Subscribers.

Now with thousands of On Demand movies and TV shows from HBO, Cinemax, Epix, and many more networks!

Features:
Watch Live TV*
-Take your TV with you and enjoy watching all of your favorite sports, news, TV shows, and movies from your Hopper with Sling or 922 Slingloaded™ DVR. You can also watch TV from your Hopper, 722, or 722k DVR with the Sling® Adapter accessory.
-Integrated user interface makes it fast and easy to find the shows and movies you want to watch.

Schedule DVR Recordings
- Schedule DVR recordings from anywhere.
- One-touch recording- simply choose to record one event, all events, or only new events.

Browse and Search the Program Guide, On Demand & your DVR
- Search the program guide up to 7 days in advance.
- Search for shows by title, genre, network, keyword, or actor.
- View graphics and posters of your favorite shows and movies.

Manage your DVR Library**
- Set recording priorities.
- Manage recording conflicts.
- Delete shows you've already watched.
- View and adjust your recording schedule.

Transfer your DVR recordings***
- Users that have a Hopper with built-in Sling technology can now Transfer DVR recordings to their iPad and watch them offline.
- You can enjoy your favorite shows on an airplane, while commuting, or to keep your kids entertained during a long road trip. Simply transfer your DVR recordings and you'll always have entertainment at your fingertips!

Follow your favorite teams with the Sports section**
- See up to the minute updated scores and game info for NFL, NBA, MLB, NHL, NCAAB, NCAAF.
- Find the best games to watch by following the Excitement rating of each game.
- Set up and get score notifications about your favorite leagues and teams.

DISH Anywhere requires an online DISH account and one of the following DISH Network receiver models: 512, 522, 625, 612, 622, 722, 722k, 922, Hopper, Hopper with Sling.
(DISH Anywhere users that do not own one of the above supported receivers, but do have an online DISH account can still use the On Demand feature of the app)

Please note: This app features Nielsen's proprietary measurement software which will allow you to contribute to market research, like Nielsen's TV Ratings. Please see www.nielsen.com/digitalprivacy for more information.

*Requires high-speed Internet connection to a Hopper with Sling/ ViP™ 922 Slingloaded™ DVR, or a Hopper, ViP™ 722, or ViP 722k DVR with Sling Adapter accessory.
**Requires high-speed Internet connection to one of the following receiver models: Hopper with Sling, Hopper, ViP922, ViP722k, ViP722, ViP622, ViP612
***Transfer functionality requires high-speed Internet connection to a Hopper with Sling DVR. Hopper with a Sling Adapter is not supported. Your mobile device must be connected to the same home network as the Hopper with Sling to transfer a recording and you must maintain an active DISH account to view transferred recordings. Select recordings are not available to transfer.
What's New in Version 7.6.2
Bug Fixes
iPad Screenshots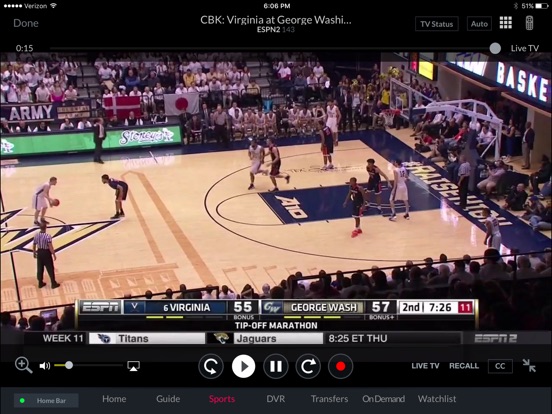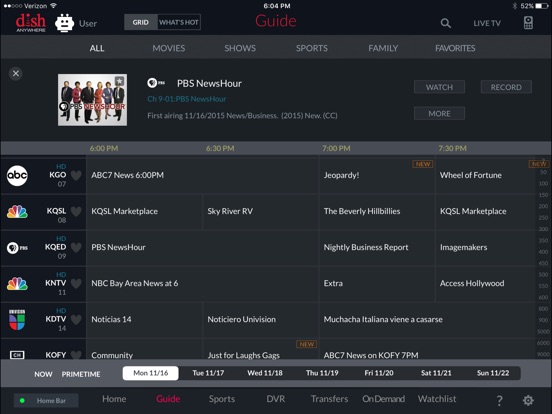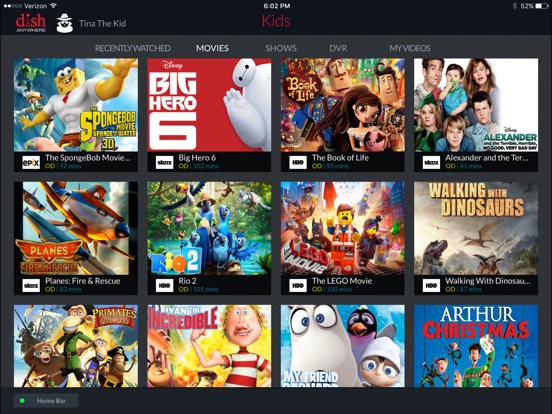 Customer Reviews
Bring back functional app
Way back when I switched to dish I loved this app. Now it works for around a minute before I get an error message: no internet connection. Which is frustrating because: 1. I have an internet connection since other stuff on iPad connects; 2. This happens across several iPads I own; and, 3. I can watch live tv on my app while it says I don't have an internet connection.

Two stars because it used to work great. I was going to go 3 stars, but after the update there was no improvement.

I hope this gets resolved soon. Thank you.

Update: I appreciate the developer response about the need for a strong (i.e. fast) connection, suggesting a speed of 4 MBs is necessary for HD. I neglected to mention I'm running at 39MBs.

I'm at a loss why I would want to waste time chatting about this problem. It worked across all devices. The app was updated and now it is giving me a false error message across all devices. And, yes, I've uninstalled and reinstalled and turned off and on. Time to fix it on the developer side.
Continues to be unreliable
Use the Netflix app instead. It's fast, easy, and always works.

With Dish, transferring shows is hit or miss. Sometimes it works, sometimes it doesn't. There is no means of diagnosing the problem, so you don't know if it's the Hopper, the WiFi, your iPad, lack of avail. memory, or the Dish Anywhere application itself.

In its latest meltdown, it refused to authorize me to watch any of the shows I'd transferred a half hour before. The fact x for this 2-year-old fatal bug is to delete and reload the app. That, of course, eliminates all previously-transferred shows. In the meantime, the Hopper had, on its own erased those shows from the Hopper, so now I couldn't watch them either now or later.

It took me less time to successfully transfer 30 shows from Netscape, using the Netscape app, than it did a single one-hour show from the Hopper, and that was before I discovered I was banned from actually watching the show I'd transferred.

What a mess!
Updated: still not fixed?????
UPDATE: November 1: updated the app just now and I still cannot get the sports portion of the app to work. Since this has been an issue for more than 9 months, just when might you get around to fixing it?

I called March 10 to find out why my sports portion of the app isn't working. It is now almost June and I call every week to check the status and get the same answer...it is a known problem with our new guide source and it should be fixed in the next three days....really? I cannot, for the life of me, figure out why sports does not show up on my iPhone or iPad app. I have removed and re-downloaded...nothing. Ridiculous

UPDATE: it is almost July and the sports portion of the app is still not working. Any idea when this will be fixed?

AUGUST 17 UPDATE: updated the app per your response and every time I open the app and click on sports it say, error download the latest app. Now what is your excuse?
View in iTunes
Free

Category:

Entertainment

Updated:

Nov 01, 2017

Version:

7.6.2

Size:

121 MB

Language:

English

Seller:

DISH Network LLC
Compatibility: Requires iOS 8.0 or later. Compatible with iPad.
More iPad Apps by DISH Network LLC