djay Pro
By algoriddim GmbH
Editors' Choice
Open the Mac App Store to buy and download apps.
Description
** 40% OFF - INTRODUCTORY PRICING FOR A LIMITED TIME **

djay Pro provides a complete toolkit for performing DJs. Its unique modern interface is built around a sophisticated integration with iTunes and Spotify, giving you instant access to millions of tracks. Pristine sound quality and a powerful set of features including high-definition waveforms, four decks, audio effects, video mixing and hardware integration give you endless creative flexibility to take your sets to new heights.

FEATURES OVERVIEW

Powerful DJ Interface
• Turntables
• Waveforms
• Four Decks
• Sampler
• Video

Spotify Integration
• Instant access to over 20 million songs
• Playlists, Songs, Charts, Browse
• Match: cloud-based song recommendations powered by The Echo Nest
• Instant access to BPM and Key information through the cloud
• On-the-fly playlist editing and song saving
• Drag & Drop from Spotify app
• Powerful audio streaming technology: ultra-low latency, advanced effects, on-the-fly analysis

Video Integration
• Video library with pre-bundled content
• Video mixing and scratching
• Transitions
• Music Visualizers
• Visual FX
• Title & image overlays
• A/V recording
• Support for external displays and Airplay

Pioneer CDJ/XDJ Integration
• Native support for Pioneer CDJ-2000nexus, CDJ-900nexus, and XDJ-1000
• Guided plug & play setup
• Full hardware control including slip mode, scratching, pitch bending, looping, cueing, master tempo
• Library navigation including Spotify + iTunes, waveforms, and cue point display on the CDJ/XDJ screens
• Connect up to 4 CDJs/XDJs

Four Deck Mixing
• Horizontal / vertical layouts
• Crossfader assignments (left, right, thru)

Music Library
• Spotify + iTunes
• Video library
• File system integration
• History and Queue
• Instant preview
• Light / dark mode
• Expanded mode

Waveform Layouts
• Horizontal / vertical
• Two deck / four deck
• Variable zoom level

Sampler
• Live sampling and preset editing
• Pre-bundled content by Loopmasters
• Pre-bundled scratch samples by DJQbert

Recording
• AAC / WAV
• iTunes export

Automix
• Automatic, beat-matched mixes
• Queue and Playlist automation
• Automatic transitions
• Automix Radio powered by The Echo Nest

Advanced DJ Tools
• Sync
• Cue Points
• Looping
• Skipping
• Scrubbing
• Slip Mode
• Beat grid editing

Audio FX
• Over 30 state-of-the-art audio effects powered by Sugar Bytes (available via In-App Purchase)
• Up to three chain-able audio effects per deck
• XY-Pad and Instant FX

Audio Processing
• Advanced time-stretching (up to +- 75%)
• Pitch shifting (up to +- 1 octave)
• Audio mixing with adjustable crossfader curves
• EQ, panning, and highpass/lowpass filtering
• Audio Limiter
• Support for Audio Unit plug-ins


Audio Analysis
• BPM and beat detection
• Flexible beat grids with support for dynamic tempo
• Frequency-based colored waveforms
• Key detection
• Auto-gain / Normalize
• Multi-core batch analysis

Hardware Integration
• Native support for over 50 MIDI controllers
• Native support for Pioneer CDJ-2000nexus, CDJ-900nexus, and XDJ-1000
• Advanced MIDI Learn
• External Mixer Mode
• Support for multi-channel USB audio interfaces
• Support for external audio input and microphones

Built for OS X
• Native 64-bit application
• 60 frames per second graphics engine
• Optimized for MacBook Pro with Retina Display
• Optimized for iMac with Retina 5K Display
• Multi-core analysis (up to 24 processing threads on 12-core Mac Pro)
• Extensive keyboard shortcuts
• Multi-touch trackpad control
• iCloud integration: syncs cue points, grid edits and meta data with iOS versions of djay

djay Pro is compatible with any Mac running OS X 10.9 or later.

A Spotify Premium subscription and an internet connection is required to access the Spotify music catalog from djay Pro. A seven day free trial of Spotify Premium is available to all djay Pro users.

To use songs from iCloud in djay Pro please download them first via iTunes. No support for DRM protected songs.
What's New in Version 1.1.1
- Fixed iTunes library not loading on OS X 10.9 systems
- Fixed increased CPU usage with certain songs
- Various bug fixes

New feature highlights from 1.1.

• All-new VIDEO mode with video mixer, visual effects, audio visualizers, text and image overlays, A/V recording, and extensive pre-bundled video content
• Added native support for Pioneer CDJ-2000nexus, CDJ-900nexus, and XDJ-1000 with guided plug & play setup and full library navigation (incl. Spotify), song information, waveform, and cue point display on the device via HID
• Added native support for Pioneer DDJ-SB, Numark Mixtrack Quad and Mixtrack Edge, and Denon MC6000, MC6000MK2, MC2000
• New improved media library with sources for iTunes, Spotify, Videos, My Mac (files), and history
• New redesigned Match feature now available for both Spotify andnd iTunes
• New media library collection view layout with album artwork display
• New "My Mac" library source to access music and videos in any folder, hard disk, USB sticks, etc.
• Added ability to search within playlists in addition to library-wide searching
• Added ability to export history sessions as CSV, iTunes, or Spotify playlist
• Added support for up to 8 cue points
• Added support for high-quality bit rate (320 kb/s) when using Spotify
• Added external mixer mode (can be used with both external USB mixers like DJM-900 and multiple separate output devices like CDJs)
• Added media list columns for bit rate, sample rate, kind, and date modified
• Improved Spotify library integration to grey out unavailable tracks
• Improved media library to honor font size setting in Queue, Match, and search panes
• Improved deck tools to remember last selected state
• Improved almost-instant audio configuration, allows staged takeover from previous DJ (e.g. connect first CDJ device and start playing, then connect remaining devices once previous DJ finished)
• Improved pitch-bending using controller jog wheels
• Improved slip mode when using MIDI controllers: now also working when looping, using cue points, or with reverse playback
• Improved MIDI Learn with support for custom MIDI out values (e.g. for colored button LEDs)
• Added support for sharing current track info with Nicecast by Rogue Amoeba
• Added various new MIDI mapping actions: beat jump (skipping), master sync setting, loop/reloop, media library back button and source selection, visualizer selection, video crossfade
• Many other fixes and improvements

Thank you for using djay Pro. If you enjoy this update, please rate djay Pro on the App Store. We appreciate your continued support!
Screenshots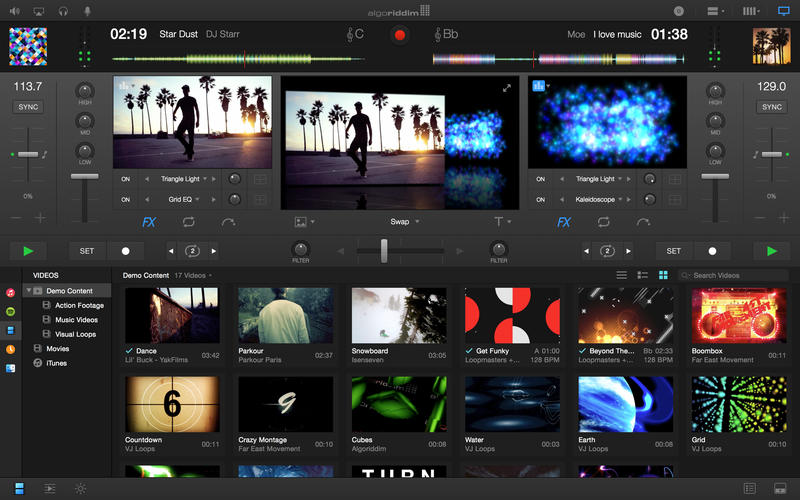 Customer Reviews
As I write this, I am DJing in front of about 500 people...
I realize this version is brand new, I downloaded the latest update released just yesterday, and I have been using DJay for several years on Macs, iPads and iPhones. This version is FULL of bugs and issues however. It slows songs down sometimes as it alters the pitch. It will not load songs, giving me an error message. I have had people look up at me like I'm an idiot as I was playing to a HUGE jumping and singing crowd because of glitches. It takes sometimes up to a 1/2 hour to open the app on a Mac. I will give Algoriddim the benefit of the doubt and try it on a different and much older and slower Mac, hopefully it will preform better. I don't know what to do because it is the only DJ app I have, and I need to use it all weekend long at 4 different gigs/events. VERY dissapointed in this I am. I love you guys at Algoriddim, but you're killing me Smalls… I mean really, this is my job.
Love this app but this version came dead on arrival.
Where can I start, the new version crashes constantly and corrupts the drive which is forcing a boot repair. Please release the older version, which I love, until this new version passes some quality testing.

Update: The latest patch is well worth installing. If you have a large amount of music in iTunes, give this program time to go through the entire library. It will analyse your music for bpm and key, which could take a while, but the result is well worth it. If you ask, it will suggest other songs in your library with similar bpm and key - nice. Lots of new features which I'm still discovering, This version had a rocky start but it appears to be much more stable and on the right track now. Always was a great app, and is quickly returning to that staus with lots of new features.
djay saved my life!
I've been using Serato for a few years now, but last week it wasn't working right and their tech support, well... didn't support me in time for a gig.
I downloaded djay Pro, and it was spot on!
After a 4-hour show last night, no issues at all (I had none of the issues others have reported in their reviews).
The app opened right up, it immediately recognized my Pioneer controller, no lag, great mixing, no complaints.
djay Pro saved my life!
View in Mac App Store
$49.99

Category:

Music

Updated:

Apr 30, 2015

Version:

1.1.1

Size:

256 MB

Languages:

English, French, German, Italian, Japanese, Spanish

Seller:

algoriddim GmbH
Compatibility: OS X 10.9 or later, 64-bit processor
Top In-App Purchases
Complete FX Pack Collection$9.99