DMesh
By Yong Ho YUN
Open the Mac App Store to buy and download apps.
Description
Turns Images Into Techy Artwork!

DMesh is a custom creative application that turns images into techy artwork. It works by analyzing an image and generating a triangulation pattern for a beautiful finished product. To build the program, a groundbreaking mix of computer vision technologies were employed to make DMesh for someone without any design background.

Check user showcase at the DMesh site. You'll get an idea of how you use Dmesh for your project.



[ Key Features ]

Auto Point Generation:
DMesh provides auto-generated points, which is useful for people doing animations or larger batches of images. Where other tools only allow manual use, DMesh analyzes the image, adds points and plays with the density accordingly while reducing noise in the mesh.

Manual Point Editing Tool:
Control the number of mesh points dynamically: add more for a realistic result, or subtract to make the image more abstract.

Export as Bitmap...
DMesh suuport to export images as bitmaps, vectors or 3D data for maximum flexibility and scope.

Computer Vision Technology:
Auto Point Generation is built based on computer vision technology so the results are closer to the original source and working with animation files can get more continuity between frames and less noise in the mesh.

Working with Sequenced Images (Pro version only):
Import/export sequenced images automatically, making it easier for motion designers. Video import/export is in the works.

Dynamic Mesh Density Control (Pro version only):
This allows users to control number of mesh dynamically so realistic result having more meshes or abstract one having less meshes can be made easily.



[ Press ]

"DMesh turns any image into a techy artowrk." - Fastcompany
"Get triangulated." - Creativity
"Latest project that utilises a very similar technique is DMesh, a custom software made in Cinder by Dofl Yun..." - Creative Applications Network
What's New in Version 1.4
- Fixed a crash issue happened rarely by loading an image first time.
- Made functions simpler
Screenshots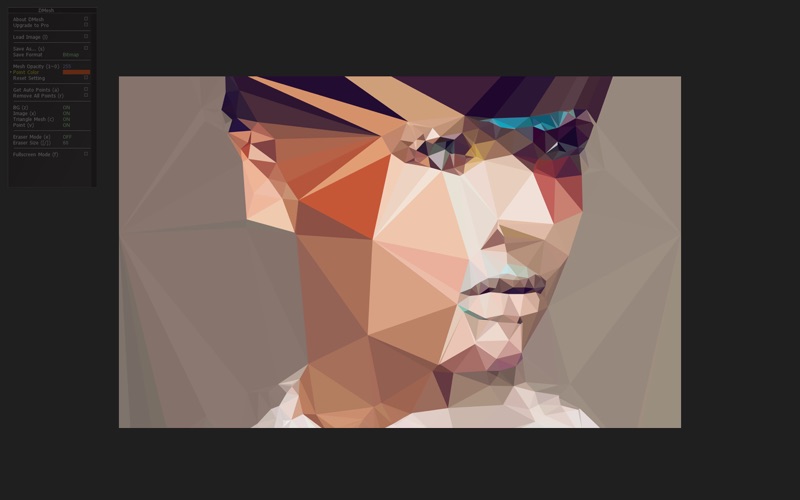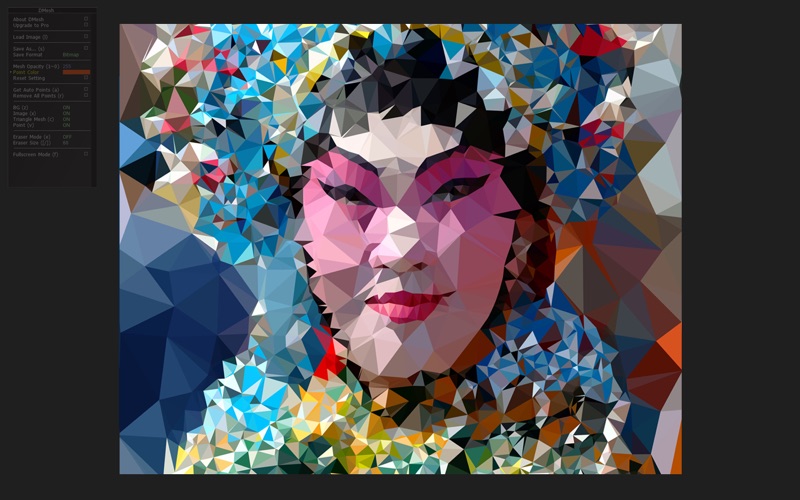 Customer Reviews
Slick Triangularization Tool for Single and Sequenced Images!
DMesh can instantly analyze your image(s) and auto-generate points. You can then manually move, add, or delete the control points to precisely customize the look. Because DMesh follows a specific method to generate the triangles it is excellent for use with animated frames in an image sequence. Grab pro if you're wanting to triangularize your animations and dynamically control the number of points in the mesh for each frame. When finished export to bitmap, vector, or OBJ. Very fun to play around with! A+
Color feature suggestion
This is a wonderful tool for triangularization, but there are a few issues here. First, you expect the user to find the background color that matches their image by using the RGB and HLS methods, sure this is nice, but some of us use HTML colors as well which are much easier to copy and paste rather then moving a dial looking for the right background. Yes, I know you can remove the background, but it would be an added plus. Other than that your program works and looks beautiful. Nice work.
Good
I like your app a lot! It would be awesome to have a zoom feature to place points easier on larger images. Possibly also a way to scale down larger images so they don't have to be resized before import. I don't really see the advantage to getting the Pro version? I'd get it if it offered more features. Thanks for the app!!
View in Mac App Store
Free

Category:

Graphics & Design

Updated:

May 29, 2012

Version:

1.4

Size:

1.1 MB

Language:

English

Seller:

Yong Ho YUN
Compatibility: OS X 10.6.6 or later