DNAMatch
By Mobile Touch Apps
Open iTunes to buy and download apps.
Description
DNAMatch for the iPad is a powerful and easy to use alternative to the use of conventional spreadsheets for the querying and browsing of autosomal DNA data. Autosomal DNA data is frequently used by families who are searching for lost family members, adoptees who are searching for their birth parents and genealogists constructing family histories. DNAMatch for the iPad imports the CSV comparison files from the 23andMe Family Inheritance: Advance tool and the FTDNA Chromosome Browser tool. Profile data from both of these testing agencies is also imported.

DNA testing companies such as 23ANDME and FTDNA provide their customers with downloadable DNA comparison match data and profile information in the form of CSV files. This is the data that DNAMatch for the iPad imports into its advance database. The DNAMatch database facilitates the establishment of associations within the test results that can be searched with its highly flexible and easy to use query browsing capability. Data mining of your DNA matches is brought to new levels with DNAMatch.

* Support for multiple compartmented projects for professionals and project managers
* Importing of CSV files from 23andMe, FTDNA, DNAGEDCOM.COM and DNAMatch.com
* import comparison match data from GEDMatch.com
* Extensive Query and Chromosome Browser Capability to facilitate data mining of DNA matches
* Advance Color coding guides to help easily identify overlapping DNA segments
* Support for Surnames and locations
* Support for Siblings
* Support for Close Relatives
* Email charts and supporting files
* Your data is mobile and not tied to your desktop - take it to client consultations, data mine in your spare time.

IMPORTANT - BEFORE YOU BUY.
DNAMatch for the Pad uses the Autosomal DNA match files generated by the 23andMe Family Inheritance:Advance tool and the FTDNA Chromosome Browser tool. If you do not know what these tools are and do not have an understanding of how to use the data that they generate, you should not purchase this product.
What's New in Version 2.0
Whats New in 2.0

* The way in which searches for Names in the Person Tool List view and Surname List View have changed significantly. You can now enter a partial name in the search part to search for matches. Name and surname searches in the Match Search Criteria view has also been changed in a similar manner to make searches easier. Name and Surname searches are now significantly easier and faster to use in the Search Criteria view. Be sure to read the documentation on searches in the Search Criteria view.

* You can now import matches from GEDMatch.com. No more cutting and pasting of HTML tables. Simply login to your GEDMatch account inside of DNAMatch and navigate to the match table to be imported and then tap a couple of buttons. Matches from Ancestry.com found in GEDMatch.com can now easily be added the your FTDNA and 23andMe matches that are already in your DNAMatch projects. FOR INSTRUCTIONS ON HOW TO USE THE NEW GEDMATCH.COM IMPORT FEATURE, TAP THE IMPORT BUTTON AND FOLLOW THE INSTRUCTIONS.

* Surnames have undergone a major update. The popup view from the list view has been replaced with a full fledged Surnames detail view. You can now add Notes and Locations to a surname with the new Surnames Detail view. You can also see the profiles that are associated with the surname in the detail view.

* Locations that have been added to a Surname can now be used in querying the DNAMatch project databases. Simply provide the name of a location in the Search Criteria view and the results will contain only those matches that have an association to a surname that has the location in its Locations Note field.

* The Surnames List View can now be sorted either alphabetically by Surname or by the number of profiles that the surname is associated with.

* You can now edit the Note field in a Person's profile from the popup view of the profile in the Matches grid. No need any longer to exit the matches grid and then search the Persons list to find the profile you want to make a note on. Just do it directly from the Matches grid.

* Scrolling of Person and Surnames list has been changed to quickly find the Person or Surname that you are looking for. This should make selecting names and profiles from lists much faster and easier.

* Minor bugs and performance improvements.
iPad Screenshots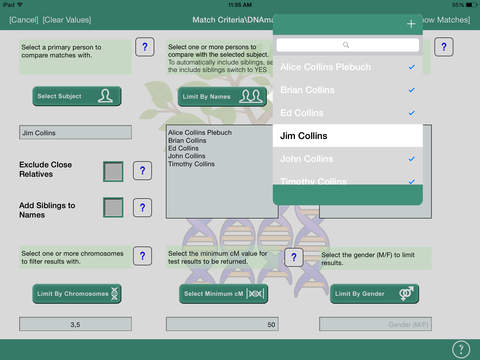 View In iTunes
$9.99

Category:

Lifestyle

Updated:

Dec 21, 2014

Version:

2.0

Size:

10.2 MB

Language:

English

Seller:

Jim Collins
Compatibility: Requires iOS 6.0 or later. Compatible with iPad.