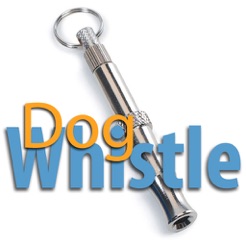 Dog Whistle Elite (Training Guide + Clicker included)
4+
Description
Using a collection of professional dog training experts, we compiled the ultimate dog training guide. Learn to train your dog to relieve himself outside your house, sit, lie down, shake your hand, fetch, close doors, and more. Each command is described in detailed steps, so that you can focus on training your puppy the proper way.

As a bonus, we included a silent dog whistle for you to use to train your dog. Now you can train your dog to obey your commands with a tap of a button.

Whistler Features:
Whistles from 8 kHz to 22 kHz.
Mimic a human whistle.
Mimic a normal blow whistle used by police.
Set a time length for the duration of the whistle sound.

You can also use the ultrasound whistle as a form of a human hearing test. Find out how your ears match up to others in your age group. Use headphones for more accurate results. Here is the chart:

8 kHz
Everyone

10 kHz
Age 60 & Younger

12 kHz
Age 50 & Younger

14 kHz
Age 49 & Younger

15 kHz
Age 39 & Younger

16 kHz
Age 30 & Younger

17-19 kHz
Age 24 & Younger

20-22 kHz:
Age 18 & Younger

This app also makes it a great way to annoy teenagers who loiter around your property. Just set it to a frequency that you cannot hear, but they can hear. High frequency noises are annoying because they resemble the sound of fingernails scraping across a chalkboard. Ouch!

Some claim that high frequency noises also repel against insects, bugs, rodents, and pests such as mosquitoes. We are skeptical about these anti-mosquito methods. But in case it does work, we included a longer timer for the whistle. You can set the timer from between 30 seconds to 9 hours. Then you can go to sleep with your device protecting you from parasites and rats. Try the different frequencies to see which one the insects and rodents in your area hate the most.

We suggest using an external speaker for better results. The iPhone speakers are not very loud at the higher frequencies. The 1st Gen iPod Touch will need an external speaker/headphones to get the whistler to work.

Reply to Customers:
chickenturkeyknight4326 - We made the changes you requested. It will be in the next update when Apple approves it.

What's Coming Soon:
New tricks, images, and a clicker

Be sure to check out our Quicky Browser for a better web browsing experience.
Improved dog whistle, plus human blow whistle that mimics the sound of the whistle that referees use at sports events.
Ratings and Reviews
Doesn't work
This app doesn't do what they say it does. I only get one frequency-8MHz. And when I hit any of the buttons at the bottom (timer, stop or frequency) the app freezes. I want my $.99 back please.
Very Handy!!
However, there a few minor problems and glitches I would like to point out. It would be nice to have a checkmark or something to show what frequency you picked because sometimes I would
choose a frequency and then suddenly forget which one. Also, when you pick a lesson it'll say move on to next trick or something, it'll be nice to always include a button to return to the main menu. The most important problem, the glitch, is when you look at how to train your dog using a whistle. At the bottom it'll say advanced training, shake, but each time you press it it'll redirect you back to the whistle page. And finally, more tricks!!! :) it would be nice to include some pics too.
Fix these problems and I will give you
5 stars!! This is otherwise a very good app!!
Detailed dog training guide
The good news is that the guide itself is meticulous and provides detailed step-by-step guidelines on how to house break and train a dog to do tricks. The sad news is that I could only hear the 12 kHz whistle while my slightly younger sister can hear the 22 kHz. I must be getting old.
Information
Seller

Smartest Apps LLC

Size

1.3 MB

Category

Compatibility

Requires iOS 2.2.1 or later. Compatible with iPhone, iPad, and iPod touch.

Age Rating

Rated 4+

Copyright

© 2009-10 Dr. James Leung

Price

$0.99
Supports
Family Sharing

With Family Sharing set up, up to six family members can use this app.