Dog Whistler - Your Free Dog Whistle
By Mobeezio, Inc.
Open iTunes to buy and download apps.
Description
*** As seen on TV and used worldwide by over 20 million users! ***
Train your dog (or annoy your friends) with this simple to use dog whistle. Quickly initiate a variety of frequency sounds via the dog whistle interface. (New add-on option/feature: ability to create a ringtone from any frequency!)

Dog Whistler Main Features:

* Choose the desired frequency in the dog whistle by using the built in slider or by manually entering in the frequency.

* Select from multiple sound "patterns" within the dog whistle:
--- Tone
--- Short beeps
--- Long beeps
--- Slow 500Hz Oscillation
--- 500Hz Oscillation
--- Fast 500Hz Oscillation
--- Slow 1KHz Oscillation
--- 1KHz Oscillation
--- Fast 1KHz Oscillation
--- Slow 2.5KHz Oscillation
--- 2.5KHz Oscillation
--- Fast 2.5KHz Oscillation
--- Static
--- Slow 5KHz Oscillation
--- 5KHz Oscillation
--- Fast 5KHz Oscillation

* New add-on option/feature: ability to create a ringtone from any frequency!

* New sharing features added (via Facebook, Twitter, and/or email)

* Use preset frequencies in the dog whistle or create your own

* Hold down any preset frequency and share this frequency with a friend (via Twitter, Facebook, or Email). What worked for your dog's training? Hearing tests.... what frequency can you hear?

* Set an alarm (either via the built in timer or motion activated). New alarm feature===> repeat mode. This will continually activate an alarm upon motion detection each time it resets. For instance, if you're training your dog to stay off the couch you can place the iPhone/iPod on it. When the dog jumps up the 1st time it will activate an alarm for a predetermined amount of time. The alarm will then reset so when the dog jumps up the 2nd time, it will resound the alarm again.
can be used for

* * Great training app for your pet!

++ Besides a dog whistle, customers have reported using it as an anti-mosquito device, simple simple hearing test, and a tool to annoy others with its high frequency pitch.

For general info on dog whistles, the following is a useful Wikipedia link: http://en.wikipedia.org/wiki/Dog_whistle

** Please check out our other apps, Mobile Caddy (previously chosen as a Staff Favorite), Thumper, Date Util, Gift Tracker, Simple Timer, Dog Whistler (ranked in top 10 overall free apps), Earthquake, and Hurricane Monitor.
What's New in Version 3.9.6
* library updates
* minor bugfixes
iPhone Screenshot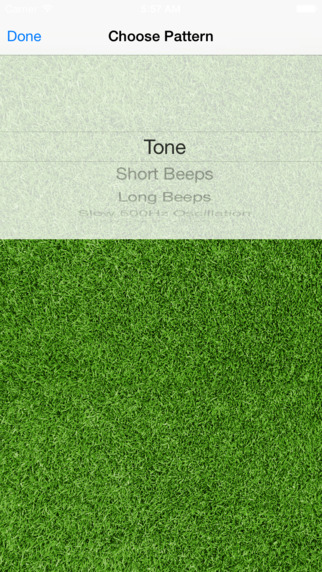 Customer Reviews
:)
The Butterfly Effect.

This is a note about the note you are reading. If you are reading this note, you are changing the flow of time. After you read this note, you will be thinking about this note. You will react differently than you would have to situations that happen after you finish reading this note. Your different reactions will cause different reactions from people around you. They in turn will react to situations differently than they would have if you hadn't read this note. They will continue changing people's reactions, causing different effects throughout the rest of time. In the future, because of you reading this note, there might be effects you had no idea would happen. There might be an increase in the population of sharks. Or hot air balloons could become more popular. There might be different technologies. All because you read this note.
After you are done reading this note, copy and paste it anywhere by any means you want. This will change time even more. But just thinking in a mindset where literally every detail of any motion, for example, bending your arm for no reason, will spark different thoughts, and starts the butterfly effect all over again.
All the Complaints are Inaccurate
I got this app for getting my dog's attention. She's a dachshund-beagle mix and enjoys being obstinate. I turned the frequency all the way up so I don't have to hear it and turned the volume all the way up so my pup can actually hear it (she doesn't react when the volume is too low). She perks up instantly every time. As for the ads, just like any other free app, you have to exit the ads to continue using the app. Unless you're torturing your dog, I'm not sure why you would complain about the ads.

Bottom line: this app is perfect for getting my dog's attention and does what it says.
It actually worked!
At first I was skeptical about this app, since its free and has many negative reviews. But after trying it out on my Chow it caught her attention quick! Every time she acts up I set the whistle off and she stops what she is doing!
But I doesn't seem to work on my friend's Labrador for some reason.
Any ways this app is awesome, its free, and it might work on your dog, its worth a shot!
View In iTunes
Free

Category:

Utilities

Updated:

Nov 16, 2014

Version:

3.9.6

Size:

28.7 MB

Languages:

English, French, German, Italian, Portuguese, Russian, Simplified Chinese, Spanish, Ukrainian

Seller:

Mobeezio, Inc.
Compatibility: Requires iOS 6.0 or later. Compatible with iPhone, iPad, and iPod touch.
Top In-App Purchases
Pro Pack - Create Ringtones$0.99
Bonus Pack - 50% off$0.99