Dominant Species for iPad
By GMT Games LLC
This app is only available on the App Store for iOS devices.
Description
Hi everyone!

Welcome to a complete remake of Dominant Species, our first iPad app. This app is a digital port of one of our best-selling games, designed by Chad Jensen. Our original attempt at an app for this game was unfortunately less-than-stellar (to be kind). We knew we could do better, and we committed to making it better. Regrettably, it took us a long time - and three different developers - to finally create this new version. But at last we have an app that we are REALLY proud of. We hope you guys will like it, too, and find it a major improvement over the original game.

This new app update is an entirely new game with 100% new code, so you guys are getting a completely different app from the original. We are providing it as an "updated version" because that was the only way I could figure out to make sure that the owners of the original could get the new app for free. Please accept this as our apology that the original app wasn't better, for the time it took us to get you the new version, and as a demonstration of our determination to never leave you stuck with a game that isn't a quality product.

For you players who already play the Dominant Species boardgame, this app will allow you to have fun and practice your skills anytime, against a mix of human and computer AI opponents.

For those of you who are unfamiliar with the boardgame, we provide context-sensitive explanations and a set of online rules to help you learn the game and get started quickly. You can also get help from us directly, via our Facebook page - which we are revamping to support the new version - at http://www.facebook.com/pages/Dominant-Species-for-iPad/320893411343198. If you want to learn more strategy or have questions about general game play (not app-related), feel free to ask your questions on our Dominant Species page on BoardgameGeek: https://boardgamegeek.com/boardgame/62219/dominant-species

Here's an updated feature list. Note that we are working on an additional update which will add multi-player Game Center support.

Features:

Play against a mix of up to 5 human and/or AI opponents via Solo Play, Pass 'N Play, or a combination of both.
A completely reworked User Interface that makes the game much easier to play
New Pull-Out visual menus that provide quick access to Tile Scoring, Speciation Values, Food Chain, and Dominance Cards.
All New Art from the new version of the boardgames
AI players that are greatly improved from the original version.
A new Undo feature
Autosave and Resume Game
Pinch to zoom and scroll
Context-sensitive help
Color-coded dominance tracking


Finally, I want to personally thank all the great folks at GameTheory, who rewrote the entire app and gave us a product to be proud of. I also want to thank the people who volunteered to help us test Dominant Species, caught many bugs, and gave us great suggestions throughout. You guys did terrific work - thanks!

OK, enough talk. It's time to play. Enjoy the game!

- Gene
What's New in Version 2.0.2
1. A new robust tutorial
2. End-game flexibility, allowing players to view the board before exiting to menu
3. Tune-ups and improvements in animations
4. A few bug fixes
iPad Screenshots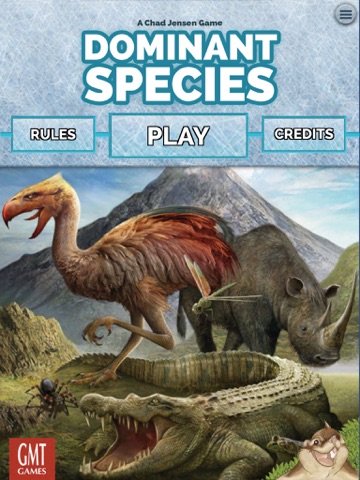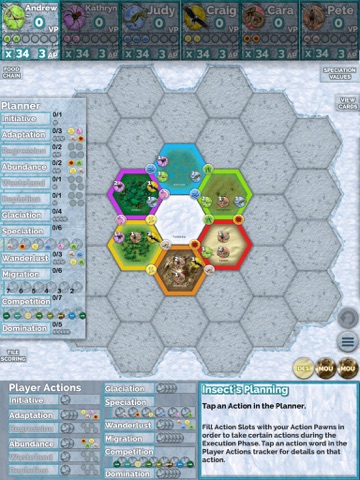 Customer Reviews
Decent, but the insects aren't the only thing that's buggy...
I love the Dominant Species table top game. Heck, I even enjoy the card game version (much different gameplay though).

But I often can't find opponents for the board game, so the iOS version has been able to serve as a substitute, as it offers much quicker games than the tabletop version.

First off, set up is quick. Additionally, the math of this game is simplified (i.e. Figuring out who is dominant) and the board set up is automated, so no more having to remember to remove that element adjacent to three tundra tiles, or slide down elements from adaptation to regression, etc. the game offers nice visuals (such as a colored boarder for dominance).

My opinion also differs from several of the other reviewers in that I'd also argue that the interface is quite easy to use and nice on the eyes. The dominance cards and terrain tiles utilize the most recent edition art.

But there are three things that keep me from giving this a top score:
1) The game will stop during certain action selection, such as when the AI must select speciation when there are no such elements available. There's no fix to this. You have to restart the game.
2) You can only have one saved game.
3) They don't keep statistics. For a science-y game, that's hard to reason why. A dimple won-loss record with each animal would be nice, even.

All in all, it's a great game. I think there are just a couple of patches or upgrades to make this top notch.
GMT can't design
GMT has a history of ignoring graphic design. All their board games look like they were made in a word processor, with the same default font and same stroke width and same boring clip art. While you can get away with doing that on a physical board game and just have a boring looking game, when you also treat user-experience design as an afterthought you get a mess like this game. GMT needs as a company needs to learn to value design or they'll always produce garbage like this.
Waited and waited and waited and waited and for what?
How long did I wait for the first update to this, 2 years? Was it worth it? @&/! no! Just look at all reviews calling for the first game, still crappy but at least you could see the board. Sorry to the folks who put their effort into this app but it's simply a mess. I'm embarrassed and sorry I waited around so long for this to get better only to find that it got worse.
View in iTunes
$6.99

Category:

Games

Updated:

Sep 30, 2015

Version:

2.0.2

Size:

72.1 MB

Language:

English

Seller:

GMT Games LLC
Compatibility: Requires iOS 5.1.1 or later. Compatible with iPad.
More iPad Apps by GMT Games LLC